Objectives and Key Results methodology is one of the cornerstones of Weekdone. Our users use it, we use it and it has helped both of us to do more and get better results. So it should be no big surprise that we've spent a lot of time on research and on how to get most out of the OKR system. We've collected all the best practices and cool examples and combined them into a new eBook called "Step by Step Guide to OKRs."
Download the eBook for free from our eBook page
Objectives and Key Results (OKRs) are an increasingly popular methodology for increasing your team's productivity and focus. In simple terms, OKR is an easy process of setting company, team, and personal goals and then connecting each goal with 3-4 measurable results. As you achieve those results you also mark the goal done.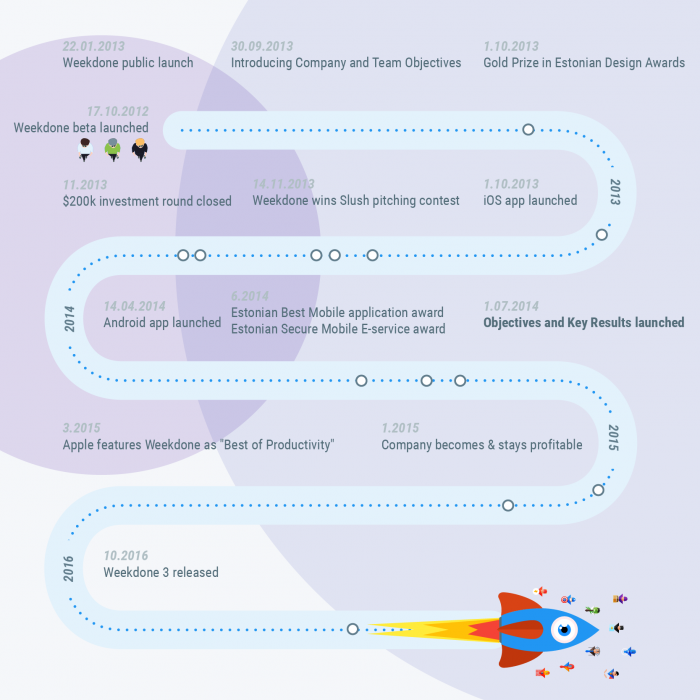 Practical OKRs for everyone.
One of the main aims of the book is to help managers and teams with setting their first goals. A lot of people regularly ask us for some examples on what their OKRs should be. That's why the eBook not only has a chapter filled only with examples but also an interesting story that walks you through all the steps for implementing the methodology in a team who has never heard of OKRs.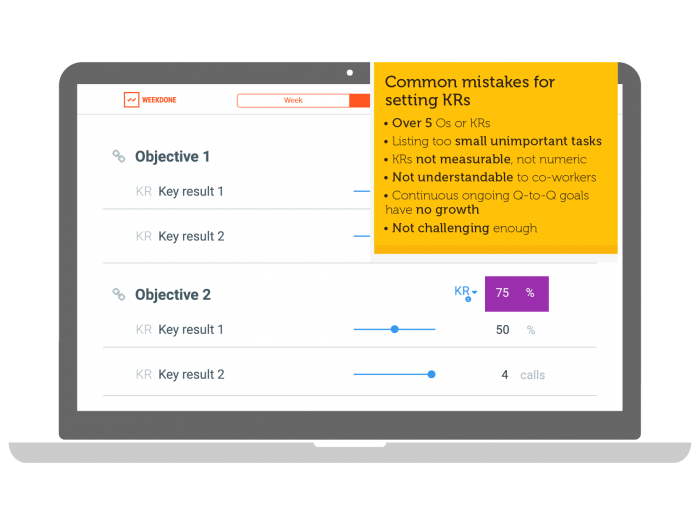 Ben Lamorte, author of "Objectives and Key Results" wrote in the introduction of our book that: "Objectives and Key Results (OKR) is a critical thinking framework and ongoing discipline that seeks to ensure employees work together, focusing their efforts to make measurable contributions." The book covers all the different steps needed to do that: set the right objectives for yourself and your team, assign those objectives measurable key results and grade your success afterwards. It also gives an overview about the history of the methodology and how it has chanced over the last 50 years.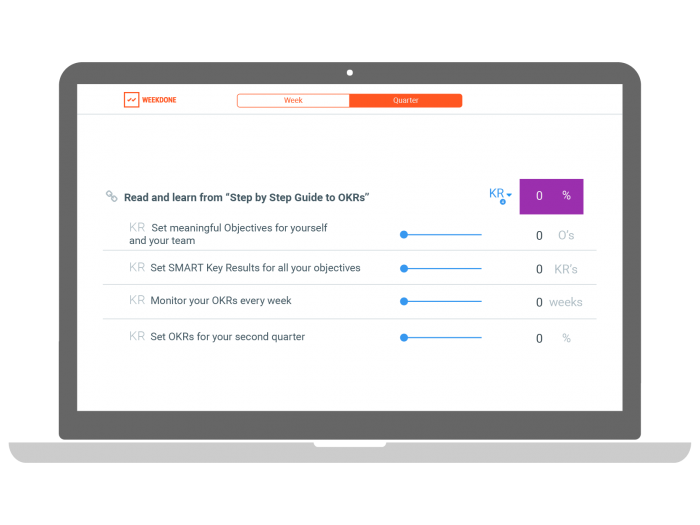 Everything you can learn from the book.
When you finish the book you'll be ready to use OKRs to help you in your work. But like we say in the book: " This "Step by Step Guide to OKRs" is a practical guide to goal setting that offers concrete examples to help you start setting impactful and meaningful goals. This book teaches you how to manage a team better and create a feeling of success. It's about Objectives and Key Results or OKRs for short. This is a "How-to" guide that will help you start using with OKRs. It will help your team or a company implement the best goal setting system currently out there.
You should read this book if you:
want to improve your goal setting abilities;
need examples of impactful goals;
want to get more done every day;
are interested in using the same technique that made Google and LinkedIn successful;
like to improve your team's performance;
have time to kill during a plane ride.
Download the eBook for free from our eBook page
To make sure your team has clear goals and a strong synergy, try out Weekdone. Implementing Weekdone is instant. Just sign up for our free trial at weekdone.com, invite your employees and you're all done. In less than a week, you will get your first structured employee progress report via e-mail from your people and you start making your dreams a reality.