Set measurable goals & keep them in sight
Set company and team level goals as OKRs
Add plans, track progress, and report problems
Engage teams in status update meetings
Commit to goals and activities planned to achieve them
Try free for 14 days. No credit card required.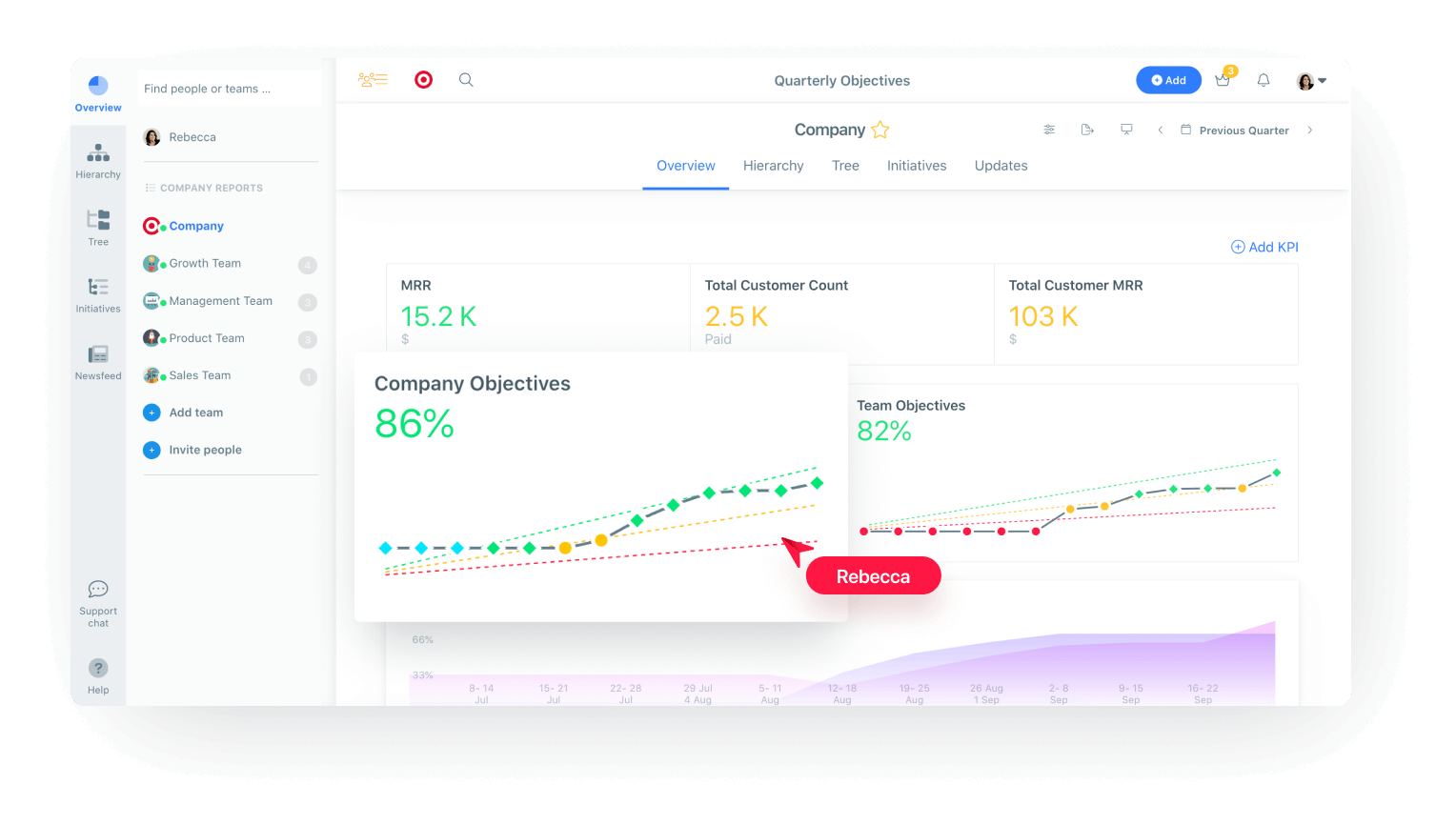 ---
How does goal-setting software work?
Set clear goals
Use the OKR methodology to set quarterly goals. Teams are results-driven, accountable, and connected to the company strategy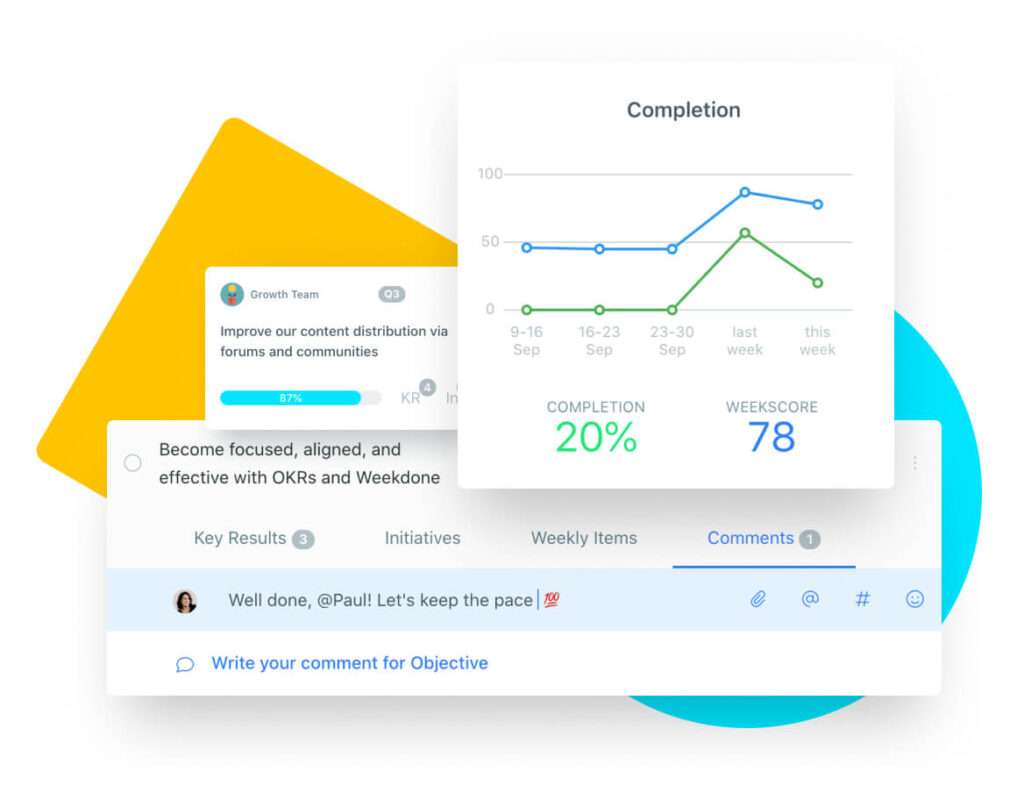 Add Plans & Initiatives
Weekly Planning keeps everyone focused and committed to Initiatives and activities that drive OKRs forward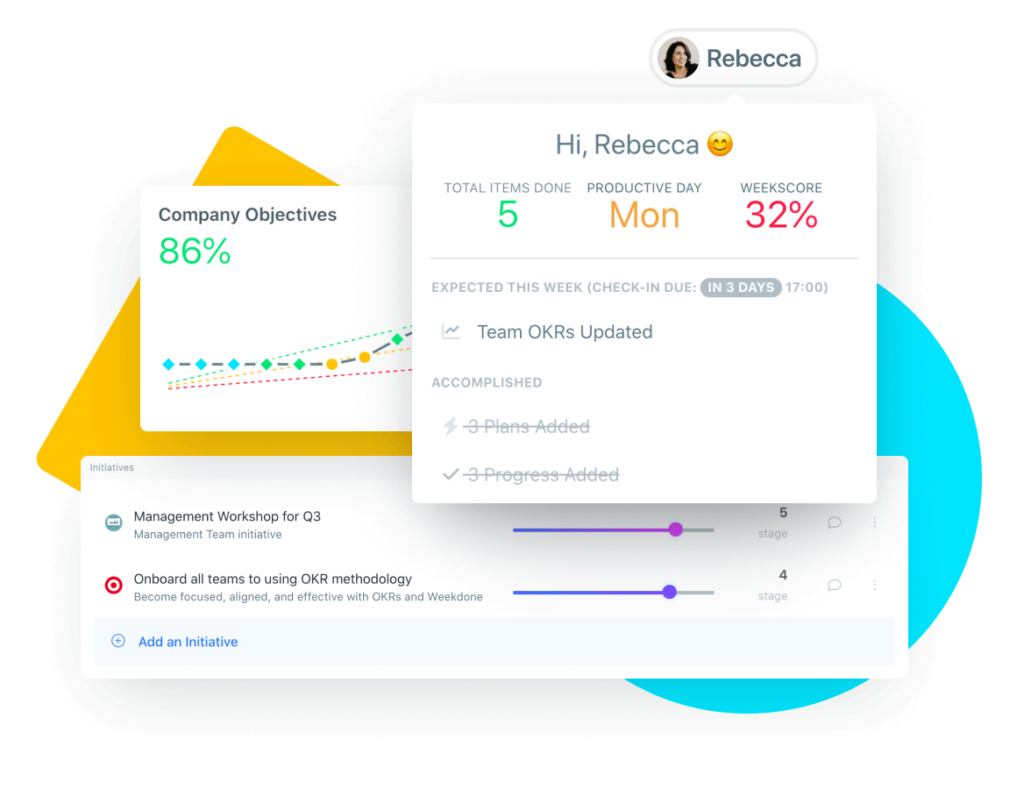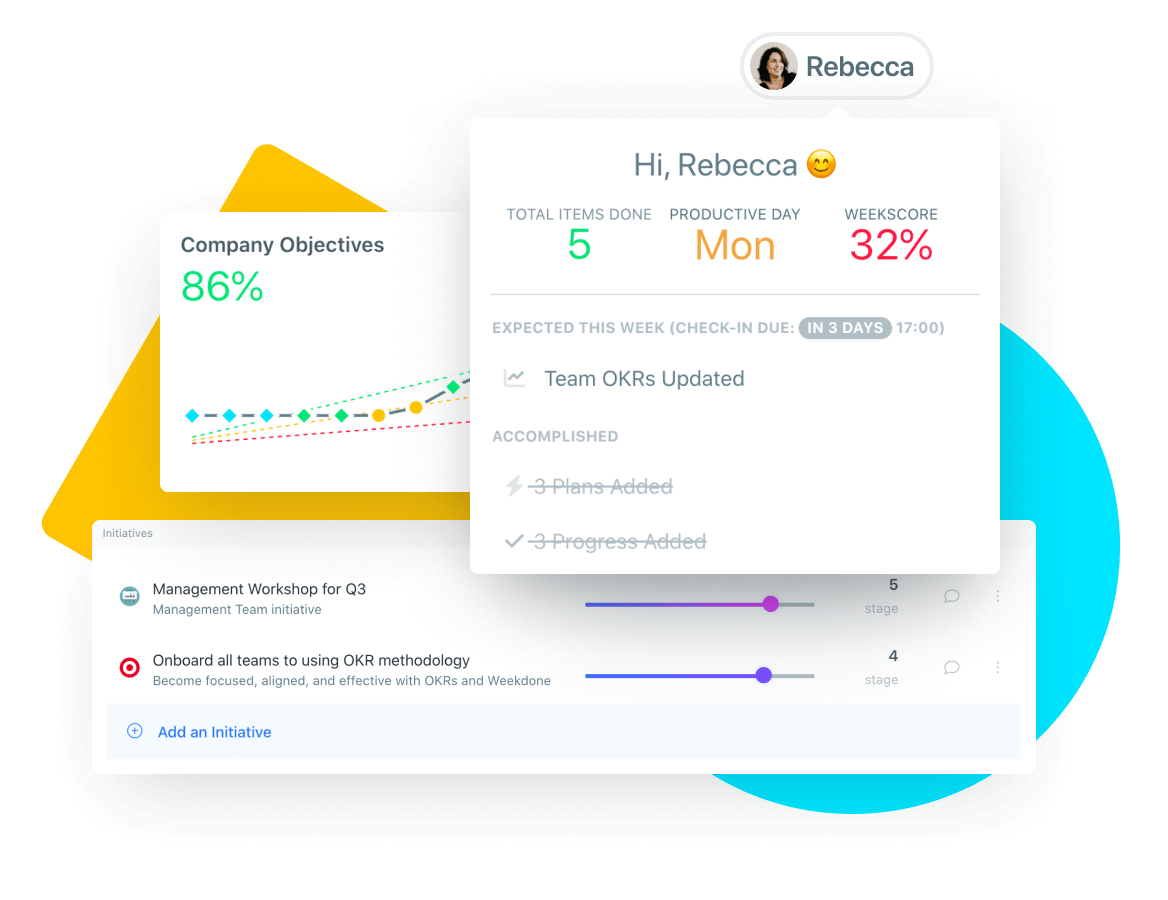 Review automated reports
Custom reports and dashboards show a clear overview of weekly and quarterly progress on all company levels. See OKRs, KPIs, initiatives, plans, and improvement insights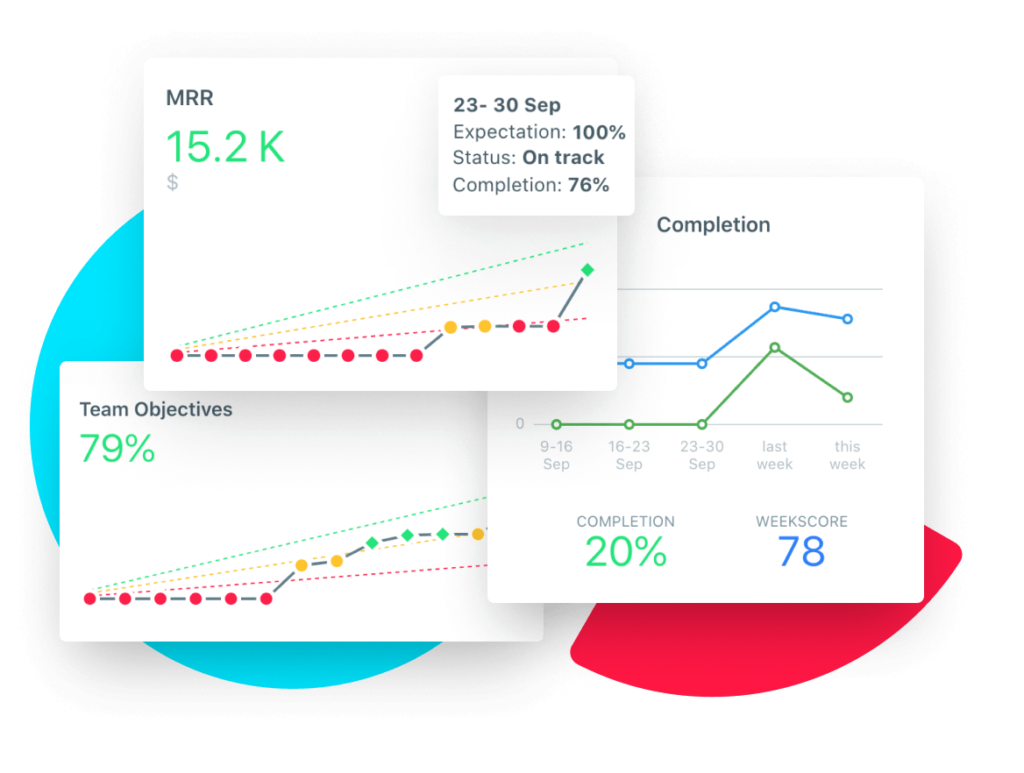 Ditch the spreadsheets, try the software
Goal alignment
Align goals across the company with OKR linking. Visualize with Hierarchy and Tree views
Dashboards & graphs
Visualize OKR goals with beautiful dashboards to see how your teams are progressing
Weekly Planning
Individuals add 3-5 most important tasks to be accomplished in a week and share updates with others
Initiatives
Long-term projects that take more than a week to finish can be added and tracked as stages are completed
Custom reports
Manage improvement and growth with custom, automated reports
Easy navigation
Update, share, and see any view with just a few clicks. All views are based on your organizational structure
Feedback & recognition
Engage with coworkers via Newsfeed, give likes, leave comments and praise
Free OKR coaching
Weekdone OKR coaches are ready to assist your company and teams to be successful with OKRs and our software
Full feature trial for unlimited users. Free for 14 days. No credit card required.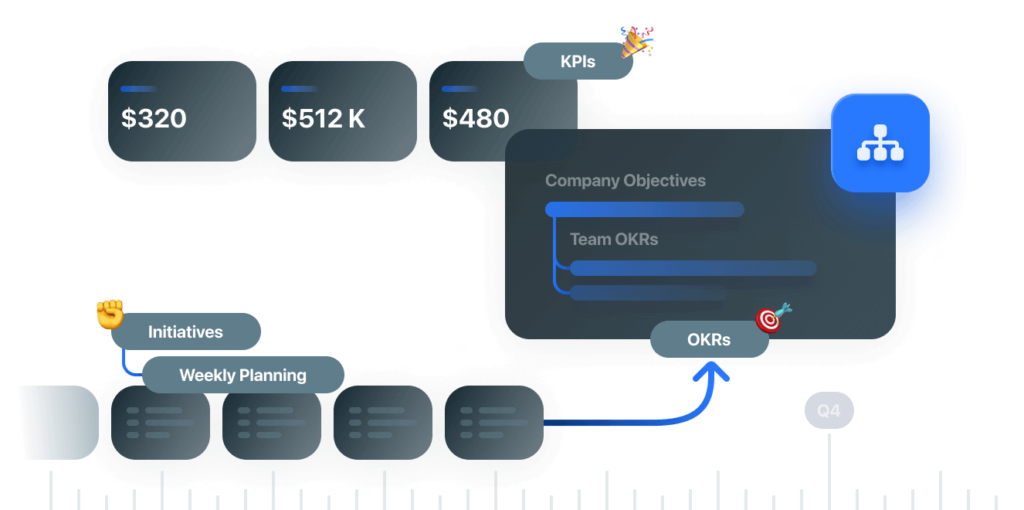 Weekdone is for your business if…
Teams struggle to set clear, measurable goals
Spreadsheets aren't cutting it
You wish to see goals across the company
You need a better goal management solution

Make the connection
Use Weekdone goal-setting software to engage your teams, automate workflows, and get notifications where your teams are already listening.
OKRs combined with weekly reporting at deverus
"There are better insights, we know what our strategy and goals are and what we want to accomplish weekly.

I require everybody to do a narrative on Friday about their week – what were the main wins and challenges, what would they do differently, and what do they need help with."

Shawn Rucks, CEO
Clear overview of OKR progress and connected teams at SnapShot
"The tool itself is very straightforward and simple and brings teams together. It gives us quantifiable data on how well we are performing against our OKRs.

On top of that, it encourages the teams to communicate and help each other."

Bianca Courtenay, Head of HR

Boosting productivity at Wholefoods
"Weekdone has improved our meetings – we're able to move to more strategic discussions since we can go to Weekdone to read our goals and accomplishments from the past week.

We also love reading our Lessons Learned. I don't think we had ever stopped before and really thought about our lessons learned on a weekly basis. It has driven some great conversations and team growth."

Michael Luther, Team Manager
FAQ : Goal-Setting with OKRs
What are OKRs?
OKR stands for Objectives and Key Results. It is a quarterly goal-setting method to help businesses to set clear, inspirational goals (Objectives) which are defined by the success of their measurable outcomes (Key Results).
What companies use OKRs?
OKRs have been used by numerous startups and Fortune 500 companies such as Google, Intel, and Amazon.
What are the benefits of OKRs?
OKRs create company-wide transparency so everyone can see the big picture and their contribution to results. This improves employee focus, accountability, and productivity. Your company will move as one unit toward ambitious goals.
Can I set personal OKRs? 
Yes, you can set personal OKRs – however, leaders must be careful not to tie results to compensation. Using OKRs in business gives managers, leaders, and individuals the opportunity to commit together to make an impact on one clear objective.
What's the difference between OKRs & SMART goals?
SMART goals, unlike OKRs, are not designed for businesses. The SMART goal framework is best for individual goal-setting. However, OKRs do have a time-bound (quarterly or annual) Objective, with measurable, realistic, achievable, and specific Key Results (outcomes).
Are OKRs and KPIs the same?
OKRs and KPIs are not the same. KPIs are active business performance metrics set on the company level. They show you what needs to change. OKRs are a goal-setting method to help decide how teams can work to make that change.
We're here to help
Everyone at Weekdone is happy to answer your questions & get you started. Additionally, we offer OKR goal-setting methodology training, and onboarding assistance for successful usage of Weekdone for you and your teams.

Contact us on live chat or write to hello@weekdone.com — average 2 hour response time.