Set goals. Track progress. Add weekly plans. Give feedback.
Goal-setting tool for real company & team results. Tired of using goal spreadsheets that don't show the whole picture? Try Weekdone – your all-in-one tool for setting team goals.
Try free for 14 days. No credit card required.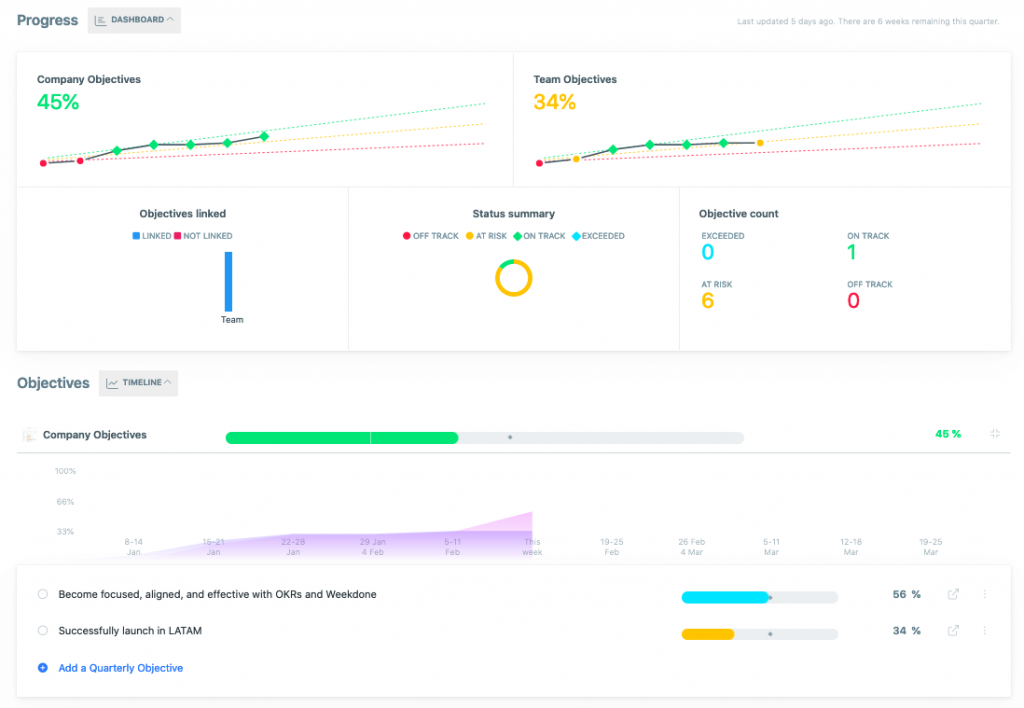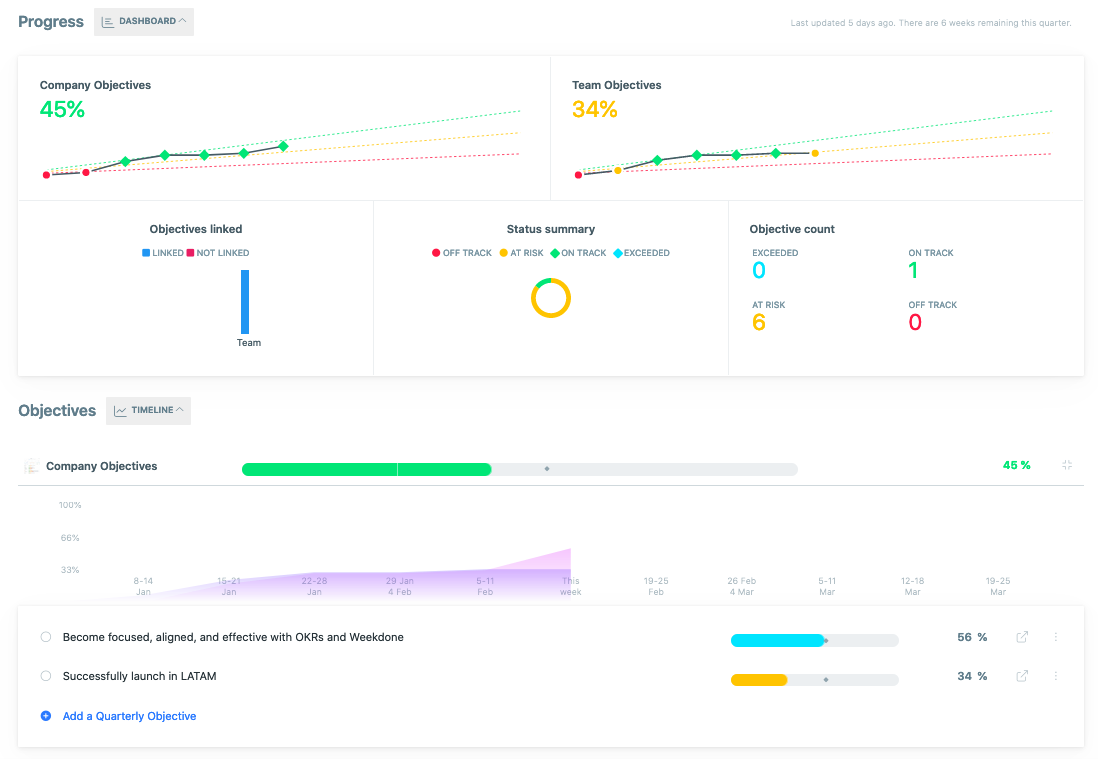 How Weekdone works
Keeping your teams on track is easy with Weekdone
Set Clear Goals
Keep your company and teams aligned and results-driven using the quarterly goal-setting methodology of OKRs.
Plan Weekly
Add weekly plans that help accomplish your quarterly goals with regular Weekly Check-ins.
Receive Reports
Receive automatic reports and have a clear overview of weekly and quarterly goal progress.
Give Feedback
Boost team morale and facilitate cross-functional collaboration by providing timely feedback.
Visualize progress
Weekdone presents your goals' status and progress in beautiful interactive dashboards.
Save time
Keep weekly meetings focused and efficient, and cut down time spent on manual reports.
Automate
Automate processes to avoid duplicate work with automatic reports and updates from external apps.
Align teams
Keep everyone on the same page by openly sharing weekly plans, quarterly goals, and progress status.
Why use OKRs for goal setting?
Objectives and Key Results is a well-renowned framework for setting quarterly goals that help to align every team within a company and get real results. OKRs have been used by numerous startups and Fortune 500 companies such as Google, Intel, and Amazon.
OKRs improve employee focus and productivity by providing clear goals. The company-wide transparency OKRs create helps everyone see the bigger picture and how they contribute to results. Your company will move as one focused unit toward ambitious goals.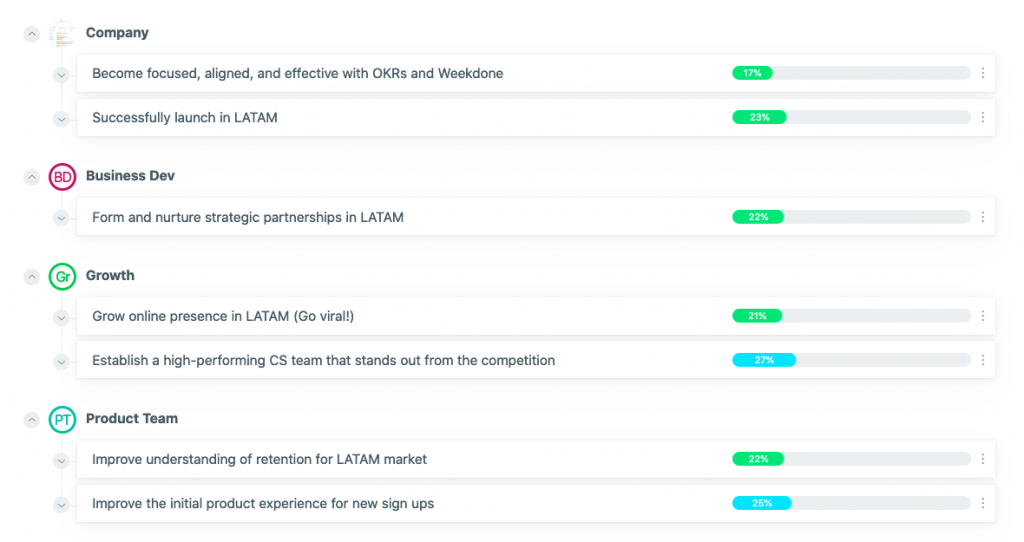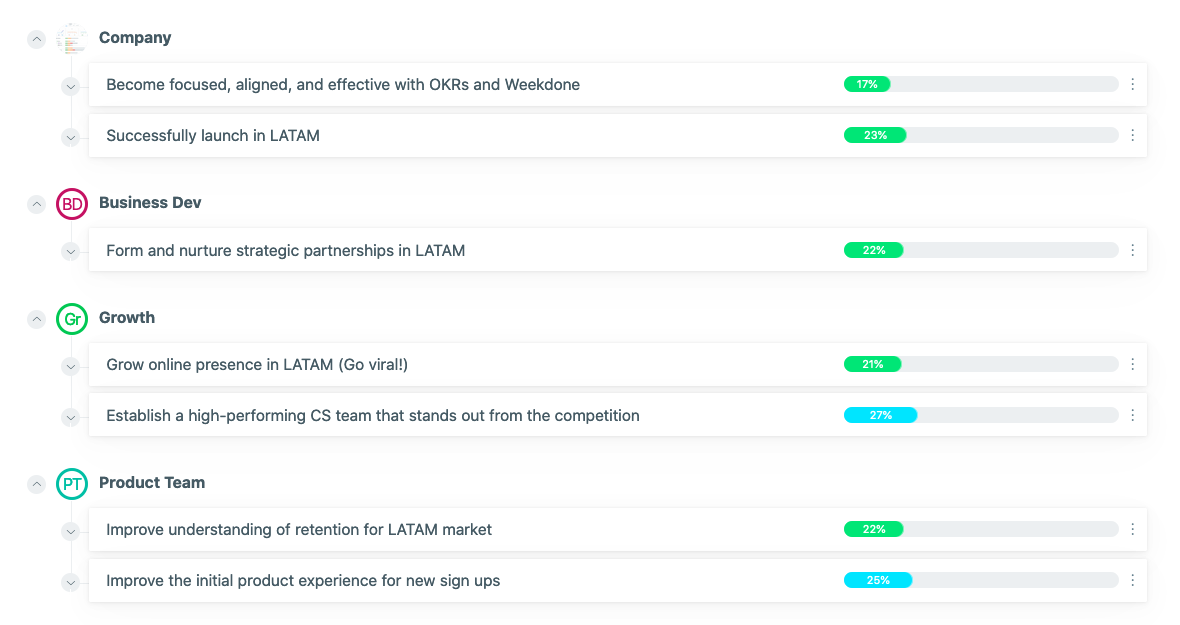 Weekdone is the tool for you if…
You're struggling with setting clear and measurable goals for your teams.
You can't stand using additional spreadsheets that cause further confusion for everyone.
You're looking for an all-in-one tool to keep track of your teams' goals and communicate with your team directly.
We're here to help
Everyone at Weekdone is happy to answer your questions & get you started. Additionally, we offer OKR goal-setting methodology training, and onboarding assistance for successful usage of Weekdone for you and your teams.

Contact us on live chat or write to hello@weekdone.com — average 2 hour response time.