The circle on the leftmost navigation panel represents your quarterly Objectives and Key Results. Here you can add OKRs on different levels and update their progress.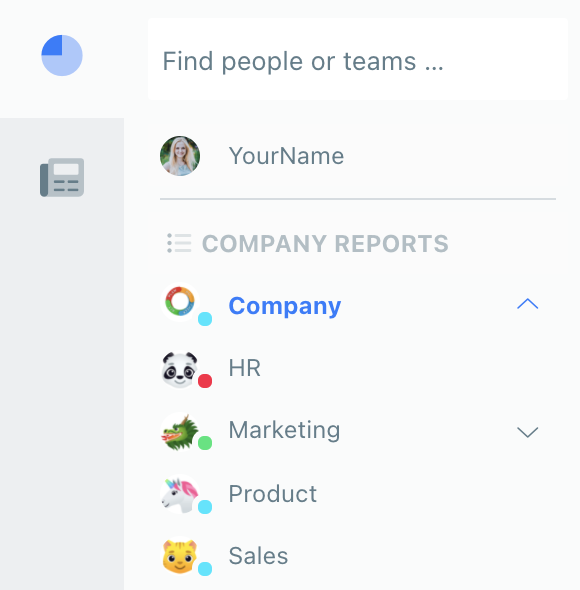 Which levels to use for OKRs?
Primary levels for Objectives
Most companies will set Objectives on 2 primary levels: Company level and Team level.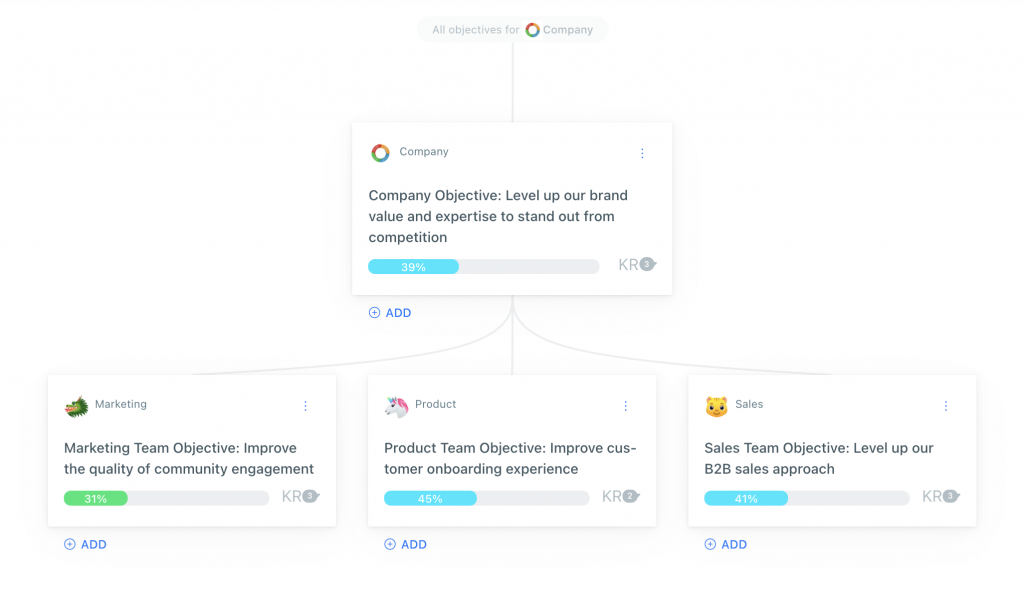 A Team is a group of people representing a function or an area of expertise in a company: for example, there could be a sales team, a marketing team, a product team, an HR team, etc.
Extra levels
A Department level is an extra layer between the Company level and the Team level, and it might be added in companies with 100+ employees.
Please note that the Personal level is not recommended for OKRs as it creates overwhelming complexity and rarely brings business value.
Learn more about Personal versus Team OKRs.
Company level Objectives
Objectives on the Company level represent high-level directions, and the teams would normally link their OKRs to one of the Company Objectives.
Team Objectives, when linked up to Company Objectives, become Company level Key Results.

Although technically there is no limit to the number of Objectives you can add, there should not be more than 3 Company level quarterly Objectives. Otherwise, the whole company would lose focus.
You have the possibility to add annual Objectives to the Company level although it is not necessary.
If you do decide to add annual goals, make sure that each annual Objective is further clarified into a quarterly focus area on the Company level.

Quarterly Team OKRs should only be linked to quarterly Company Objectives.
Team OKRs
Team Objectives are improvement goals aligned with the overarching company direction.
Under each Team Objective, a team would set 2-5 Key Results – measurable outcomes that represent a valuable change in the business.
Each Key Result can be measured on a scale of 0-100% or any numerical unit (for example, $, %, items, clients, etc.).
Each time you update progress on a KR, leave comments to provide some helpful insights and record lessons learned.
Remember, one team should not have more than 3 OKRs per quarter.
Learn more about the OKR best practices.
Team Initiatives
While Key Results are the outcomes that the team wants to achieve, initiatives are activities (outputs) that the team will execute to drive progress on the Key Results.
There might be 3- 10 initiatives under a single Objective, and the team can add new initiatives throughout the quarter as long as they keep finding the best ways to drive KRs forward.
Clearly separating KRs (outcomes) and initiatives (outputs) helps the team to stay focused on the problems they are solving, and continuously come up with innovative solutions to those problems.

Learn the difference between outcomes and outputs.
Weekly Plans (Check-ins)
Please note that the Weekly Check-ins feature can be turned on and off so if you do not see this tab under your Team Objectives, it means that the Weekly Check-ins functionality is disabled. It can always be turned back on by admin users.
For OKRs to succeed, team members need to discuss their priorities, execute their plans and evaluate the impact of their weekly effort on the Key Results.
The Weekly Check-ins tab under the Team Objective shows individual Plans linked to this particular OKR.
Each individual has their personal planning form where they can add new Plans, mark them done, and report any challenges along the way.
There is no direct technical link between individual Weekly Plans and Team initiatives. However, in reality, these concepts might be closely interrelated.
You should use Team Initiatives to track the progress of the activities that last longer than a week and involve several people.
Whereas Weekly Plans (Check-ins) are for individuals to prioritize their actions and communicate their individual progress on the weekly basis.
Additional features
Weekly Team Summaries
Sometimes there is more to a team's achievements than the progress on Key Results. You can use the Weekly Team Summary feature to verbalize any additional information that is important to share with the rest of the company. These could include occasional business-as-usual updates or relevant information about ongoing projects that are not reported in the OKR section.
Only Team Managers can add Weekly Team Summaries.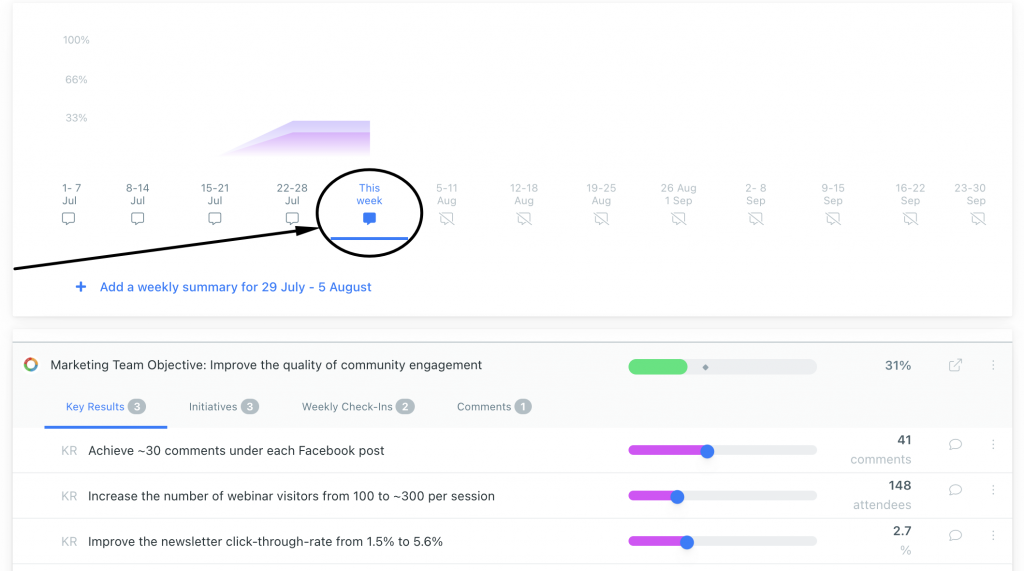 KPI (Key Performance Indicators)
KPIs are numeric targets and business metrics for ongoing monitoring.
Teams normally collect data and track their KPIs with the help of analytics tools, but this data might not be accessible to other teams. That is why to keep everyone on the same page and draw attention to the most important KPIs, you can enter these metrics into a designated block in Weekdone for everyone to see.
Currently, you can enter your quarterly KPIs on the Company and Team levels.
Learn more about the purpose and best practice usage of OKRs and KPIs.
Presenting during a meeting
You can use the "presentation mode" in your account during the OKR check-in meetings to go over the most important updates.

OKR Wizard
When starting out with OKRs, use the OKR Wizard for a step-by-step guidance on how to create and align different level Objectives.

To learn more about the best practices of OKR implementation and management visit "Learn OKRs" section in this Learning Center.