Weekdone Leadership Academy #12: The Best Leadership Writing - October 3rd 2014
"I suppose leadership at one time meant muscles; but today it means getting along with people," said Mahatma Gandhi. This is something we believe in: your people are your greatest asset. How you work together and communicate with them is the greatest skill.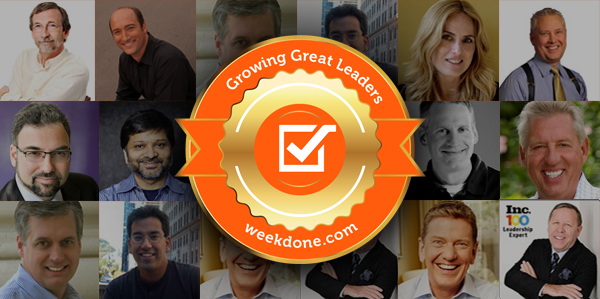 Sharing how other leaders and managers run their teams is a big goal for us. Here is our selection of 15 sites on leadership to keep an eye on. Pay them a visit. Continue reading
In interview with Jeff Weiner, read about the importance of body language, fear and missteps. Continue reading

Tips from American Bird Conservancy to make internal communications work in your team.
Continue reading
To increase employee engagement, being more open and flexible can be magic.
Continue reading

Without workplace optimism talented people leave companies.
Continue reading

There's nothing so practical as a good theory. Here are ten of them.
Continue reading
As a leader, you need to make choice on how you interact with your team.
Continue reading

Take a quick step back and evaluate some areas of your life.
Continue reading

A fun video on conference calls - many of which could be avoided.
Watch the video
First Round Capital Partner on making your days more efficient.
Continue reading

The first step to make any changes is to understand the current state of leadership.
Continue reading

GE executives share their favourite leadership books.
Read more
Like what you've read? Share with your friends and colleagues by the buttons below or forwarding this e-mail






Why extremely stupid people do not have the capability to realize how stupid they are.
Watch now

Making those reviews between you and your employees better.
Continue reading

A fundamental desire of employees is to have a say in the company they work for.
Continue reading
Received this from a friend? Subscribe to Weekdone Leadership Academy newsletter at http://weekdone.com/newsletter
15,527 Awesome Subscribers


Weekdone turns your team from good to great. It's a simple tool for leaders and managers to know and understand their teams better. Used from startups to Fortune 500. Sign up for free. Yes - try Weekdone & improve my team now!
weekdone.com — Twitter — Facebook — Google+