Weekdone Leadership Academy #13: Team Motivation Killers & Fixes - October 9th 2014
"If you can laugh together, you can work together," said comedy writer Robert Orben. Could lack of fun and laughter at work be one thing that shows not all is right with your employees motivation?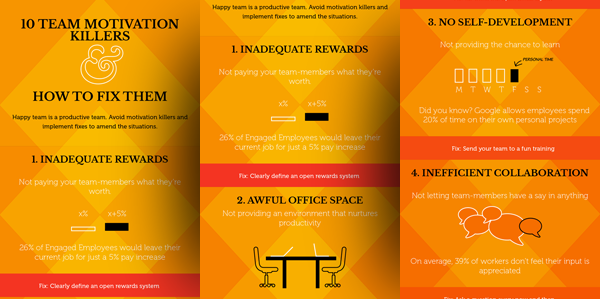 A happy team is a productive team. It's so easy to kill motivation at work. We show you 10 common mistakes team leaders tend to make. But don't worry: we also show you how to fix them. Read more
Management guru Tom Peters is back. "I'm more confused than when I started," he says. What does he think of management and leadership today? Continue reading

Our favourite magician interviewed on what entrepreneurs should take out of his playbook.
Continue reading
Like what you've read? Share with your friends and colleagues by the buttons below or forwarding this e-mail






Making sure the people you put in charge are the right ones.
Continue reading

Bestselling author Robin Sharma on how we all can lead.
Continue reading

The new digital workplace of devices, apps and new technologies.
Watch video
Received this from a friend? Subscribe to Weekdone Leadership Academy newsletter at http://weekdone.com/newsletter
15,875 Awesome Subscribers


Weekdone turns your team from good to great. It's a simple tool for leaders and managers to know and understand their teams better. Used from startups to Fortune 500. Sign up for free. Yes - try Weekdone & improve my team now!
weekdone.com — Twitter — Facebook — Google+