Weekdone Leadership Academy #15: Turning Objectives into Results
Do you lead or do you manage? Is there a difference? Sure there is. To be successful as a leader, you need to do both well. To help you out, we wrote a new e-book on smarter methods for team collaboration. Download it below.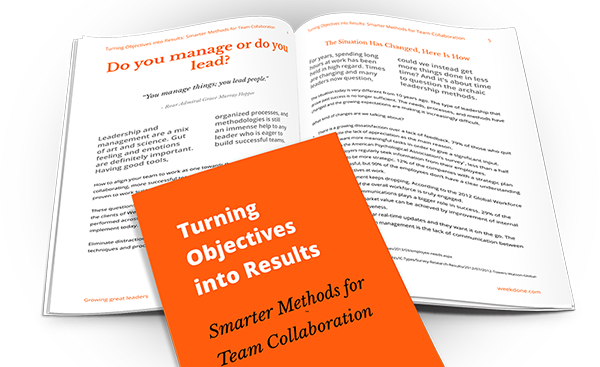 The new Weekdone e-book on team collaboration is a practical manual for any leader. With practical advice and real-life examples, it shows what can you do today to make your team more successful. Download it now
Deep insights on management, candor, and company culture from David Ogilvy, the "Father of Advertising".Continue reading

Too many people get together without really knowing why, simply because it was on their weekly schedules.
Continue reading
Like what you've read? Share with your friends and colleagues by the buttons below or forwarding this e-mail






It's soon time to set annual goals for 2015. How to do it right?
Continue reading

A time management and planning process from the great US President.
Continue reading

The techno-philosopher on "features and bugs" of companies.
Continue reading
An approach to allow your people to make 10 decisions a day.
Continue reading

Besides weekly online reviews, here's how to meet your people monthly.
Continue reading

Some things are known to fail. Here are some you should not try.
Continue reading
Josh Bersin, one of the world's top HR tech analysts on the industry.
Continue reading

Brian Tracy on keys to employee happiness and productivity.
Continue reading

Research and statistics on what differentiates millionaires from others.
Continue reading
Received this from a friend? Subscribe to Weekdone Leadership Academy newsletter at http://weekdone.com/newsletter
16,828 Awesome Subscribers


Weekdone turns your team from good to great. It's a simple tool for leaders and managers to know and understand their teams better. Used from startups to Fortune 500. Sign up for free. Yes - try Weekdone & improve my team now!
weekdone.com — Twitter — Facebook — Google+
This e-mail was sent to janek@itx.ee on behalf of weekdone.com. Your e-mail is not shared to third parties. Unsubscribe