Weekdone Leadership Academy #26: A Simple System to Banish Chaos
Summer is here and we all wish there would be more free time to enjoy it. Here's a secret: that's doable. Just use some proven methods to set goals, monitor what's happening and you get 80% of your work done in 20% of time. Just be smart about it.
Learn where you stand with your leadership & management practices. Take the 3-question survey Results published in next newsletter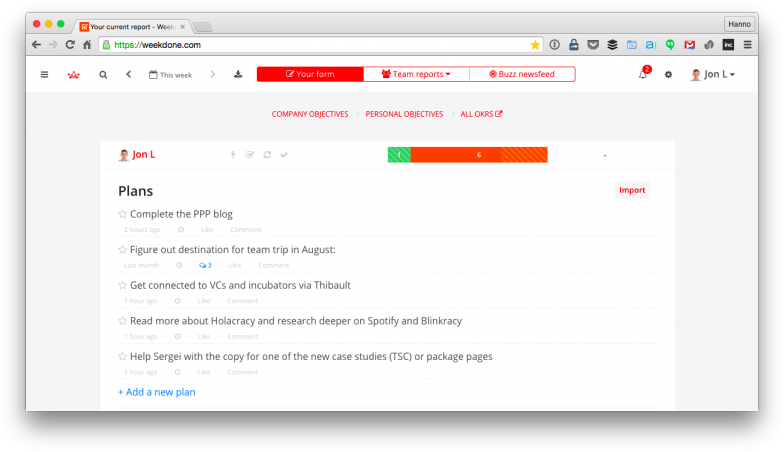 Hanno is a leading design team spread out over the world. Here's the proven method they use to manage their productivity and collaboration.
Read more
| | |
| --- | --- |
| Not all goals are smart. Test yours to see how well you rate. Continue reading | Shia LaBeouf delivers one of the best 1-minute motivational talks ever. Continue reading |
There are four human capital strategies which combined can give you that growth.
Continue reading

Practical advice on a compensation method that really works.
Continue reading

Being a remote manager can work out great. Just follow these best practices.
Continue reading
Reif Hoffman, LinkedIn founder, on "a dishonest conversation" with employees.
Continue reading

Guidance from a millennial to his peers on diving direction to yourself.
Continue reading

On the somewhat unpopular and entirely correct choice of cultivating discipline.
Continue reading
Why using tools like Weekdone is crucial for any team.
Continue reading

Listen closely to your employees and make that your primary gauge of performance.
Continue reading

The concept of "flow" for doing better work is something everyone should learn.
Continue reading
Received this from a friend? Subscribe to Weekdone Leadership Academy newsletter at https://weekdone.com/newsletter
23,329 Awesome Subscribers


Weekdone turns your team from good to great. It's a simple tool for leaders and managers to know and understand their teams better. Used from startups to Fortune 500. Sign up for free. Yes - try Weekdone & improve my team now!
weekdone.com — Twitter — Facebook — Google+