Weekdone Academy #3: Achieving those big important goals - July 10th 2014
Whether you're a new manager or an experienced leader, chances are you spend considerable amount of time wrestling with the big, hairy goals. If there is one process we dare to suggest to any team to achieve those goals, it's the OKR - Objectives and Key Results, now also available in Weekdone.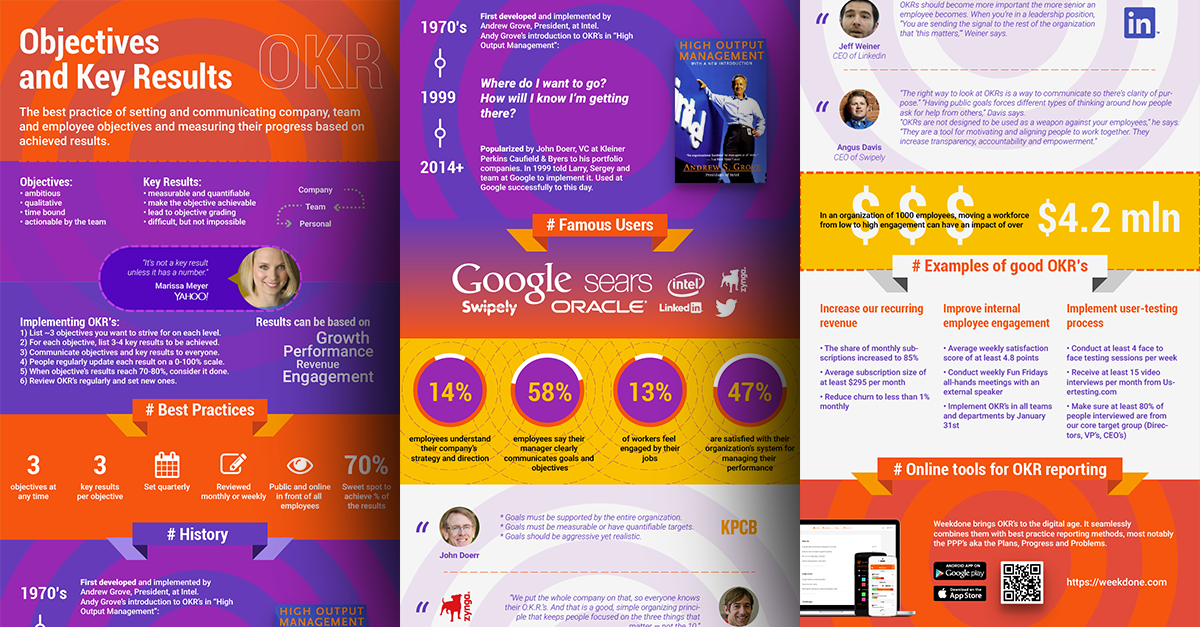 What's that one process that's taking the world's best companies by storm? It's OKR. It's simple and easy and everyone's loving it. Read what people like Marissa Mayer from Yahoo and Mark Pincus from Zynga have to say. Find out the fascinating history and tips and tricks to use it. [infographic] Continue reading
| | |
| --- | --- |
| | The Quantified Self movement has come to work. More and more tools are being developed to help monitor, track, and better understand the activity of workers. What will the future bring? Continue reading |
When viewed through the proper lens, measuring and surveying employee satisfaction can be a useful tool. But what determines job satisfaction according to a survey? Continue reading
Appearing smart during a meeting is important, but how to pick yourself up when you're suddenly daydreaming? Here are 10 tricks that help you in any situation.
Continue reading
Since 1999, The Conference Board CEO Challenge survey has asked CEOs, presidents, and chairmen across the globe to identify their most critical challenges for the coming year. Here are the results for 2014. Continue reading
| | |
| --- | --- |
| | Communication between leaders and their workforce is a hallmark of a successful organization. The best results come from mixing online and offline communications. Here's what to focus on your monthly one-on-one's. Continue reading |
Psst. Here's the secret of Google Ventures on running productive meetings. It's something simple and easy. You can implement it in no time. Find out here, what it is. Continue reading
CEO's can be left powerless by 3 challenges. Lack of influence. Lack of timely information. Lack of engaged employees. How to overcome these and get your mojo back?
Continue reading
| | |
| --- | --- |
| | Have you got big goals? Reaching your goals is all about steady step-by-step progress uphill. One step at a time, step-by-step. Watch this cartoon to see how to climb that mountain. [video] Watch now |
| | |
| --- | --- |
| | Genuine joy and happiness is a force of possibilities. Over time, this will open great doors and bring good opportunities in. Let's always stay positive and get the week done. Continue reading |
12,983 Awesome Subscribers


Weekdone turns your team from good to great. Get and share insights about what your team is up to. Used from startups to Fortune 500. Yes - improve my team now!
weekdone.com — Twitter — Facebook — Google+