Weekdone Leadership Academy #6: 10 ways to stronger, more successful teams - August 21st 2014
"Talent wins games, but teamwork and intelligence wins championships," said Michael Jordan. He knew. Today we tell you both about the more practical as well as creative side of making your team better. Learn and try it out.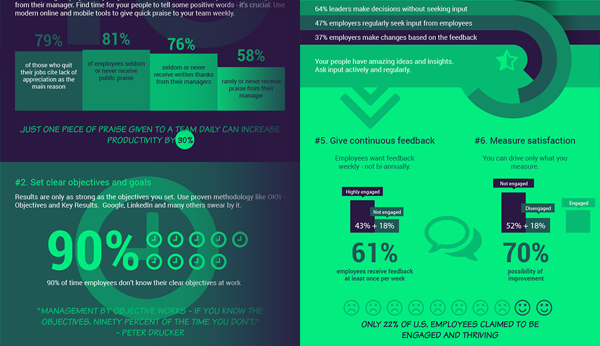 Leadership and management are a mix of art and science. We analyzed, what are some of the top processes and practical tips from world's greatest leaders - things you could implement today. Try them out, if you haven't. Continue reading
| | |
| --- | --- |
| How do sphagetti, marshmallow and yard of tape relate to team-building? Watch the video | Learn the Time Zone Tango with your remote people & teams. Continue reading |
1200+ motivational slides from 30-year old Ryan Allis who sold his firm for $170 million. Continue reading

Using rules both old and new to improve your internal communications.
Continue reading

People spend 5.6 hours each week in meetings. Make that time valuable.
Continue reading
40% of population is shy. So are many top leaders. Turn that to your advantage.
Continue reading

Using Asana for task management? Explore the new weekly dashboard.
Continue reading

The King Almighty, The Rock, The Sun God, The Pinball and The Hustler.
Continue reading
A recent contest of best interview questions - use these in your next interview.
Continue reading

We've created a trap for ourselves in the way that we talk about leadership.
Continue reading

When is a hierarchy better management structure than a loose network?
Continue reading
Received this from a friend? Subscribe to Weekdone Leadership Academy newsletter at http://weekdone.com/newsletter
14,357 Awesome Subscribers


Weekdone turns your team from good to great. It's a simple tool for leaders and managers to know and understand their teams better. Used from startups to Fortune 500. Sign up for free. Yes - try Weekdone & improve my team now!
weekdone.com — Twitter — Facebook — Google+