Weekdone Leadership Academy #75: "WTF are OKRs?" New Free eBook.
At some point, everyone who starts researching the Objectives and Key Results (OKR) methodology will find themselves confused, asking themselves "What the fork are OKRs?". To help cut through all the bullshirt, Weekdone has put together a new ebook: "WTF are OKRs?" that is available to download for free.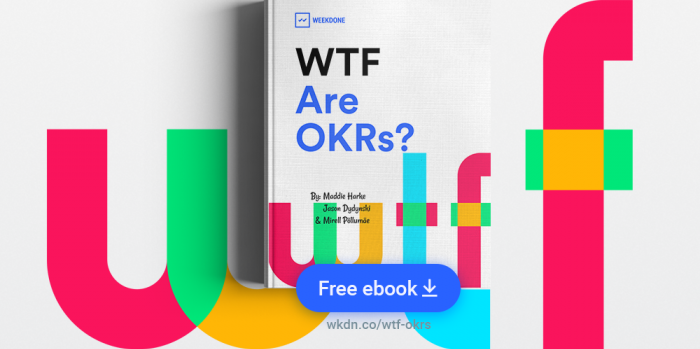 This book cuts through the corporate buzzwords and actually answers WTF are OKRs? and how you can get started and implement the methodology. Read more
Making sure you and your youthful charges are on the same page.
Read more

A happy team is a productive team, you won't inspire people to excel by acting glum.
Read more

What it takes to motivate people requires a better understanding of how people are wired on a human level.
Read more

When you look for goals to set for yourself at work examples, you need to keep in mind why goals are important.
Read more

For individuals starting their career or seeking to shift roles, you need to prove yourself beyond your resume.
Read more

While they're obsessing over keeping you happy, they are neglecting their real work
Read more

It's the day-to-day work of internal comms that keeps the engine running.
Read more

You have to adopt to a particular value-based high-performance leadership style and approach to succeed.
Read more
Learn how other companies benefit from Weekdone goal setting — Insights and examples.


Weekdone helps you set structured goals to align activities throughout your organization. Track weekly progress, provide feedback, and move everyone in a unified direction. Yes - try Weekdone & improve my team now!