Your OKR tool to ensure a results-driven company culture
Set company goals as OKRs, add plans to achieve them, and track progress. Give your teams a roadmap to success.
Free for 1-3 users or 14 days. No credit card required.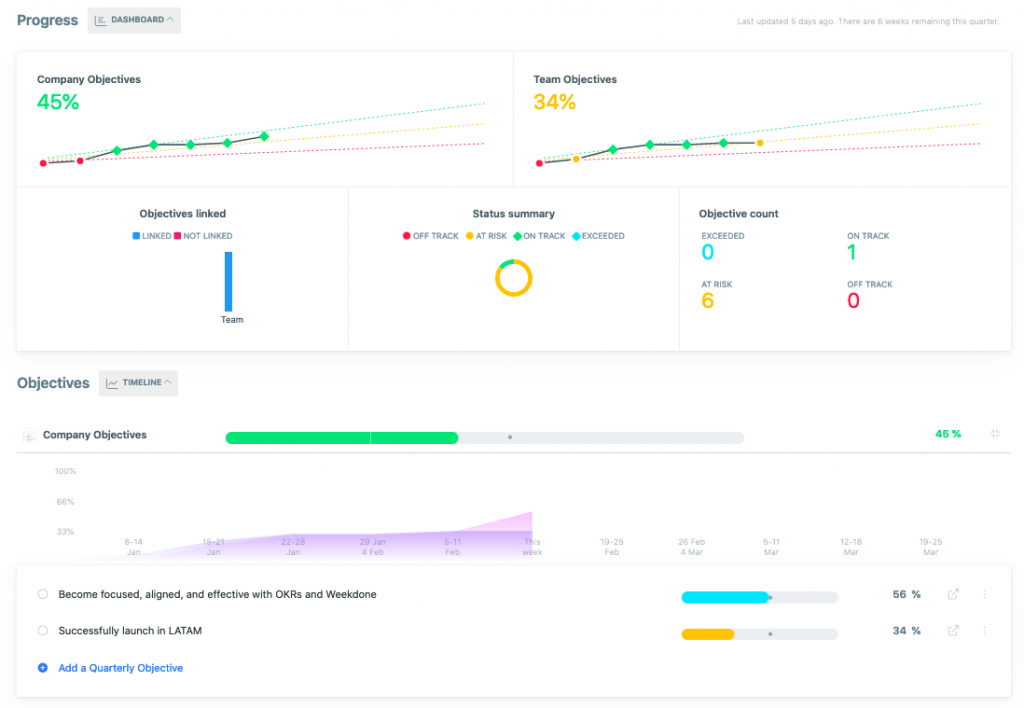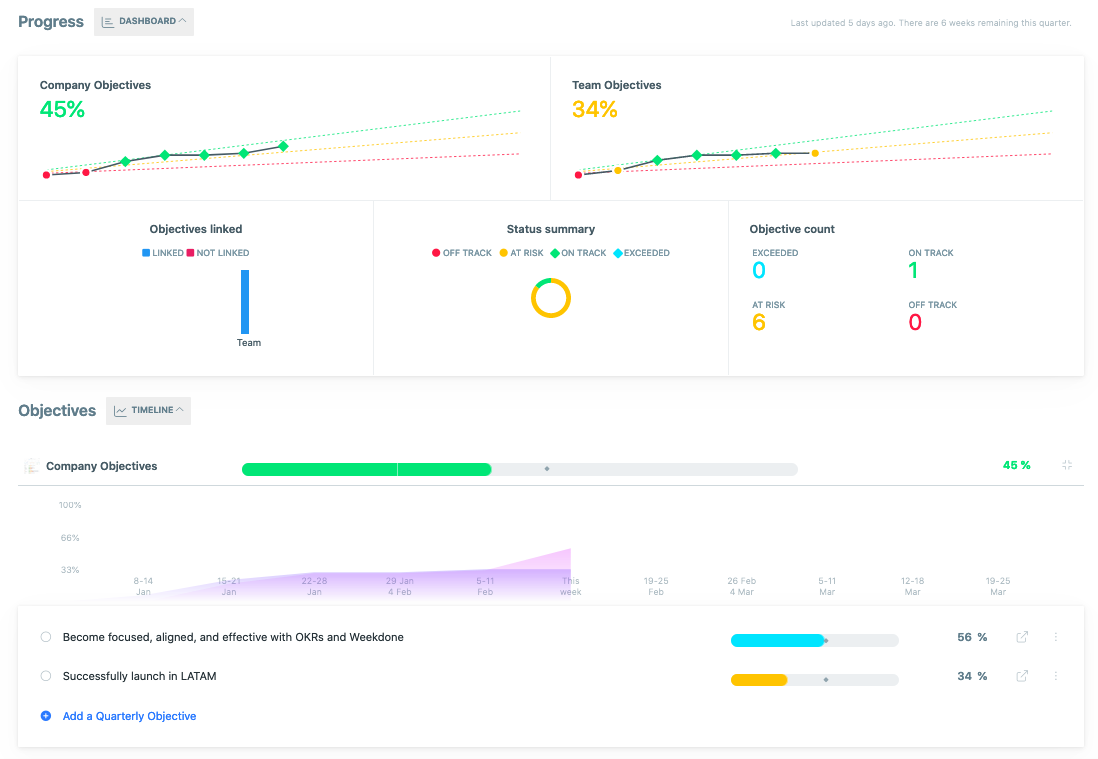 How does an OKR tool work?
Why use Weekdone OKR tool?
Automated customizable reports help you manage improvement and growth.
Easy navigation
Access everything in a few clicks. Update items on-page. All views are based on your organization structure.
Personalized OKR coaching tailored to your company, teams, and industry.
Trusted OKR software
Weekdone has continued to transform the OKR software space as an innovative leader since 2012.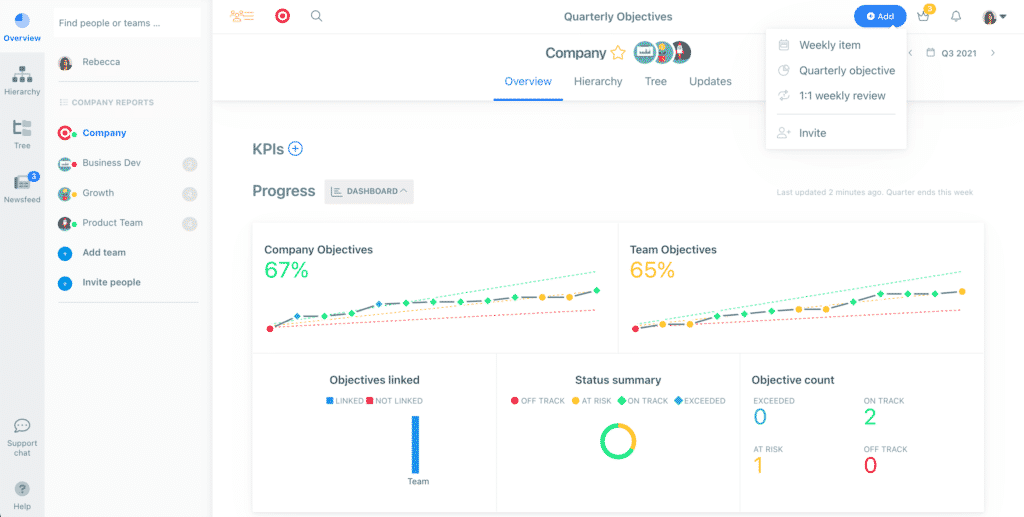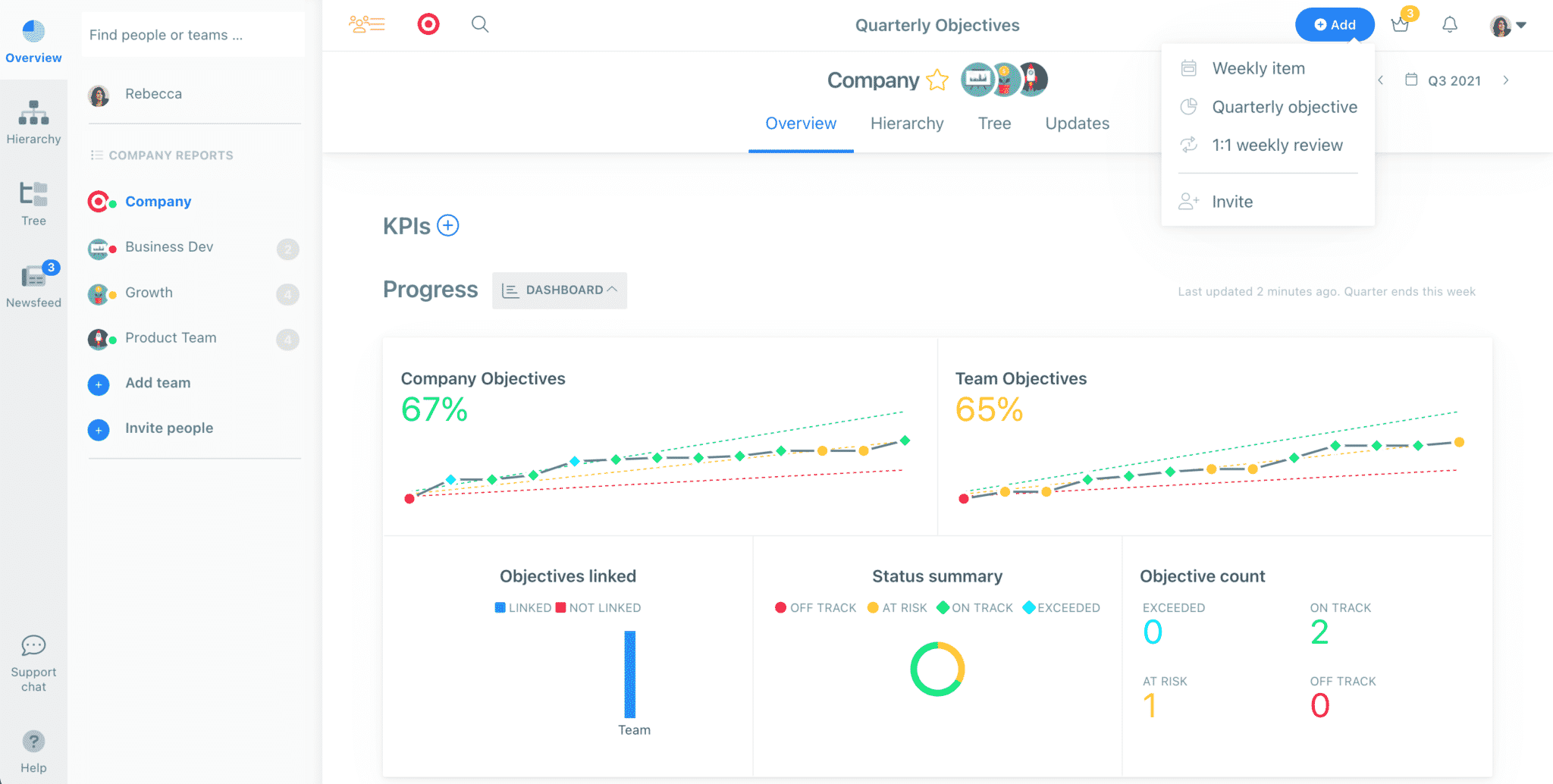 Lead with confidence. Connect employee work with company goals.
Easily align everyone in the company to move in the same direction with OKRs
Plan weekly activities for teams with OKRs in mind to deliver real results
Receive automated reports to have a clear overview of progress status and bottlenecks
Know what teams are working on and provide feedback
Pricing
How many people are in your company?
Integrations
Enjoy a seamless workflow with your existing tools
Get results with Weekdone
OKRs combined with weekly reporting at deverus
"There are better insights, we know what our strategy and goals are and what do we want to accomplish weekly.

I require everybody to do a narrative on Friday about their week – what were the main wins and challenges, what would they do differently, and what do they need help with."

Shawn Rucks, CEO
Clear overview of OKR progress and connected teams at SnapShot
"The tool itself is very straightforward and simple and brings teams together. It gives us quantifiable data on how well we are performing against our OKRs.

On top of that, it encourages the teams to communicate and help each other."

Bianca Courtenay, Head of HR

Boosting productivity at Wholefoods
"We've found that Weekdone has improved our meetings – we're able to move to more strategic discussions since we can go to Weekdone to read our goals and accomplishments from the past week.

We also love reading our Lessons Learned. I don't think we had ever stopped before and really thought about our lessons learned on a weekly basis. It has driven some great conversations and team growth."

Michael Luther, Team Manager
Let us help you
Everyone at Weekdone is dedicated to helping your teams successfully implement OKRs and making them a habit in your company. Have questions? Contact us on live chat or write to hello@weekdone.com — average 2 hour response time.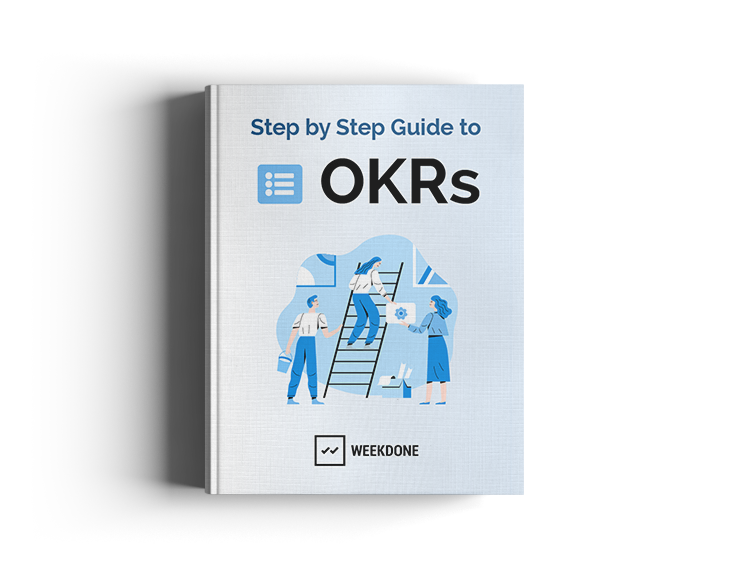 Free OKR ebook: Step by Step Guide to OKRs
Written by our OKR experts, this 135-page guide is filled with tips on implementing OKR best practices.
OKR FAQ
What is OKR software?
OKR software is a goal-setting tool that helps your team create measurable goals to drive your company towards success. OKR stands for Objectives and Key Results. Your Objectives are what you want to achieve, and the Key Results are the quantitative measures that help you "define the achievement" of your Objectives.
What software does Google use for OKR?
John Doerr introduced the OKR methodology (which originated from Intel) to Google in 1999. Since then, Google utilizing Google Docs or Google Sheets as a simple and easily accessible way to track OKRs. Weekdone offers a free OKR template in Google Sheets.
Does OKR really work?
Following best practices, OKRs help companies align their goals and focus on the big picture. It usually takes between 3 to 5 quarters to see OKRs begin to flourish in teams, but it's worth the effort.
Who uses OKR?
The well-known companies that use OKRs are Adobe, Amazon, Asana, Baidu, BMAT, Deloitte, Dropbox, Eventbrite, Facebook, Google, GoPro, LinkedIn, Mozilla, Netflix, Oracle, Panasonic, Salesforce.com, Samsung, Siemens, Slack, Spotify, Trello, Twitter, and Uber. You can also learn more about how these companies use OKRs from OKRcasestudies.com.
Should startups use OKRs?
Whether a startup is made up of two people or 100, OKRs can help the company's top priorities become clear to everyone. Weekdone is the best OKR software for startups to start as it's free for 3 users or 14 days and includes unlimited OKR coaching.
What is an OKR vs KPI?
KPIs are business metrics that reflect performance, whereas OKR is a goal-setting method that helps you improve performance and align on goals. Both OKRs and KPIs are necessary for setting company goals and moving towards success.