Here is a list of the best e-books and learning materials that can help you during your Weekdone journey.
#1 Step by Step Guide to OKRs
by Weekdone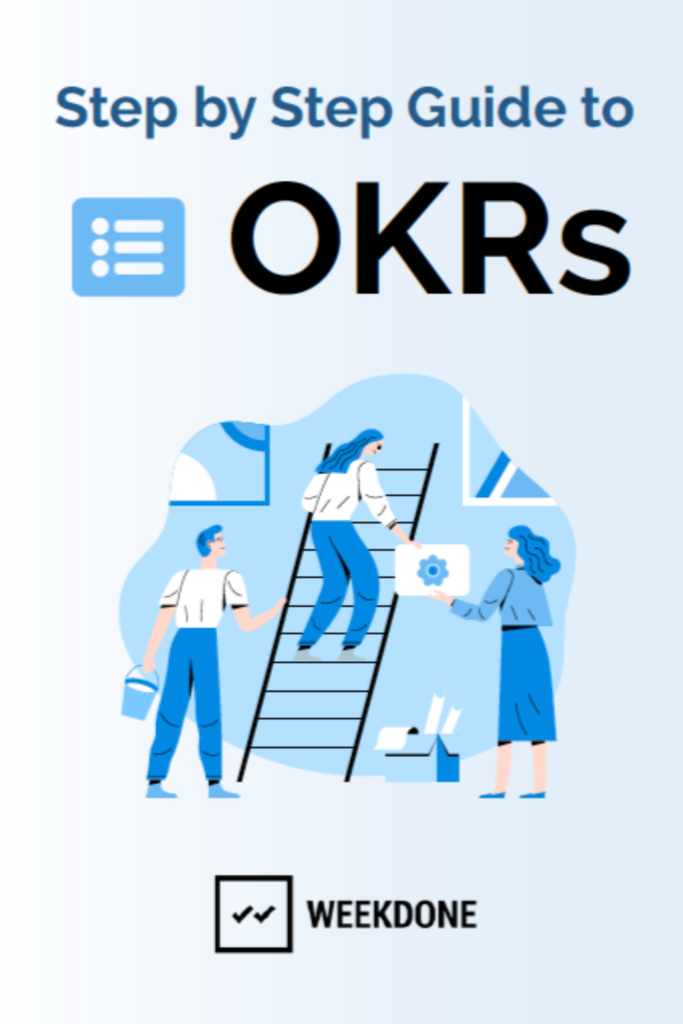 This one's a nice free e-book you can download. It's a practical guide to goal setting that offers concrete examples to help you start setting impactful and meaningful goals. This book teaches you how to manage your team better and create a feeling of success.
Step by Step Guide to OKRs is a "How-to" guide to get started with OKRs and to help your team or a company implement the best goal-setting system currently out there.
Filled with a lot of practical examples, this book is a good quick handbook to launch and implement OKRs in your team.
Read this and you will find the answers to the following questions:
What are OKRs?
What is Goal Setting?
Benefits of OKRs
Getting Started with OKR
Writing Good Objectives
Setting Key Results
How OKRs and KPIs can coexist
Committed and Aspirational OKRs
Personal OKRs
How to Write Actionable OKRs
Weekly Plans
OKR Alignment
OKR Examples
The OKR Process
The OKR Weekly Check In
The OKR Quarterly Review
The Secret Behind Successfully Implementing OKRs
OKR Implementation Guide
Getting an OKR Coach
OKR Best Practices and Tips
OKR Case Studies
#2 Measure What Matters: How Google, Bono, and the Gates Foundation Rock the World with OKRs
by John Doerr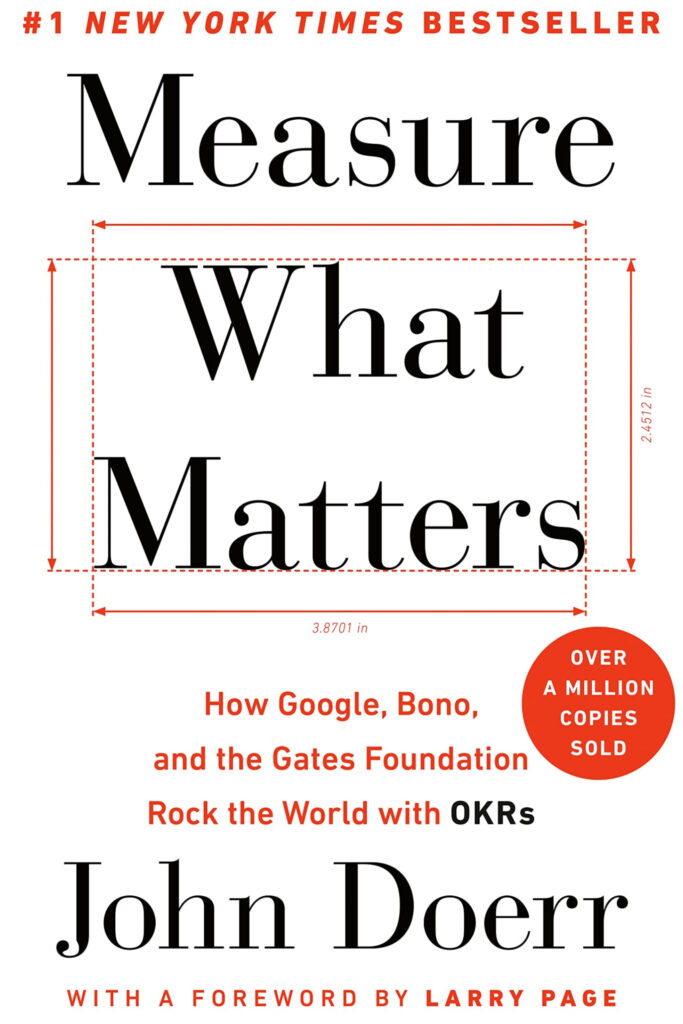 The book provides some rare insight as to how the methodology has been used as a framework to success in various organizations.
John Doerr is rightfully considered one of the most influential preachers of the Objectives and Key Results (OKRs) methodology. He is the one who initially introduced the idea to the young founders of Google. And their success story has turned OKRs into a well-known goal-setting methodology for both start-ups and traditional businesses.
Measure What Matters supplies a rare insight as to how the OKR methodology was first developed and came into use. It even details all the ideas and thoughts that went into the initial inception of the methodology. It also goes over one of the most forgotten aspects of goal setting. It is not enough to set great goals. You must always keep them in sight. And you must work towards them every day of the week.
Measure What Matters is divided into two parts:
Part 1. OKRs in action. Google, meet OKRs
Part 2. The new world of work. Continuous performance management: OKRs and CFRs
👉 You can order this OKR book here
#3 The Beginner's Guide to OKR
by Felipe Castro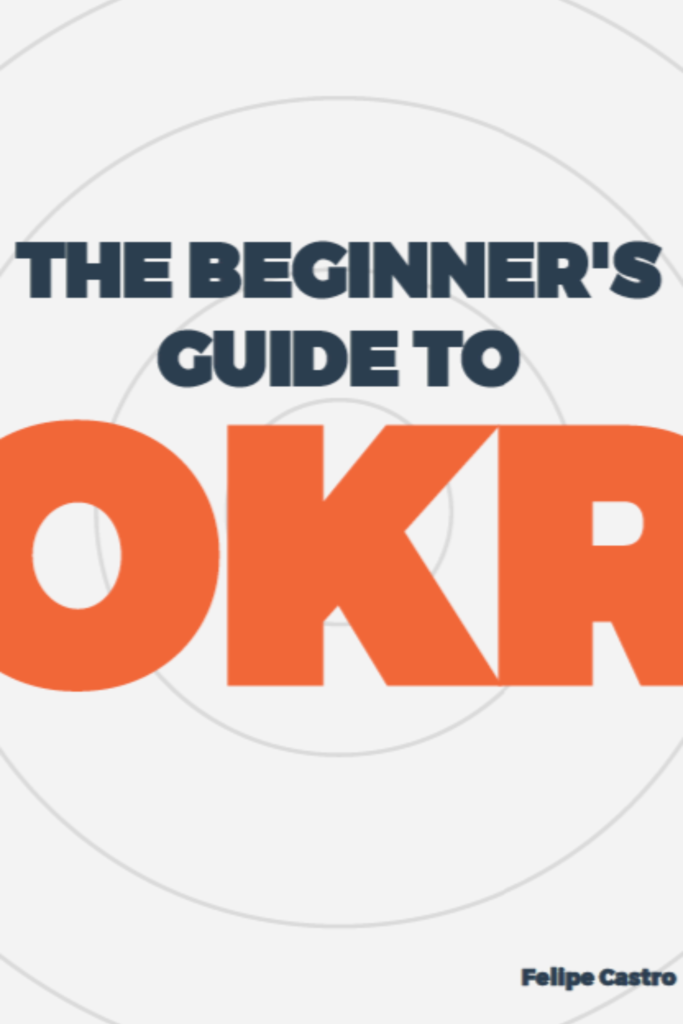 This OKR book came out as a reaction to the OKR Bible "Measure What Matters" by John Doerr and several other guides. While most OKR guides do a fantastic job of explaining all ins and outs of OKR's philosophy and addressing some of the most common questions, they lag behind when it comes to the actual setting of Objectives and Key Results.
Castro's guide gives a straightforward introduction to OKRs and how to get started with them. This book is concise at about 50 pages and especially good for first-time OKR users. Reading it section by section will help you realize how the different OKR building blocks fit together and why great companies such as Google, Spotify, Twitter, Airbnb and LinkedIn adopted OKRs to set goals.
The Beginner's Guide consists of the following sections:
What is OKR?
What are the benefits of using OKR?
Strategic vs. Tactical OKRs: Nested Cadences
OKRs do not Cascade
Success criteria and types of Key Results
How ambitious should your OKRs be?
Creating Alignment
Tracking Results with the Weekly Check-in
A Typical OKR Cycle
Why you should separate OKR and compensation
Common OKR mistakes
👉 You can download this free OKR book here
#4 Start Less, Finish More: Building Strategic Agility with Objectives and Key Results
by Dan Montgomery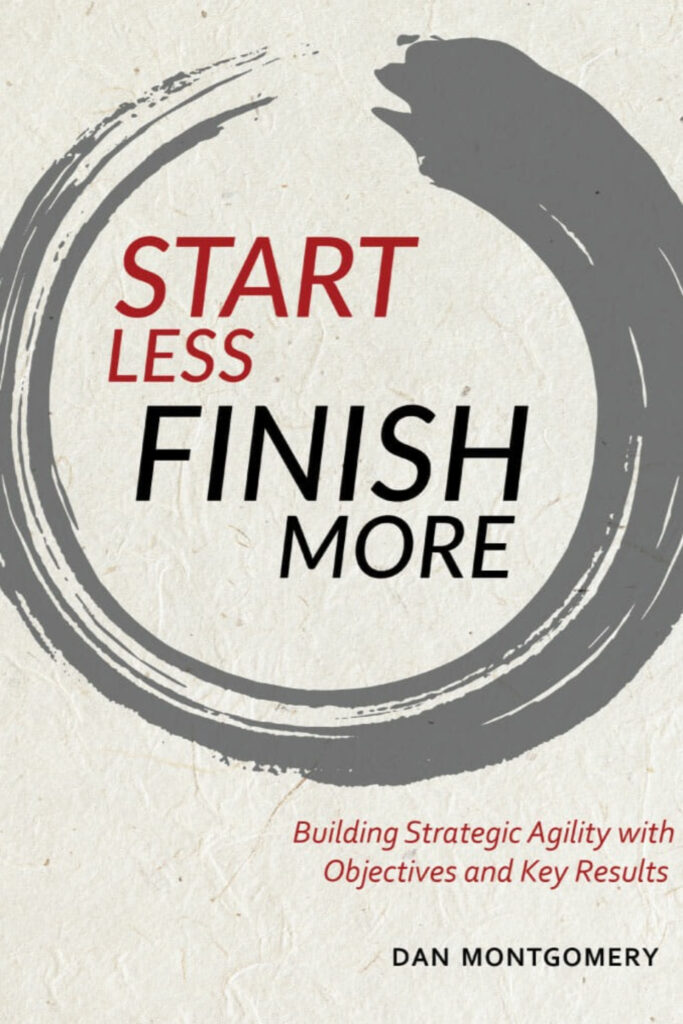 Business strategy often stagnates because it's challenging to adjust, or it doesn't take off because teams can't connect their work to the strategy. The way to make your strategy happen is to keep it agile: knowing where you want to go while staying open and flexible about how you get there.
Finish More shows you how to spend less time preparing and more time doing, iterating, and adapting your strategic plan using OKRs – the goal-setting method that built Silicon Valley.
This is a great easy breakdown of a strategy and OKRs into actionable steps, offering framework, examples, and useful guidance.
This OKR book consists of 8 chapters:
Embracing Uncertainty
Strategy
Assess
Focus
Commit
Act
Learn
Building the Agile Strategy Management Cycle
👉 You can order this OKR book here
#5 Radical Focus: Achieving Your Most Important Goals with Objectives and Key Results
by Christina R Wodtke and Marty Cagan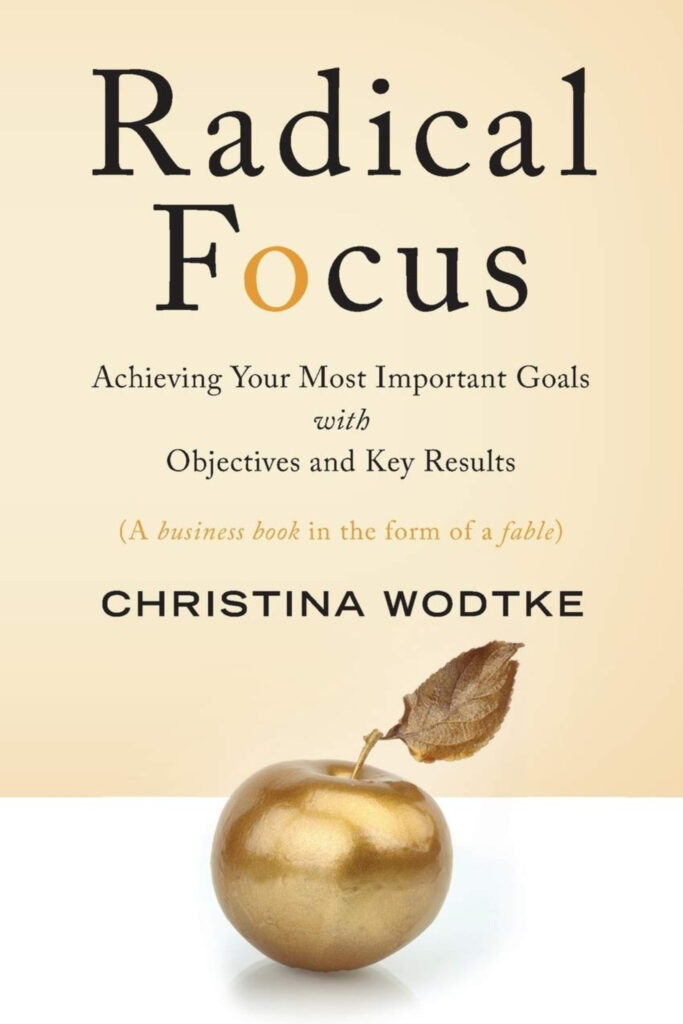 Radical Focus tackles the OKR movement and better goal setting through the powerful story of Hanna and Jack's struggling tea startup. When the two receive an ultimatum from their only
The first-ever OKRs book is a nice quick read to get started with them.
It's a practical business book in the form of a fable.
Radical Focus tackles the OKR movement and better goal setting through the powerful story of Hanna and Jack's struggling tea startup. When the two receive an ultimatum from their only investor, they must learn how to employ Objectives and Key Results (OKRs) with radical focus to get the right things done.
The author pulls from her experience with Silicon Valley's hottest companies to teach practical insights on goal setting in a story form. As you see through Hanna and Jack's story, it's about creating a framework for regular check-ins, key results, and most of all, the beauty of a good fail. Wodtke adds a bonus section in the second half of the book to lay out her most practical insights into applying Objectives and Key Results (OKRs) to your specific workplace and challenges.
👉 You can order this OKR book here
#6 How to Measure Anything
by Douglas W. Hubbard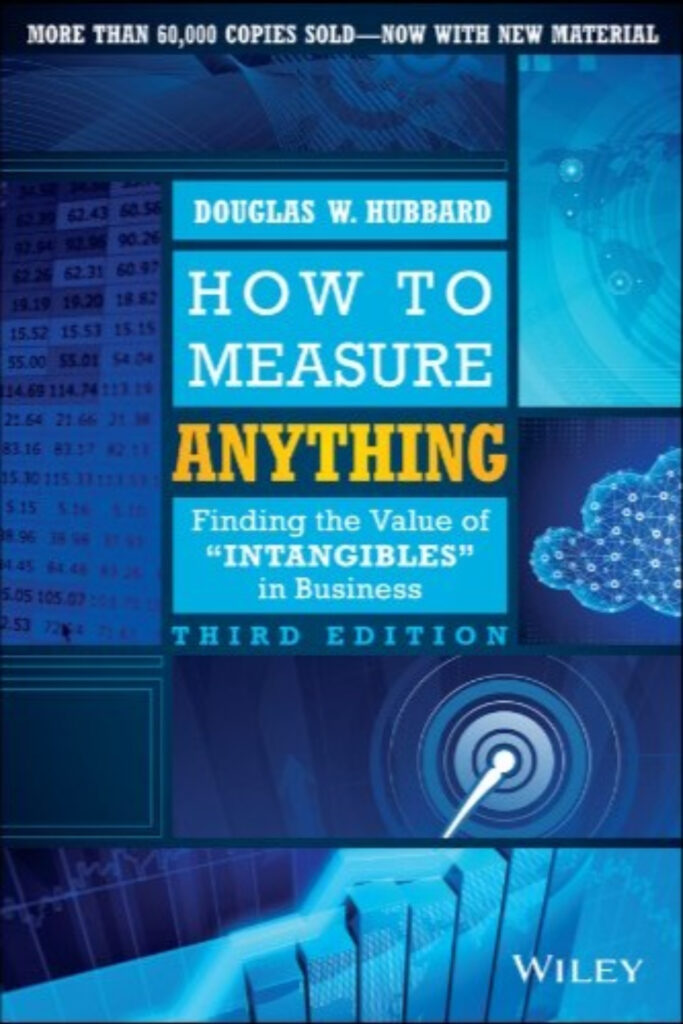 This book serves as "basic statistics for business" and provides a general framework for approaching measurement tasks, including certain techniques and practical examples.
Hubbard strongly defends the case that everything can be measured, even though the method may not be obvious at first glance. The author's definition of measurement means any number or figure that reduces risk compared to your previous state.
The book structure basically consists of a step-by-step plan on how to decompose the problem, define what's business-critical to measure, estimate what you think you'll measure, measure just enough, not a lot, and do something with what you've learned.
Douglas W. Hubbard broke the structure up into 4 sections:
Measurement: The Solution Exists
Before You Measure
Measurement Methods
Beyond the Basics
👉 You can order this book here
#7 The OKRs Field Book: A Step-by-Step Guide for Objectives and Key Results Coaches
by Ben Lamorte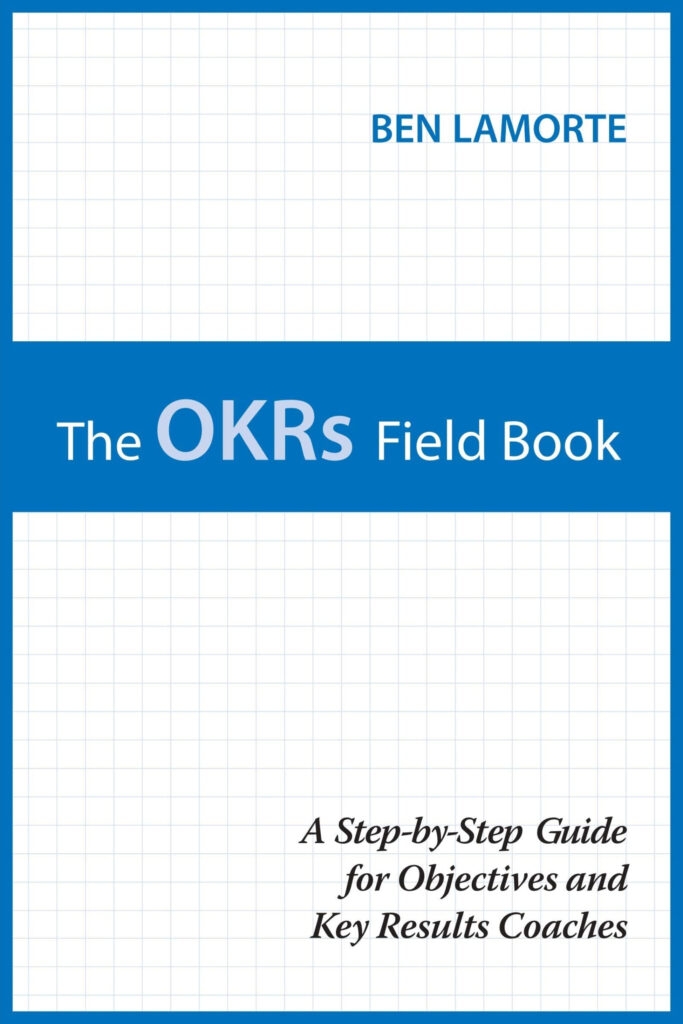 This is the first book dedicated to OKRs coaching. It's not an introduction to OKRs. Instead, this book is written for external and internal coaches looking to take their OKRs coaching skills to the next level. It provides a comprehensive framework to guide users through the phases and steps necessary to make your OKRs coaching project a success.
👉 You can order this book here