Set SMART goals at work. Track progress. Add weekly plans. Give feedback.
Team Compass is the world leading SMART goals tracking tool. It improves company & team results for any user. It's great for setting smart goals for work.
Use it to share and monitor your team's annual and quarterly goals and objectives, projects and initiatives, tasks and plans, KPIs and metrics.

Try Team Compass – your all-in-one tool for setting and tracking team goals and visualizing progress.
Free for 1-3 people or 14 days trial. No credit card required.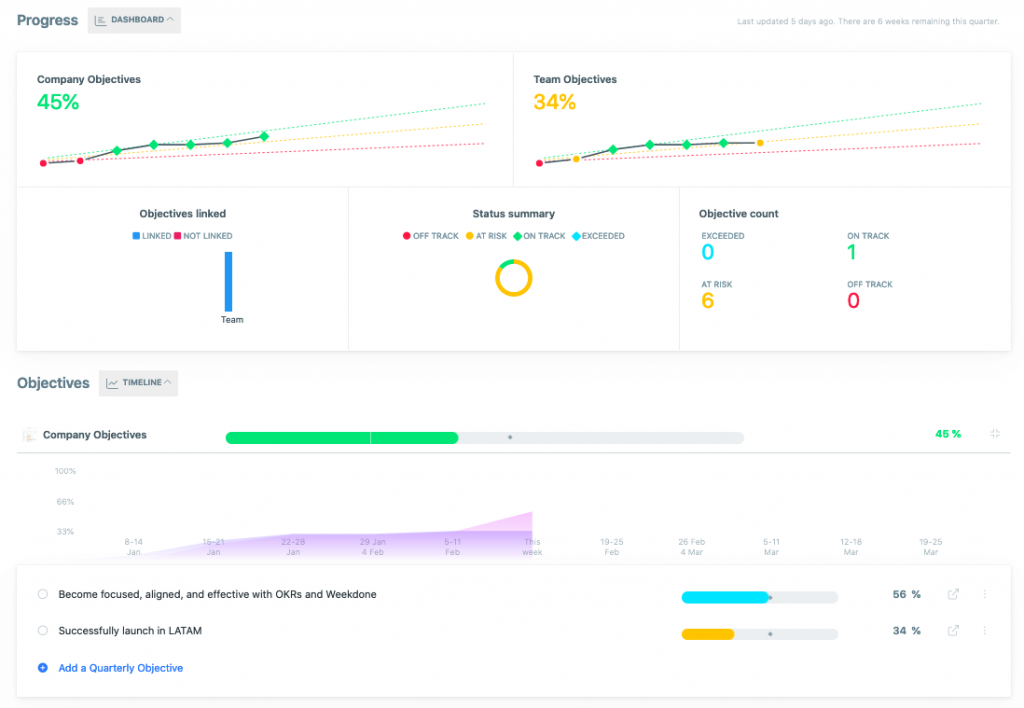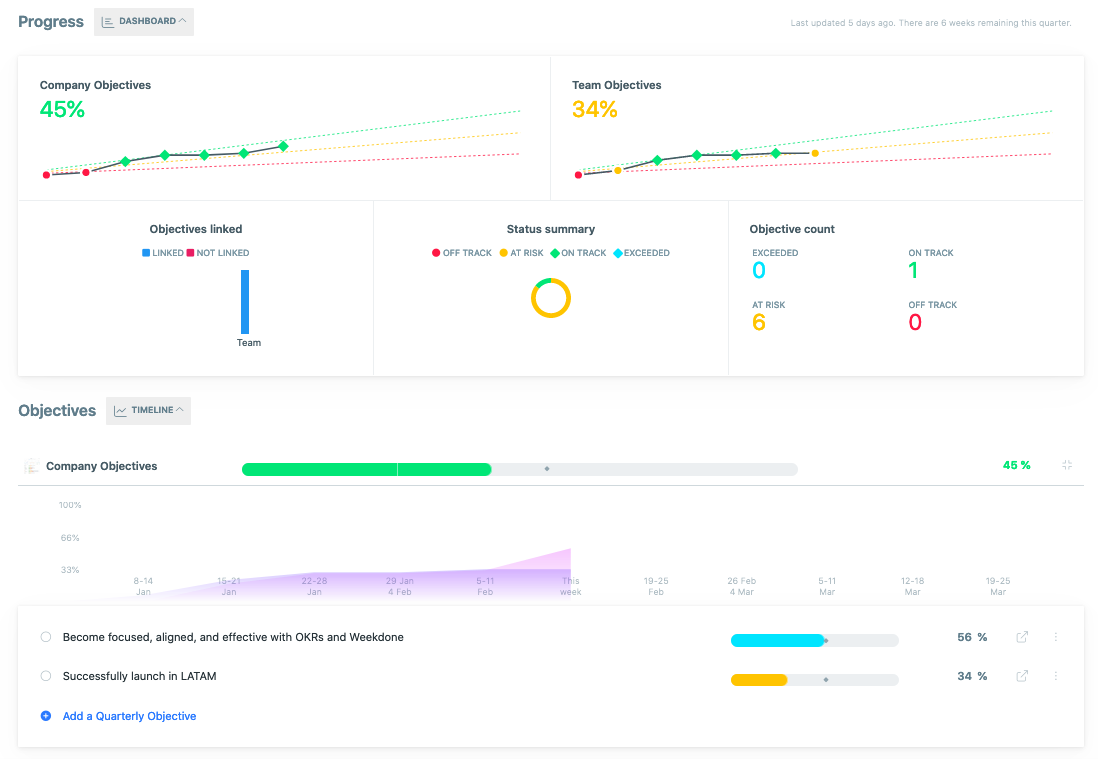 How Team Compass works
Keeping your team SMART goals on track is easy with Team Compass
Set Clear Goals
Keep your company and teams aligned and results-driven using the quarterly goal-setting methodology of SMART goals.
Plan Weekly
Add weekly plans, projects and tasks that help accomplish your quarterly goals with regular Weekly Check-ins.
Receive Reports
Receive automatic reports and have a clear overview of weekly and quarterly goal progress.
Give Feedback
Boost team morale and facilitate cross-functional collaboration by providing timely feedback.
Why use Team Compass for SMART Goals?
Visualize progress
Team Compass presents your goals' status and progress in beautiful interactive dashboards.
Save time
Keep weekly meetings focused and efficient, and cut down time spent on manual reports.
Automate
Automate processes to avoid duplicate work with automatic reports and updates from external apps.
Align teams
Keep everyone on the same page by openly sharing weekly plans, quarterly goals, and progress status.
Why use SMART goals for goal setting?
SMART goals are a well-renowned framework for setting goals that help to align every team within a company and get real results. SMART goals have been used by numerous startups and Fortune 500 companies such as Google, Intel, and Amazon.
SMART goals improve employee focus and productivity by providing clear goals. The company-wide transparency SMART goals create helps everyone see the bigger picture and how they contribute to results. Your company will move as one focused unit toward ambitious goals.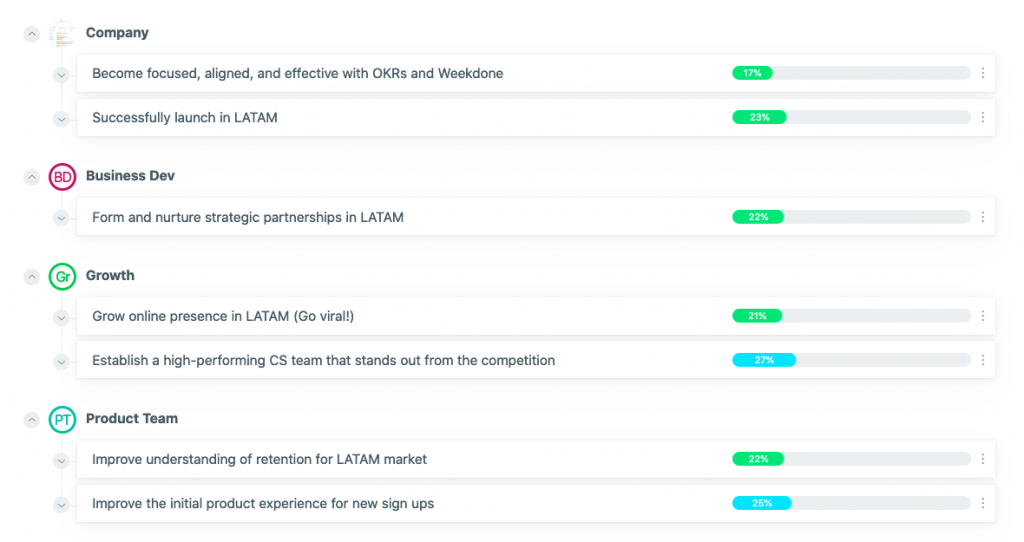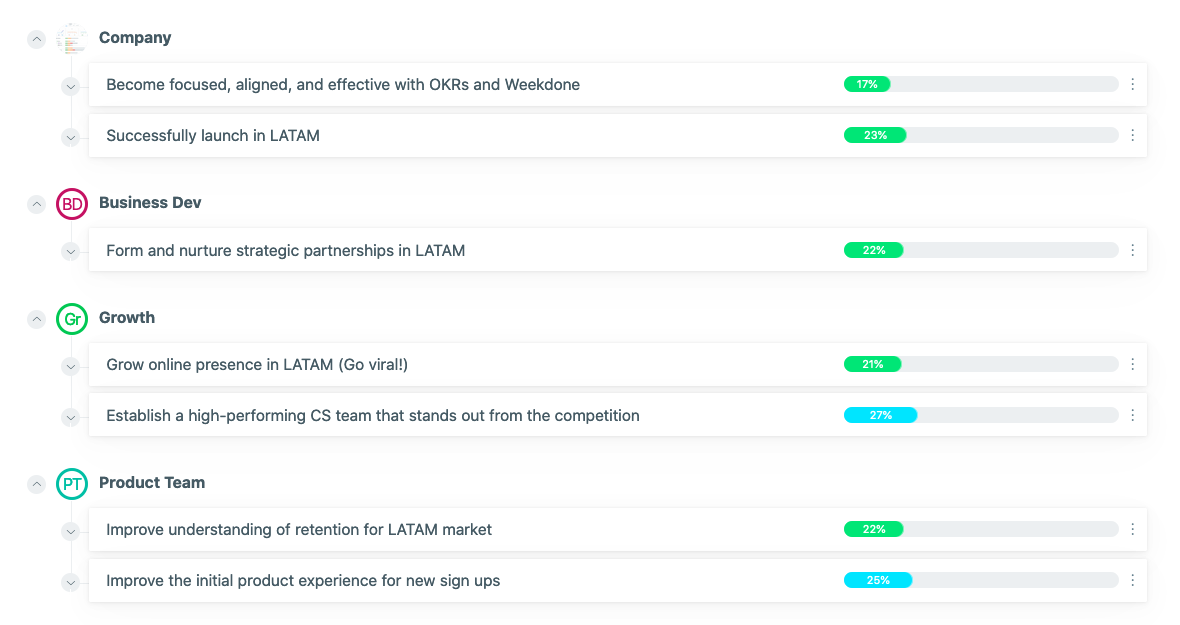 Team Compass is the tool for you if…
You're struggling with setting clear and measurable goals for your teams.
You can't stand using additional spreadsheets that cause further confusion for everyone.
You're looking for an all-in-one tool to keep track of your teams' goals and communicate with your team directly.
What are SMART goals?
SMART goals are:
Specific – Assigned to a person, team or department
Measurable – Visualized by number, percentage or done/not done
Achievable – Agreed on together with whole team
Relevant – Driven by higher level company or department goals
Timed – Annual, Quarterly, Weekly or with Due Dates