Improvement, Efficiency, and Productivity
Weekdone has the tools to keep your teams on track – plan, report and communicate to achieve your goals.
Free for 3 users or 15 days. No credit card required.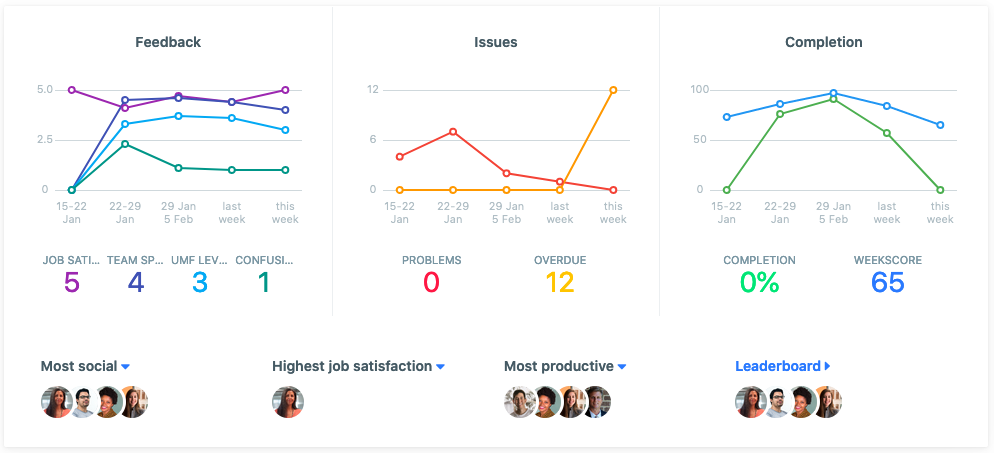 Team Management Made Easy
Set objectives everyone understands:
Enlightened management happens through inspirational objectives
Have an open exchange of ideas on objectives and the ways of achieving them
Agree on your common goals and let every team negotiate their own contribution
Where applicable, define quantitative measures and targets to evaluate progress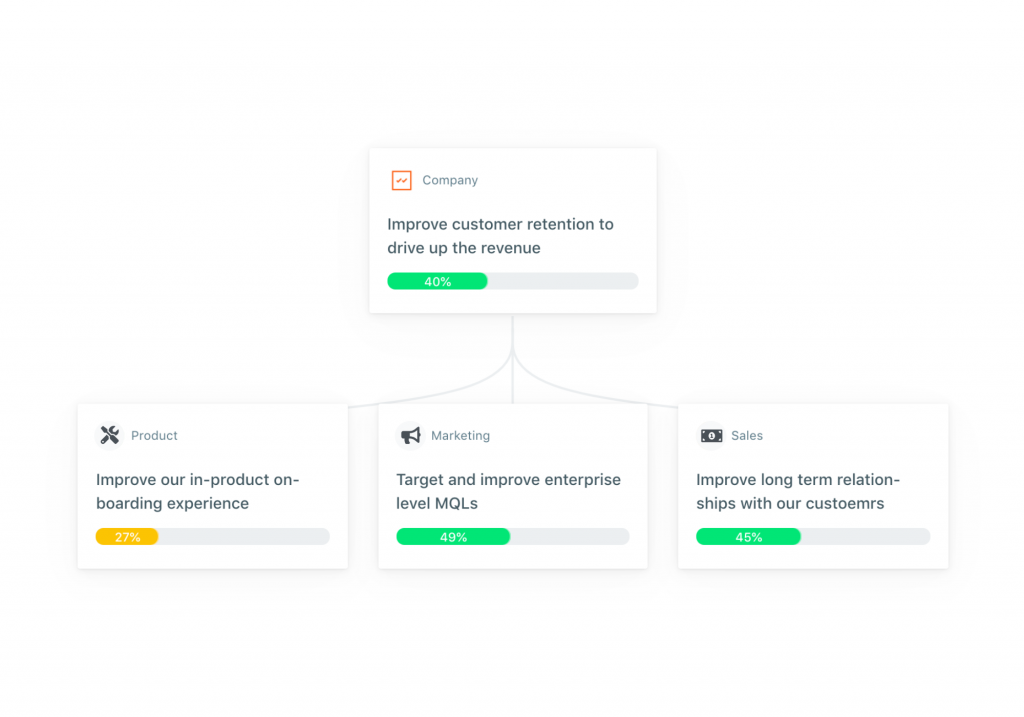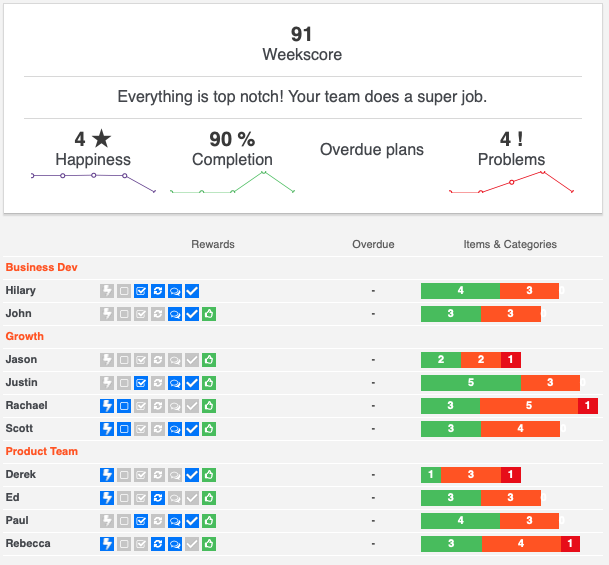 Periodic planning and updates:
Plan your actions for the week and beyond
Update progress for everyone to be up to date
Give and receive feedback, comment on issues, progress and advice
Track the vibe and catch issues to be resolved at early stages
Give Feedback and get Feedback:
Provide feedback, start a discussion, and update others on what you've done
Hold 1:1s and rate your week
Give and receive praise for positive performance
Plan and follow up corrective action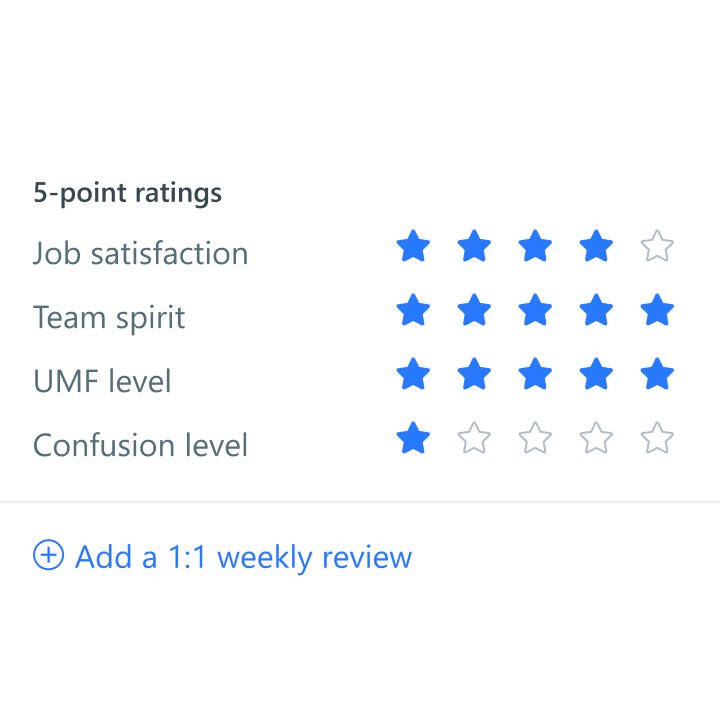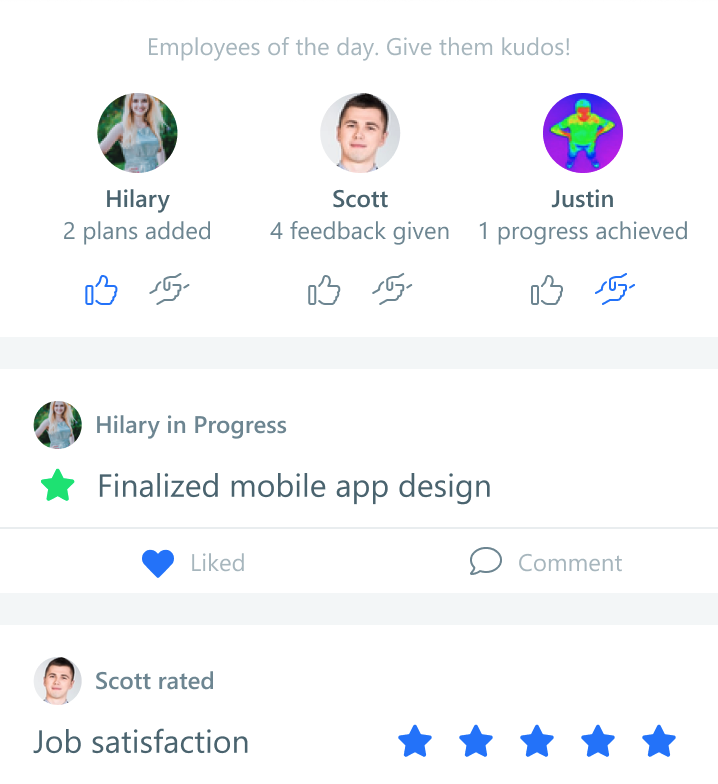 Stay connected with your team:
The Newsfeed tracks all the action and changes on-the-go
Comment, react, praise and encourage where due
Share important updates, news, and files
Spark a discussion and update others on your plans
The Best Collection of Team Management Tools
Weekly Planning
Track weekly activities for a more visible and interconnected team.
1:1s
Support and guide your team with private discussions.
Feedback & Recognition
Praise progress towards goals and boost morale.
Reporting & Visualization
Visualize your team's alignment and progress.
Planning Templates
Set-up custom reporting templates.
Awards
Create a custom productivity award system.
Goal Setting
Set short and long-term goals at the personal and team levels.
Team Dashboard
Review insightful weekly team reports and dashboard.
Weekly Reflection
Review your week with 5-star ratings.
Newsfeed
Engage with your coworkers via the newsfeed.
Prioritization
Organize and prioritize your activities.
Calendar View
See your upcoming plans and activities.
Weekly Reports
Receive or download custom PDF/XLS reports.
Slack Integration
Custom integrations with Slack.
MST Integration
Custom integrations with Microsoft teams.
Custom API
Create your own custom integrations with our API.
Weekdone Management Tools Improve Teams
Managing a Remote Work at Trendwatching
Our primary challenge of being in different locations and the need to be productive, was knowing what all the people are currently working on. Weekdone helped keep everybody to be aligned and in the loop.

Henry Mason, Managing Director
Bringing Visibility to Mavrck
"Weekdone has become an invaluable tool for knowing what is going on in the company without the need to dive into the details too often,"

Lyle Steven, CEO
Boosting Productivity at Wholefoods
We have found that Weekdone has improved our meetings – we are able to move to more strategic discussions since we can go to Weekdone to read our goals and accomplishments from the past week.

Michael Luther, Team Manager
We're Here to Help
Everyone, even our CEO, is happy to answer your questions & get you started. Contact us on live chat or write to info@weekdone.com — average 2 hour response time.