At a glance understand how your team is feeling and what problems they are facing. Give and get insightful feedback to build a more engaged productive team.
The Toolset to Engage Your Team
Free for 3 users or 15 days. No credit card required.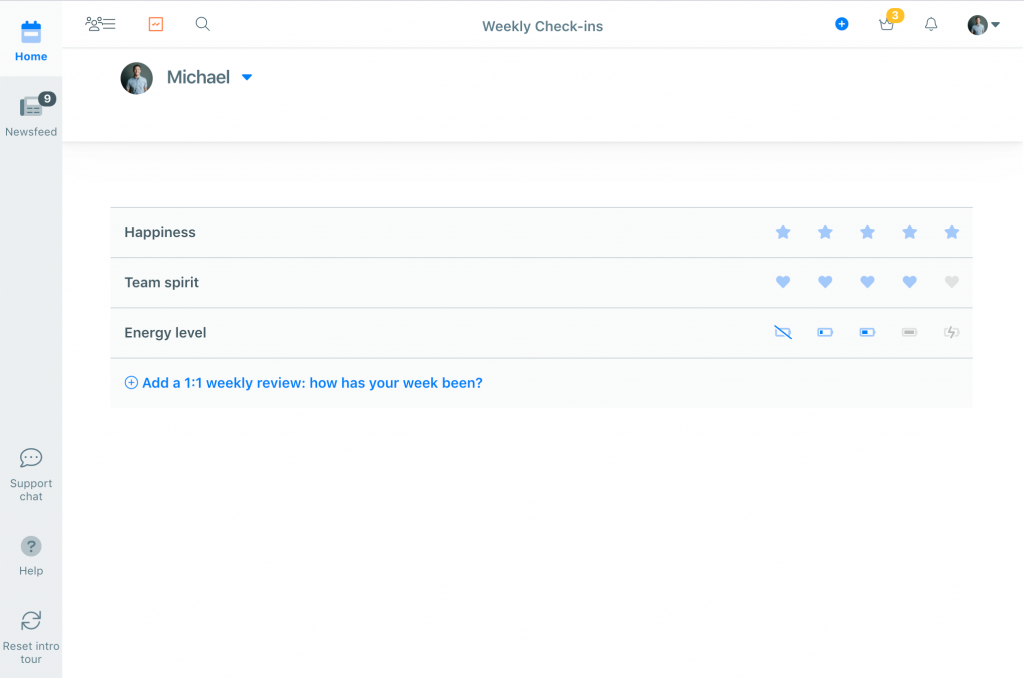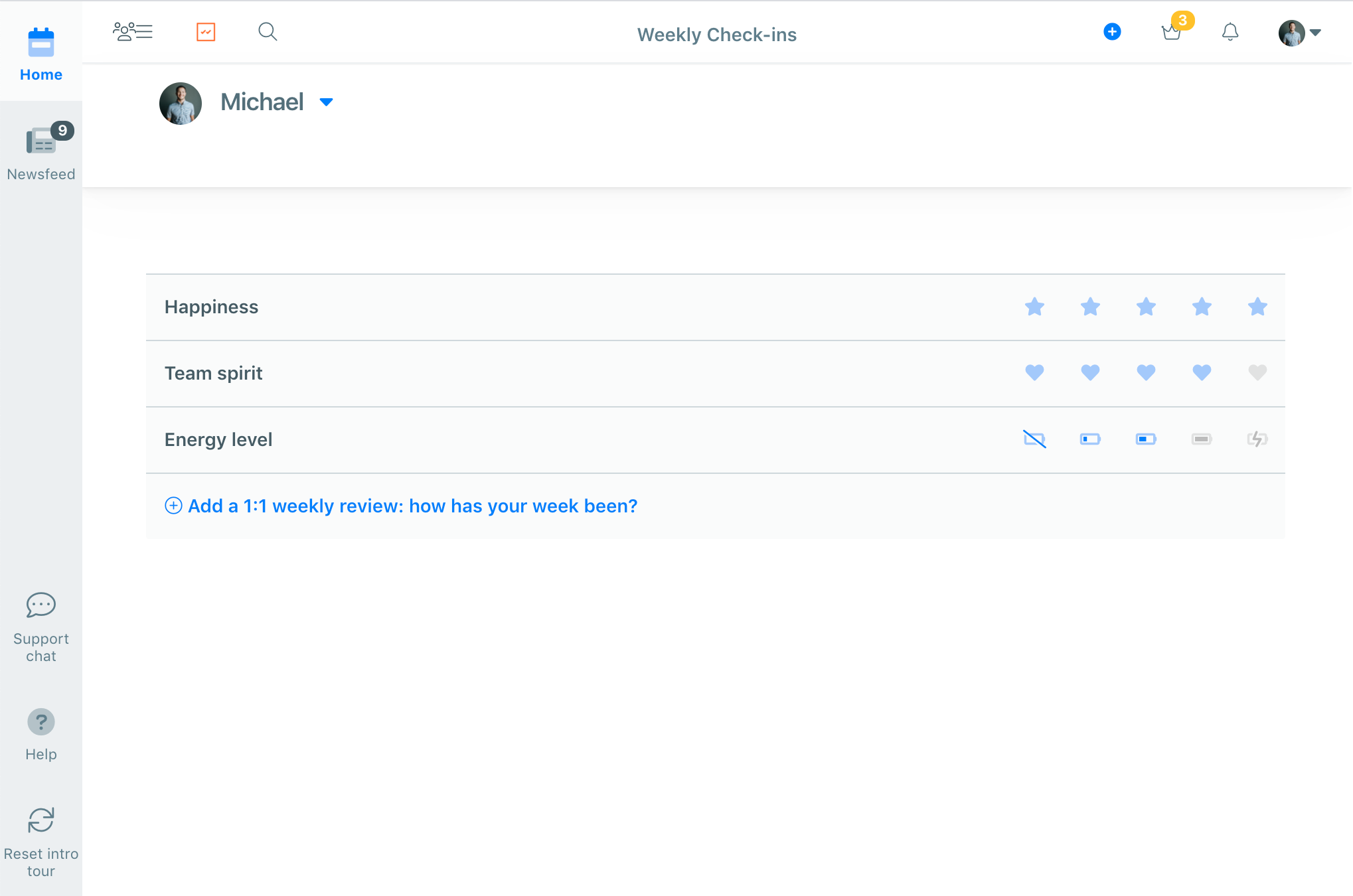 Get weekly feedback from your team about how things are going and how everyone is feeling. Customize these questions however you want and choose custom emojis to make them fun and engaging.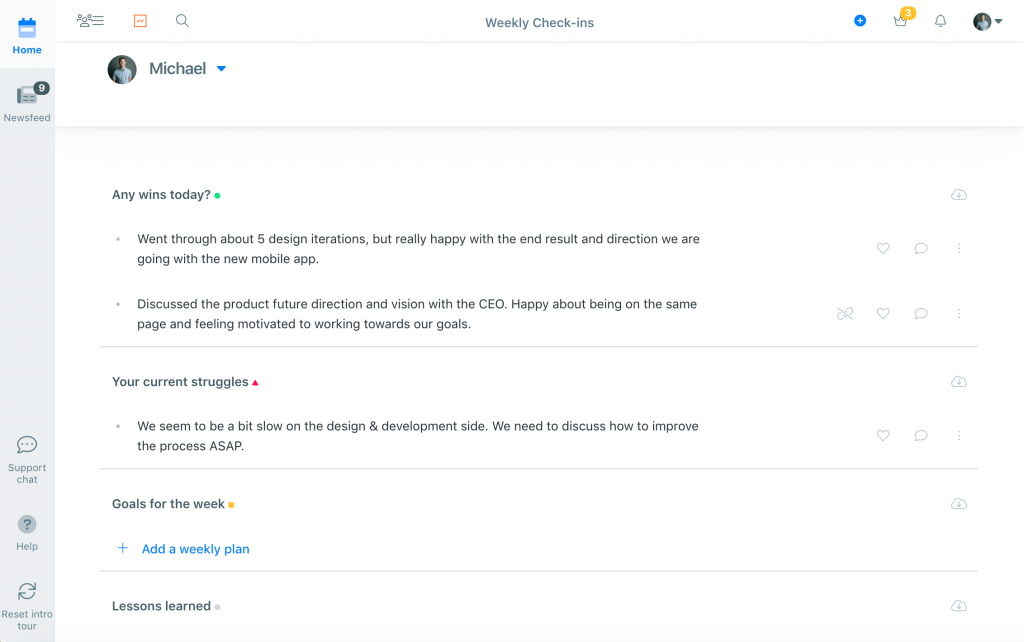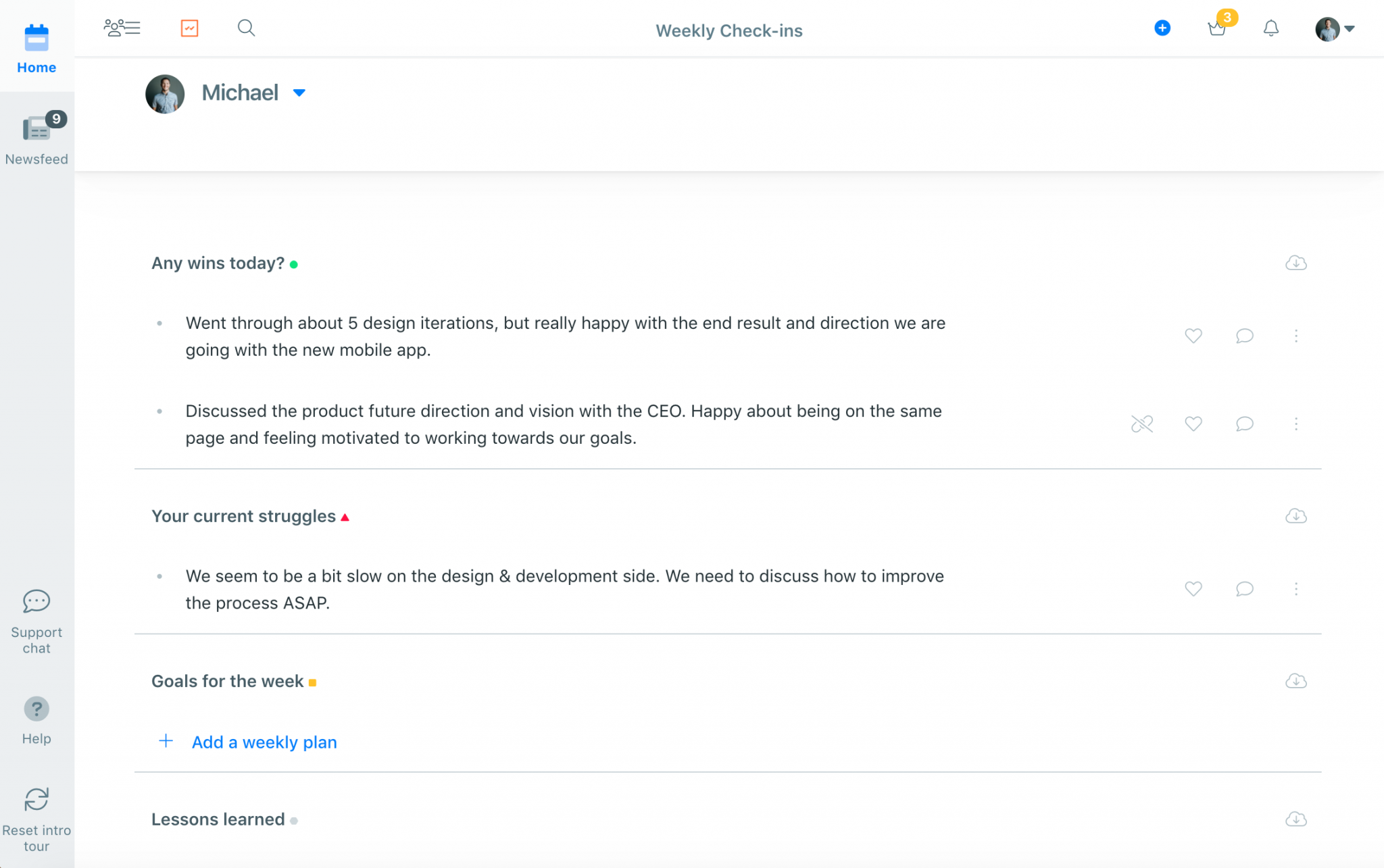 Understand what people have planned and accomplished each week. See if there are any problems that stop them from making progress.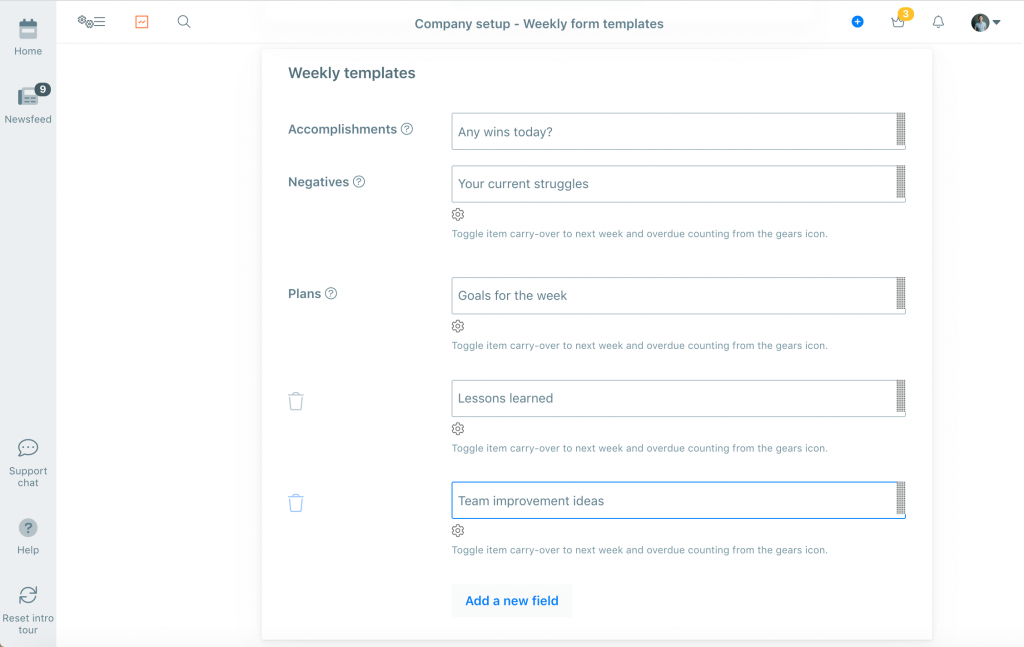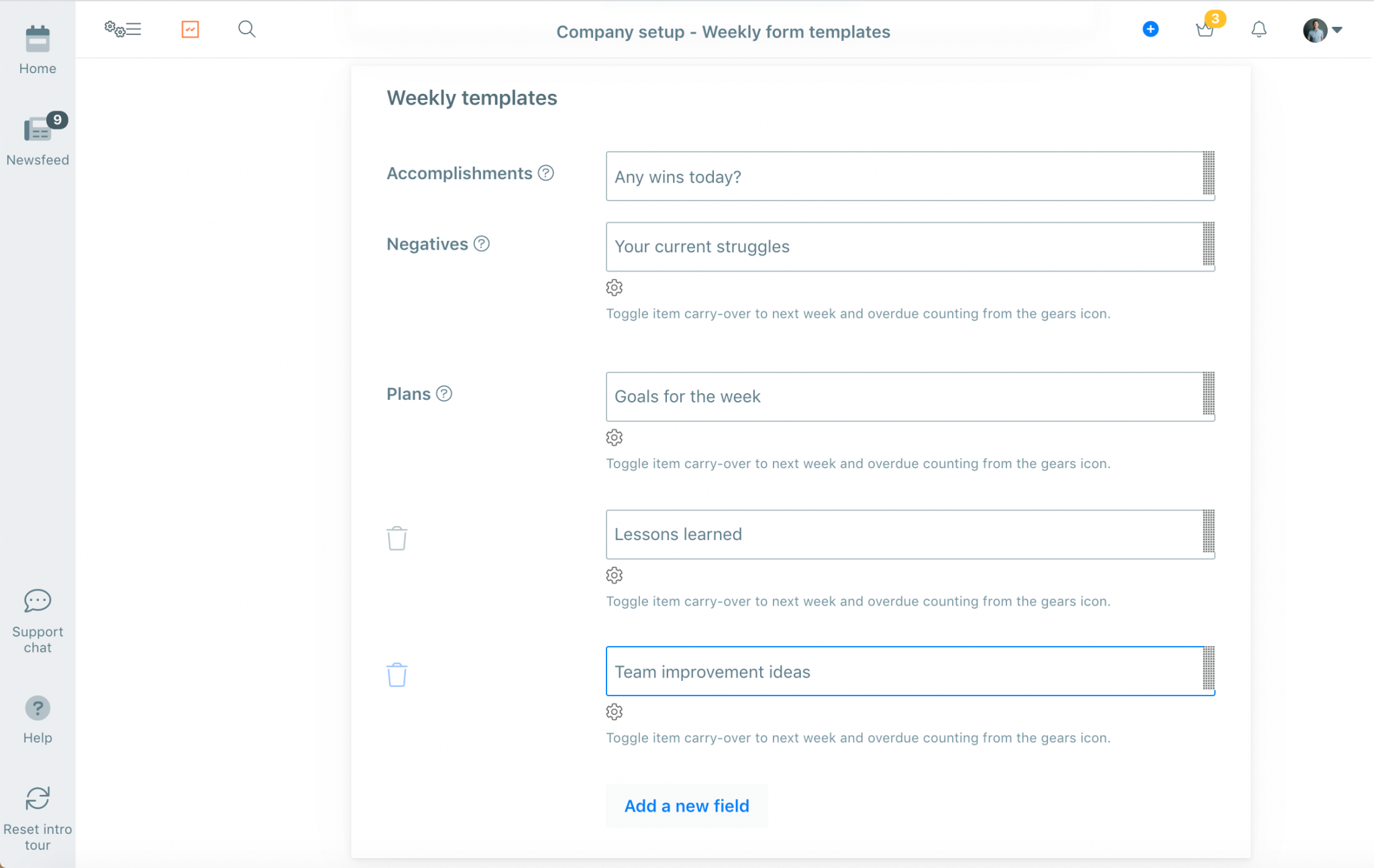 Set-up custom feedback and reporting templates and ask any question you would want everyone to share with their team on a weekly basis.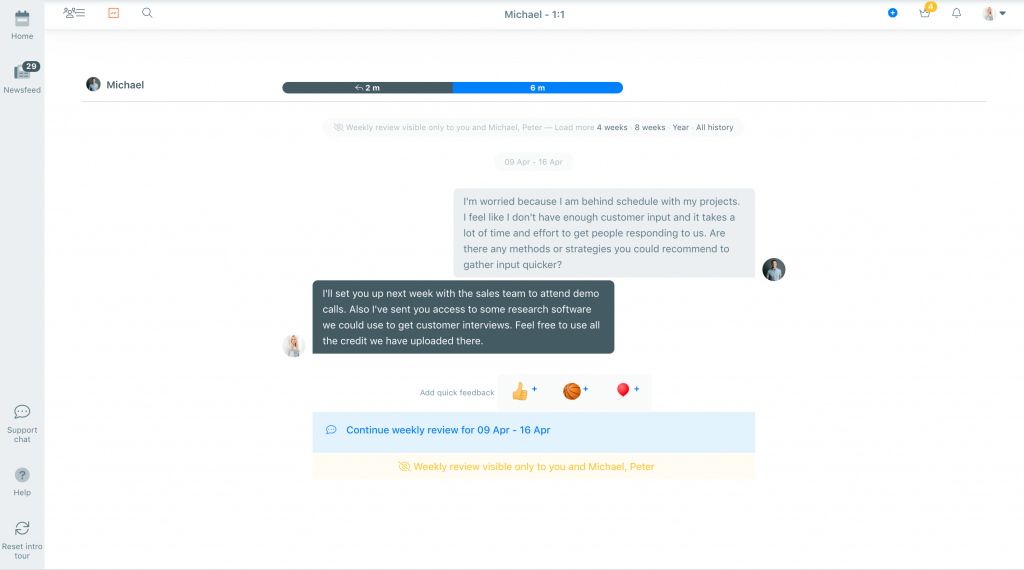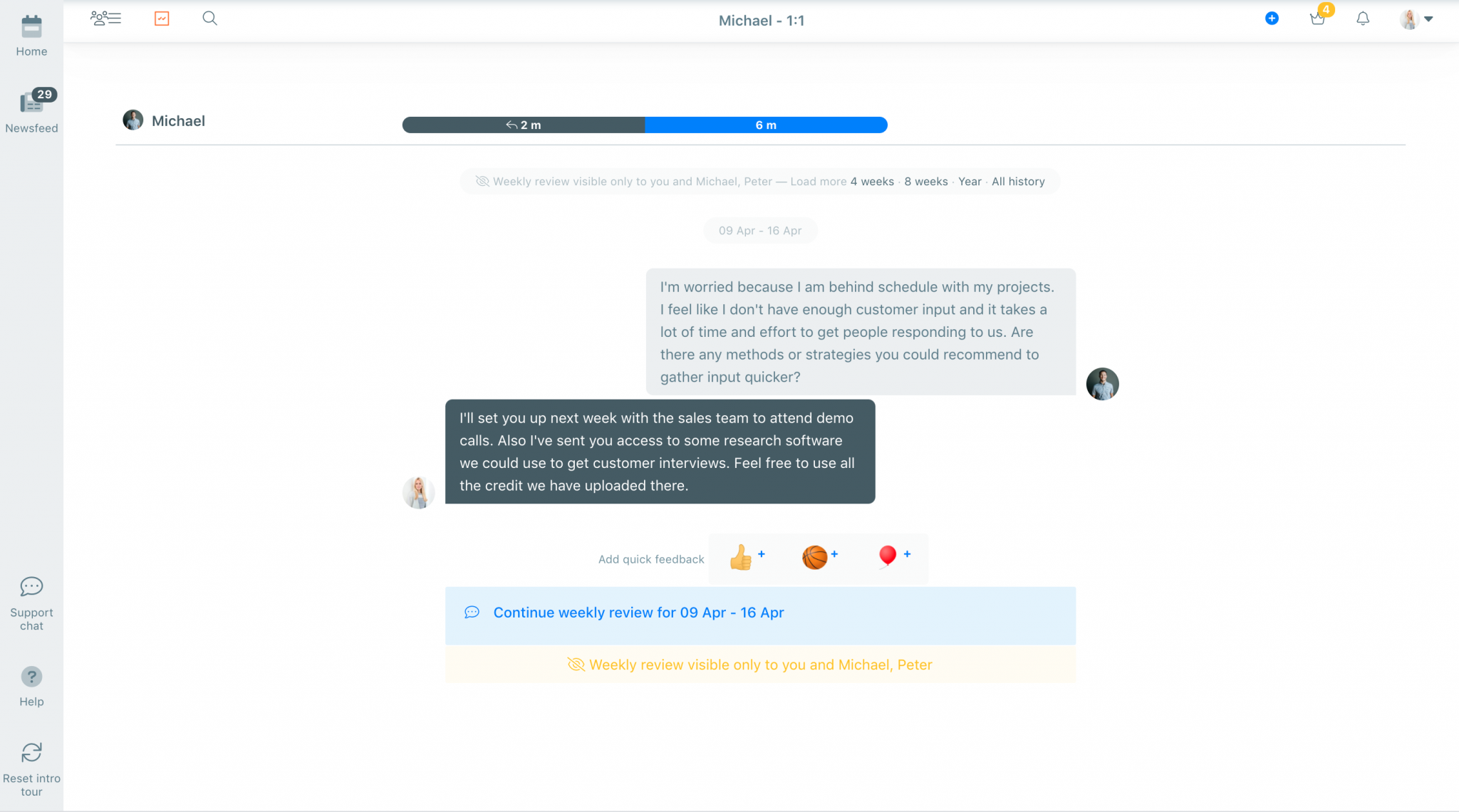 Support and guide your team with personalized, private discussions on a regular basis. Never lose any of the discussion notes or action points. Use the note history to perform quarterly or yearly performance reviews.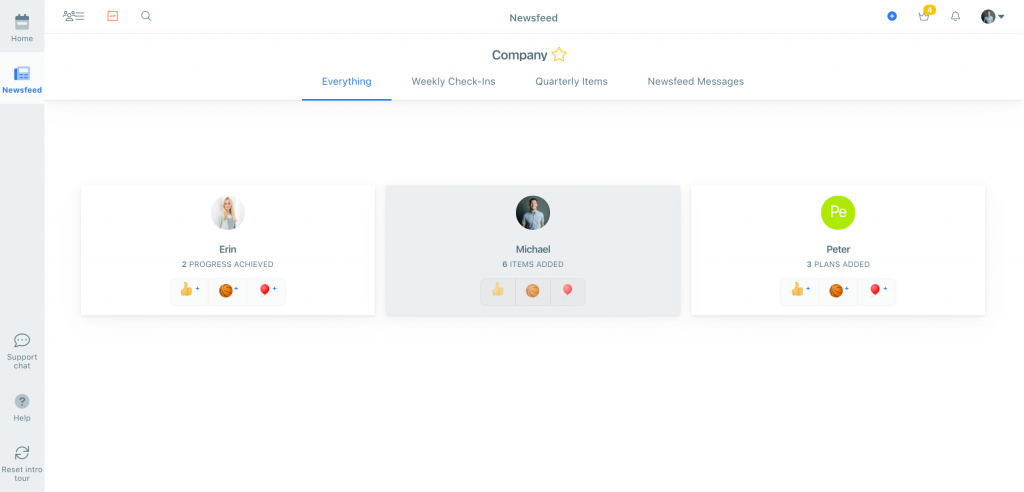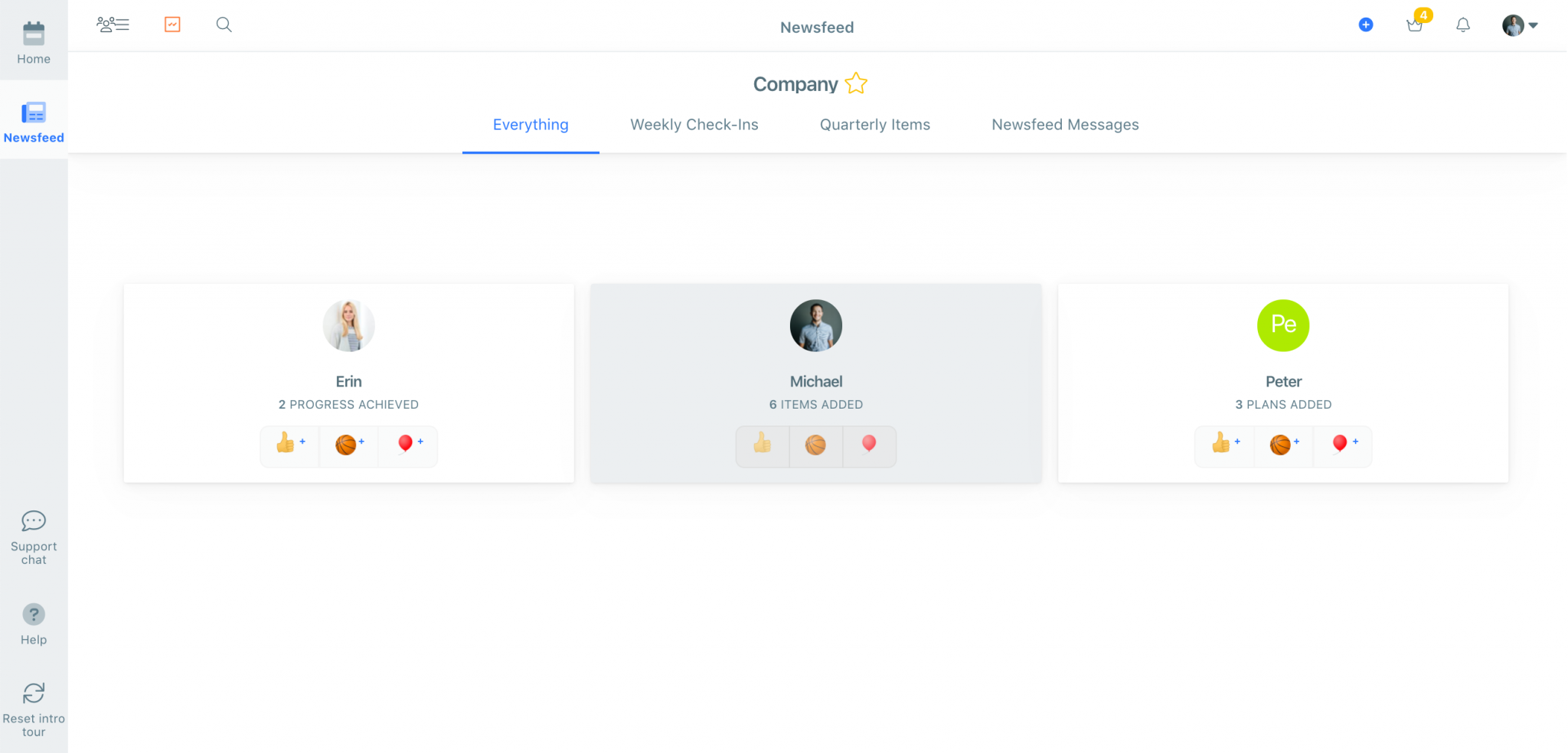 Provide public feedback and recognition to support anyone who is doing a great job.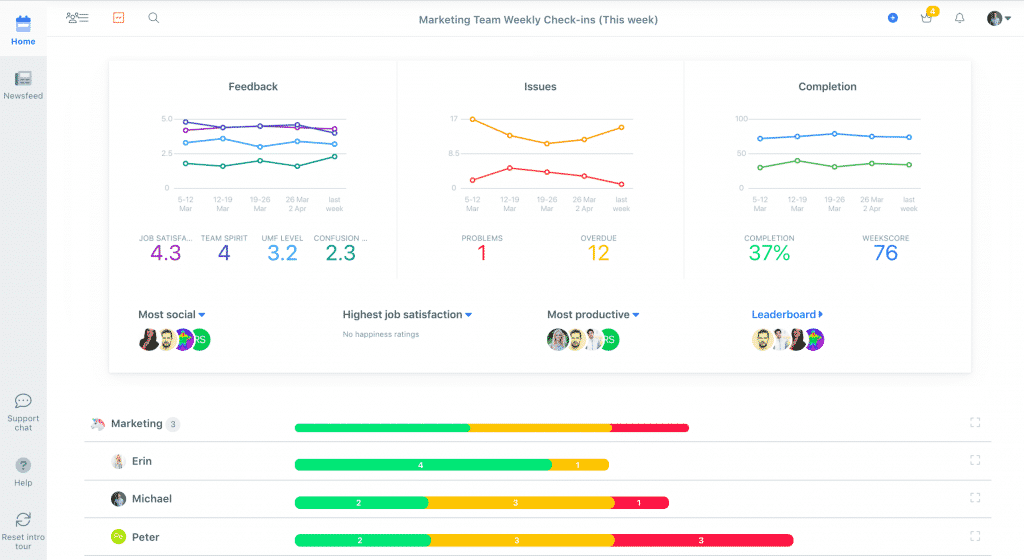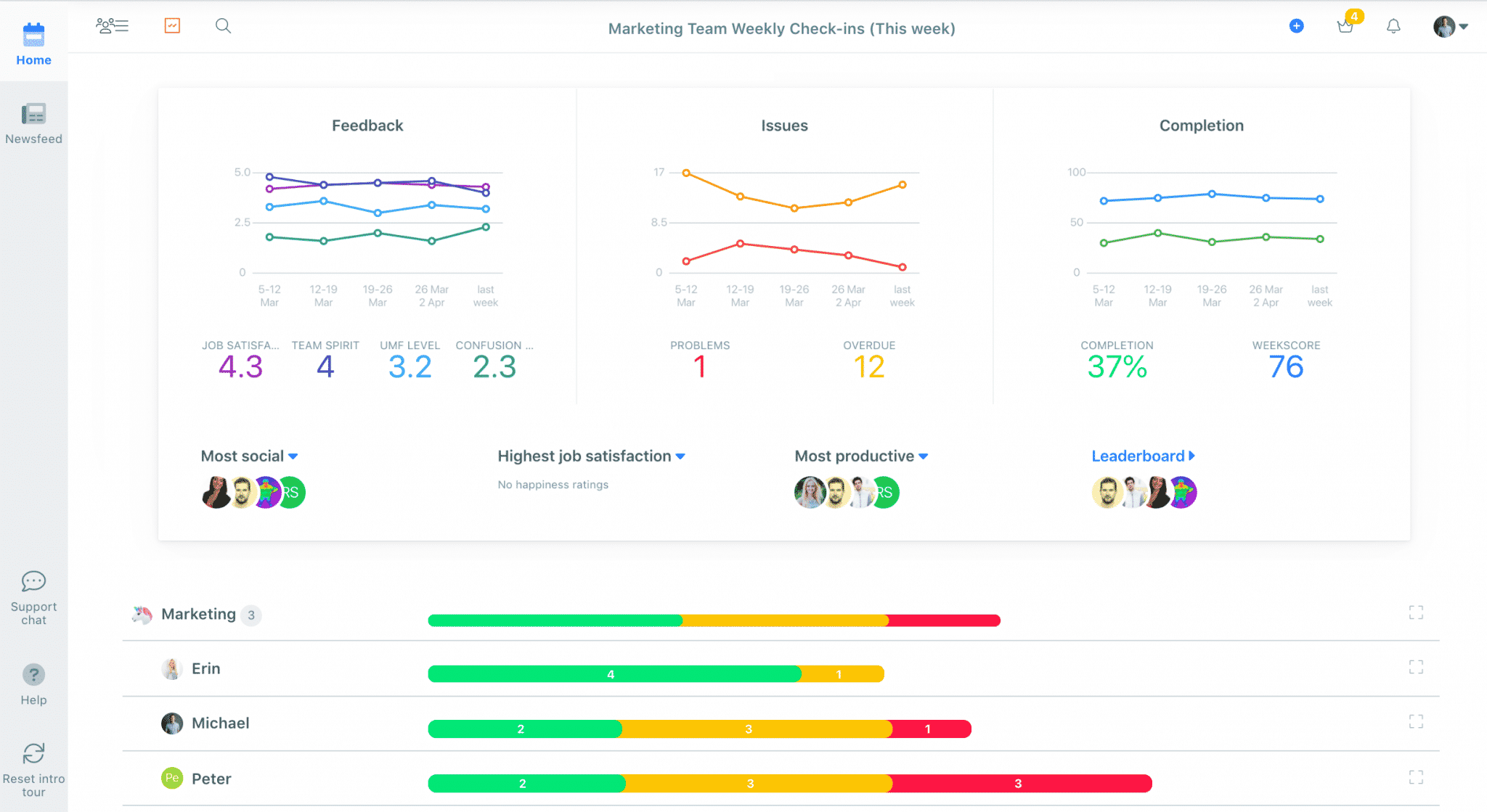 At a glance understand how your team is feeling and what problems they are facing. Get the reports in your email at the end of each week or create XLS and PDFs for sharing with your stakeholders.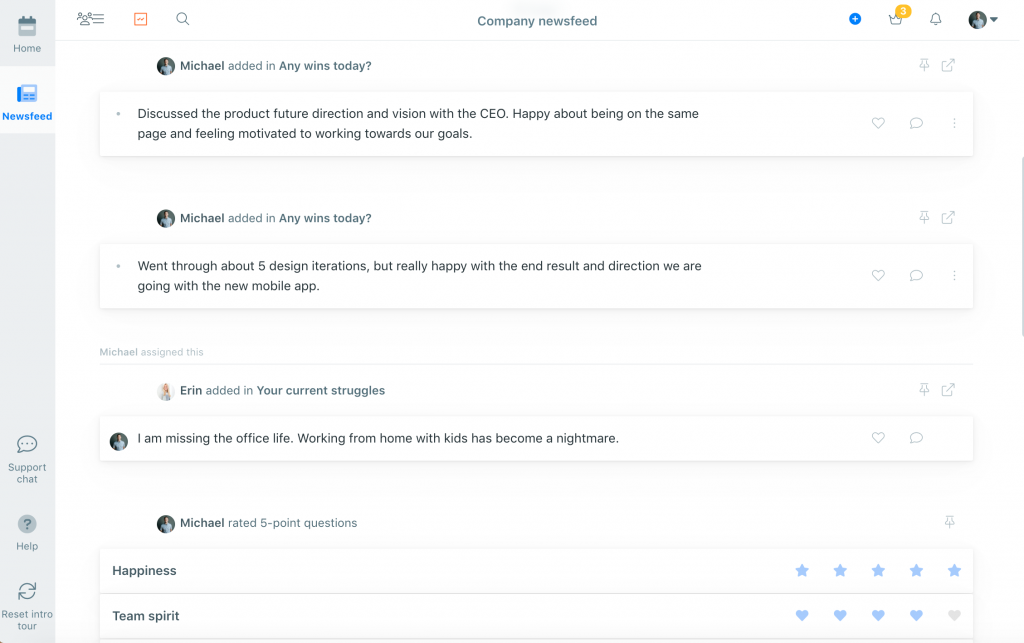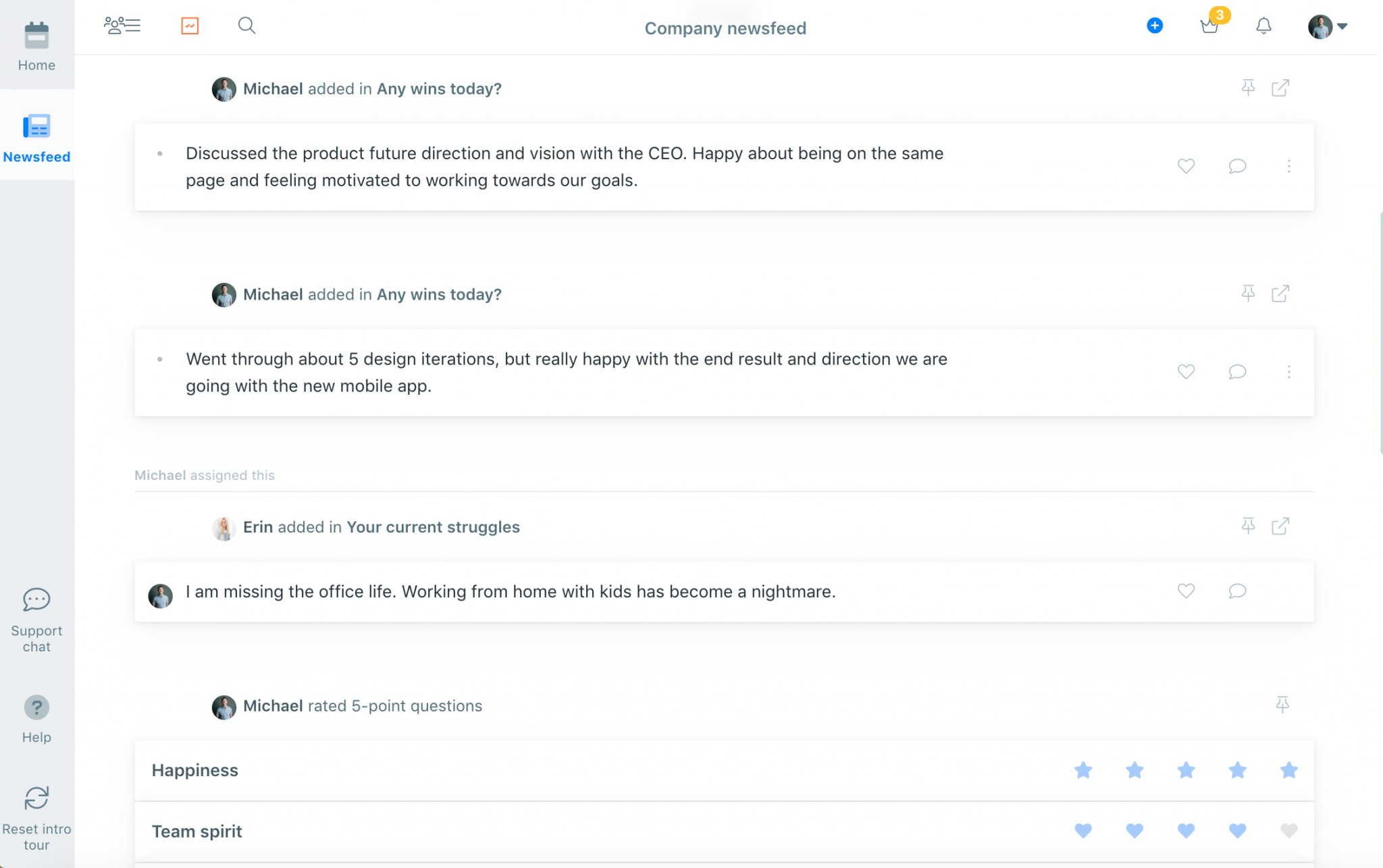 Connect everyone with newsfeed, spark meaningful conversations, and engage with everyone via comments, likes, and emojis.
Why is Team Compass the best employee engagement software?
Weekdone boosts employee engagement by focusing on three critical areas:
People management
1:1s, feedback, and recognition help you know the status of your team and provide important feedback.
Socialization
Our activity newsfeed and engagement tools bring your team together and make knowing what's happening and building team spirit.
Productivity
Team Compass enhances productivity using the same weekly planning and check-in methodologies used by companies like Google, eBay, and Skype.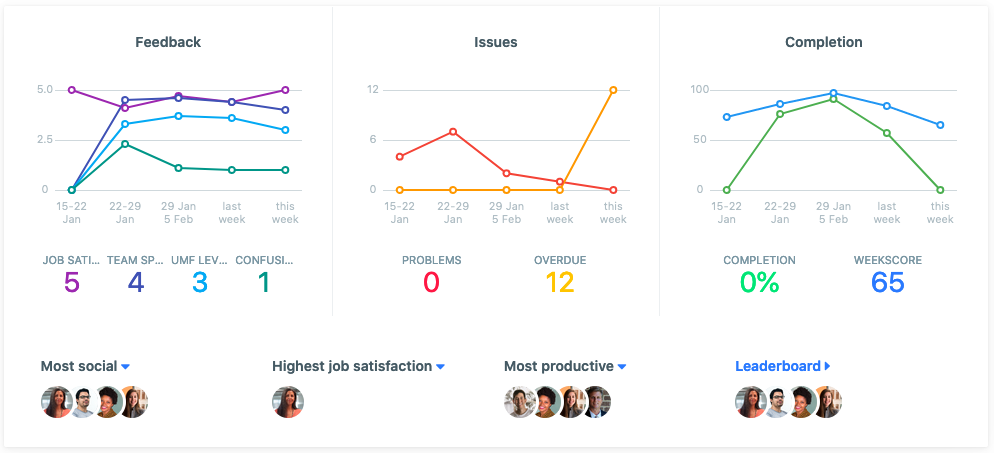 When I fill out my status report I rate my own week. It's super easy to give each other feedback as well. We comment on each other's completed tasks and our CEO uses the individual feedback box on a regular basis. It's great!

– Richard Beeson, AgoraPulse, on the benefits of Weekdone
Engaging leaders and employees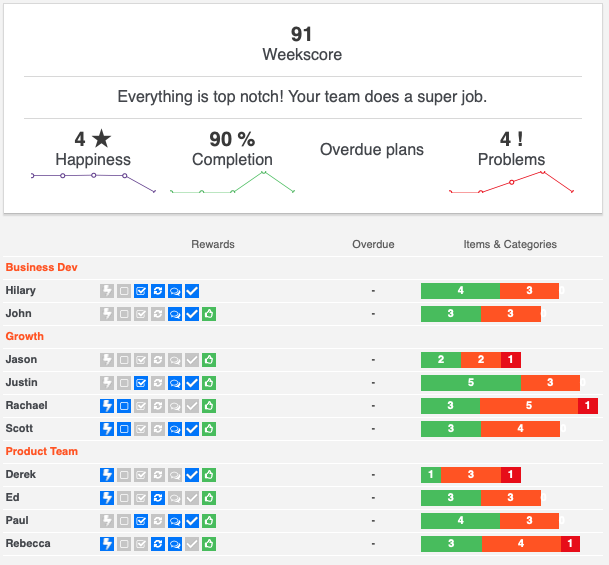 What leaders get:
Insightful weekly team reports and dashboards
Valuable employee feedback to make informed decisions
A way to measure team satisfaction and boost moral
Increased team engagement and productivity
A way to connect and touch base with remote teams
What employees get:
Quick and easy feedback and reporting to your manager
Simplify reporting with quick status updates
Recognize teammates for a job well done
Integrations with the tools you already use (Slack, MS Teams, Jira, Asana, Basecamp)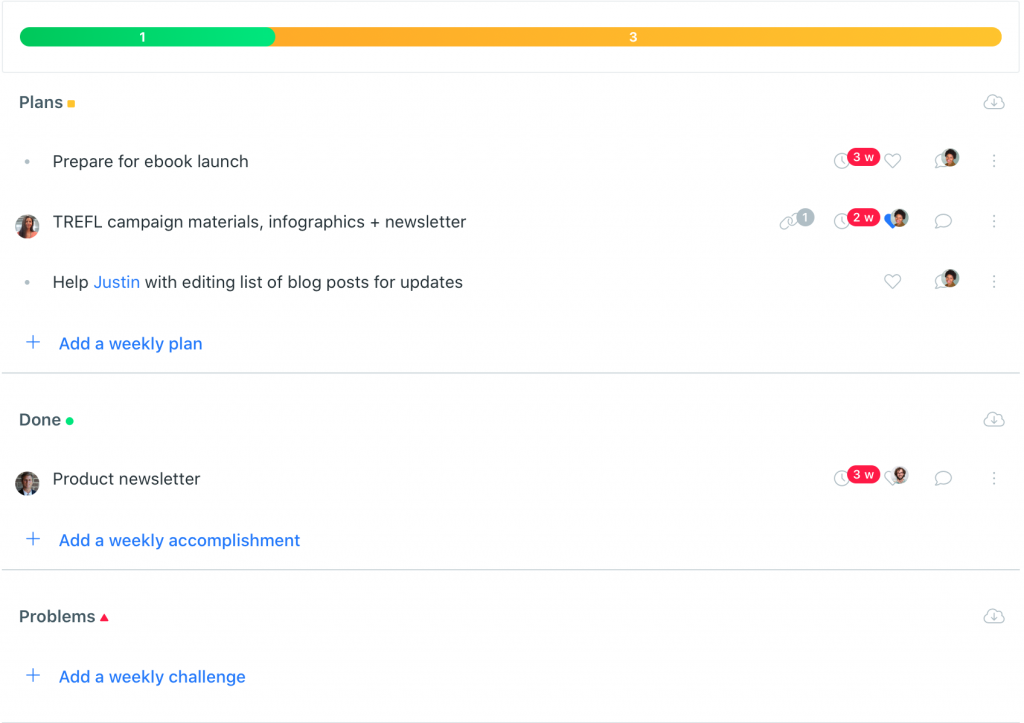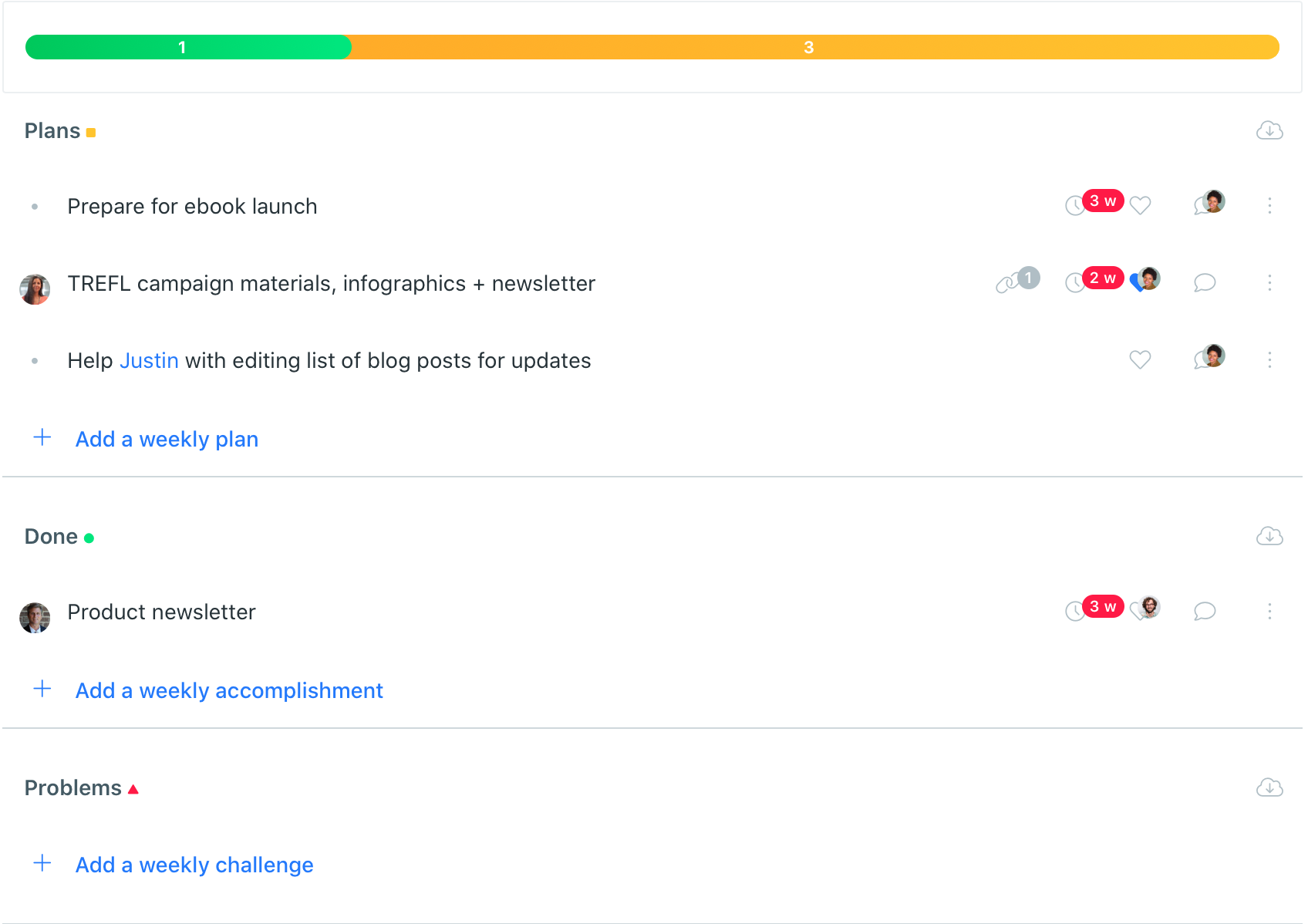 Engaging Teams Everywhere
Boosting Productivity at Trendwatching
Our primary challenge of being in different locations and the need to be productive, was knowing what all the people are currently working on. Team Compass helped keep everybody to be aligned and in the loop.

Henry Mason, Managing Director
Improving meetings at Wholefoods
We have found that Team Compass has improved our meetings – we are able to move to more strategic discussions since we can go to Team Compass to read our goals and accomplishments from the past week. 

Michael Luther, Team Manager
We're Here to Help
Everyone, even our CEO, is happy to answer your questions & get you started.
Contact us on live chat or write to info@weekdone.com — average 2 hour response time.