Get the info you need on your own time
Team Compass streamlines team communication by highlighting your team's most important accomplishments and integrating with the communication tools you already use.
Free for 3 users or 14 days. No credit card required.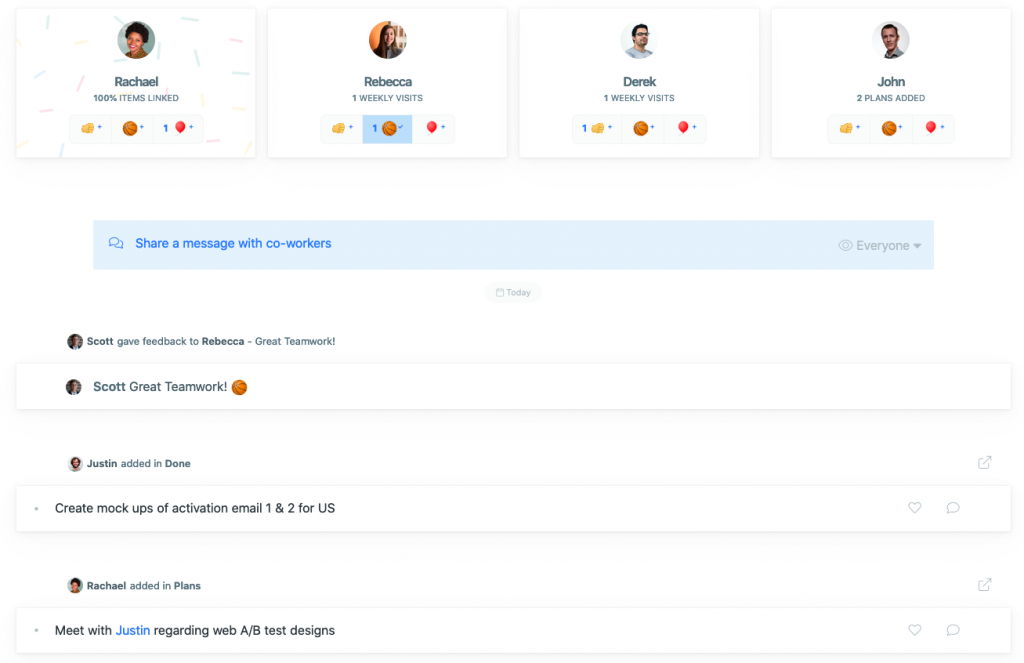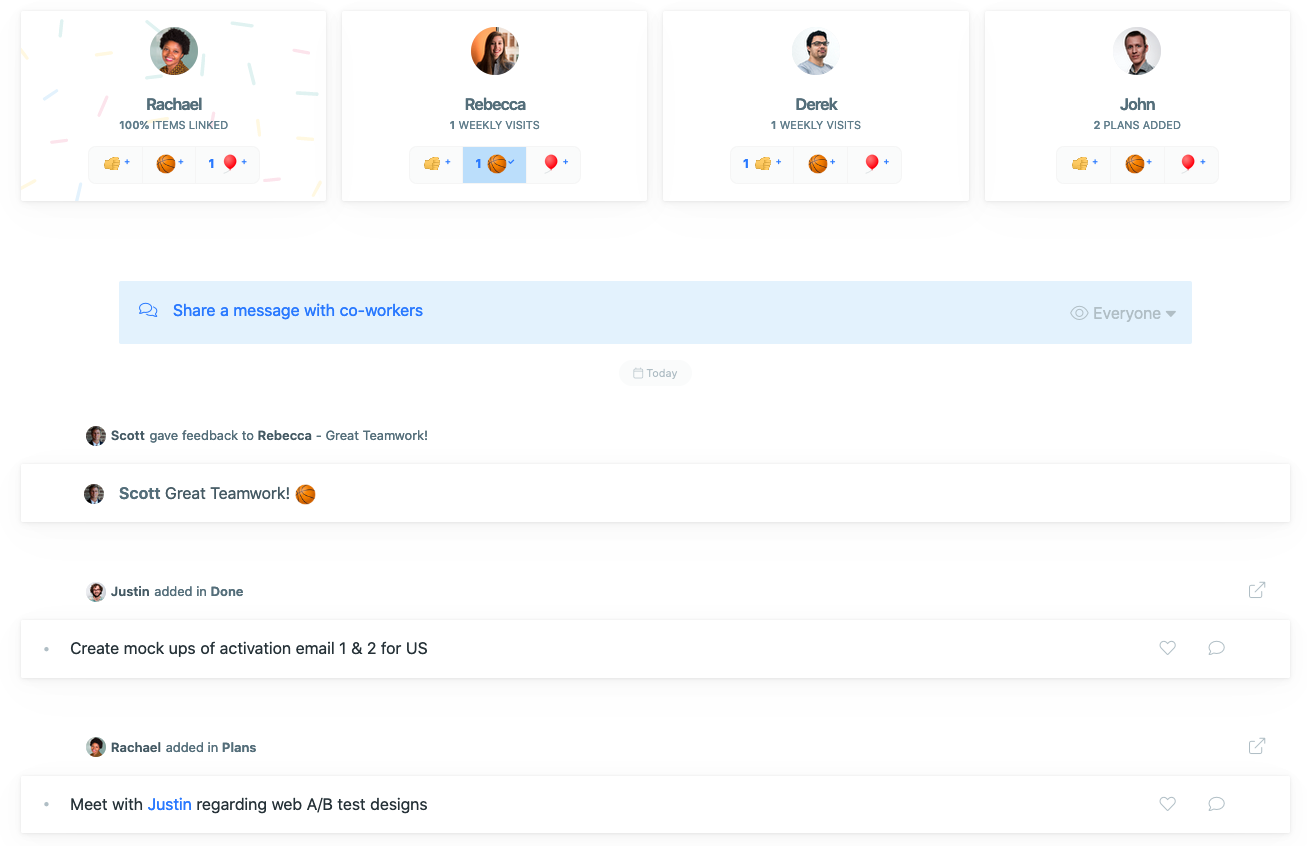 Team communication made easy
Stay connected with your team:
See what your colleagues are up to and the status of important projects
Share important updates, news, and files
Start discussions, ask questions, and update others on your plans
Check in on other teams and work together as a company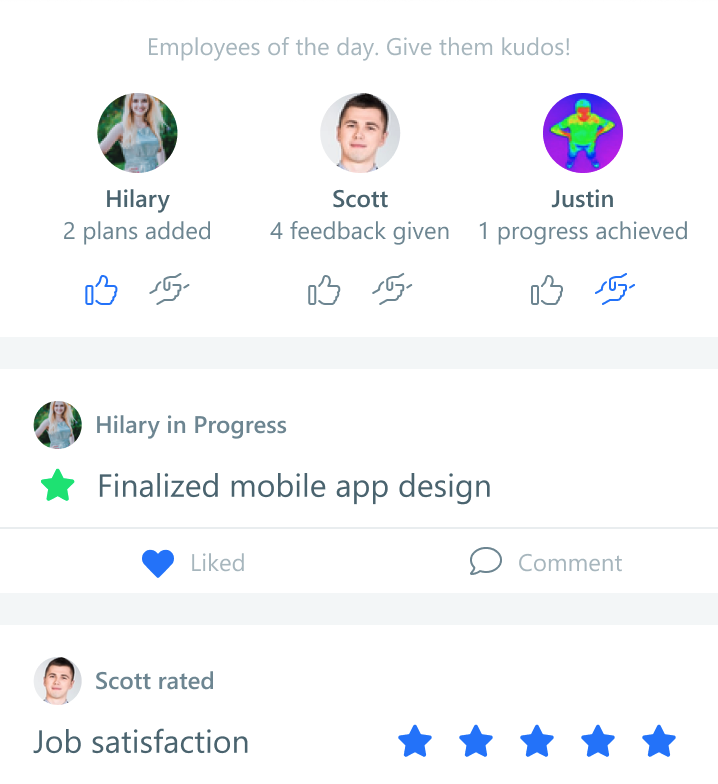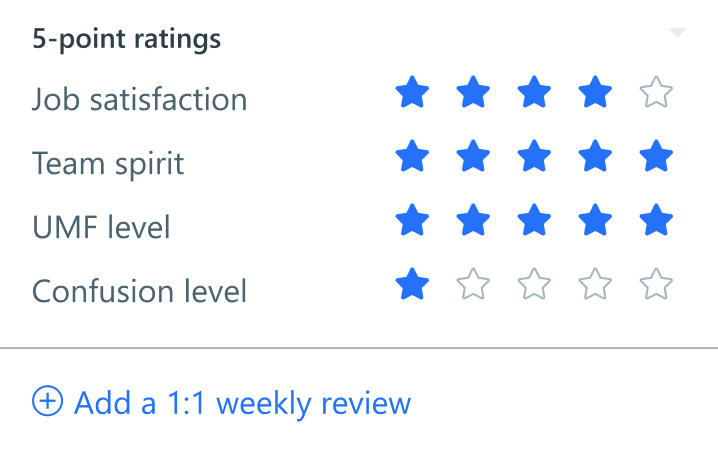 Give feedback and get feedback:
Get a better gauge on how everyone is feeling
Hold 1:1s and build personal connections with your team
Give and receive praise for positive performance
Planning your week:
Prioritize your most important activities and tasks
Receive updates on team and company activities and progress
Import items from the softwares you already use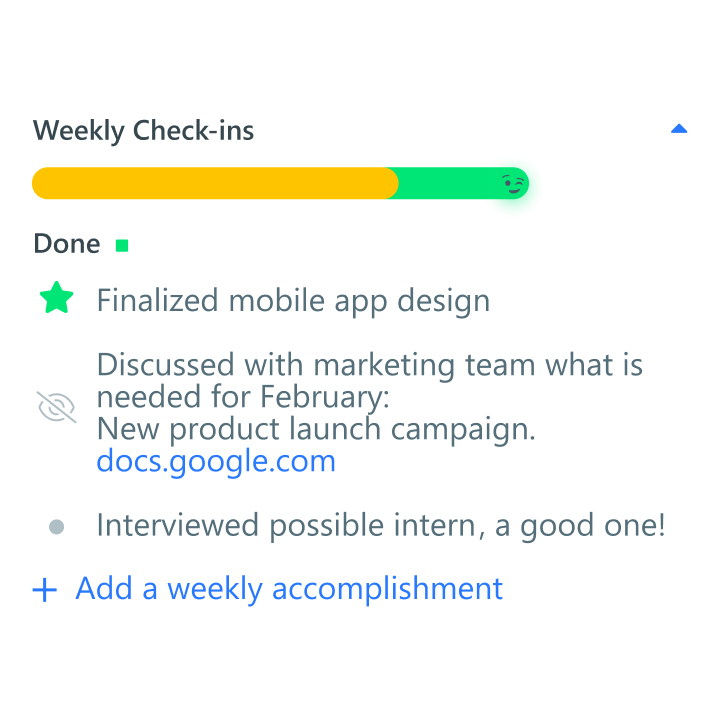 Integrations
Enjoy a seamless workflow with your existing tools
Team Compass has a variety of custom integrations designed to fit within your existing workflows. Learn more.
Slack
Microsoft Teams
Jira
Asana
Basecamp
Google Tasks
Custom third party integrations through Zapier.
Why is asynchronous communication the best team communication?
When people think of team communication software often tools like Zoom, Microsoft Teams, and Slack come to mind. The issues with these tools is they overwhelm everyone with endless messages and constant communication. While communication is important constant communication isn't. People need time to work, focus, and prioritize the things they do.
Asynchronous communication is when teams communicate intermittently rather than constantly. You already are used to using emails and texts, but there's so much more to it. Weekdone uses asynchronous best practices grounded in semiotic research to give your team and company the info they need when they need it.
The best collection of planning tools
Newsfeed
See what everyone is up to via the newsfeed.
Team Dashboards
Review insightful weekly team reports and dashboards.
Reporting and Visualization
Visualize your team's status and progress.
Weekly Reflection
Check-in with your team via 5-star ratings.
Weekly Planning
Prioritize and track your weekly activities.
Weekly Reports
Receive or download custom PDF/XLS reports.
Planning Templates
Set-up custom reporting templates.
Calendar View
See your upcoming plans and activities.
Feedback and Recognition
Praise progress towards goals and boost morale.
Awards
Create a custom productivity award system.
1:1s
Support and guide your team with personalized, private discussions.
Goal Setting
Communicate team and company goals.
The benefits of Team Compass team communication software
Stay in the know:
Know what everyone is working on without having to ask
Get a high level visualization without having to switch between apps
Provide support when needed and catch problem before they happen
Everyone knows what's happening in their team and in the company
Build an interconnected team:
Employees feel like they can interact and contact management
Employees feel management is listening to their wants, needs and problems
Leaders feel open and accessible to employees
Leaders feel like employees will be open and honest with them
Support your team:
Provide assistance to solve both big and small issues
Easily assist teams in accomplishing their goals
Employees get the support they need from teammates and leaders to accomplish more
Improved communication means improved teams
Managing a Remote Work at Trendwatching
Our primary challenge of being in different locations and the need to be productive, was knowing what all the people are currently working on. Team Compass helped keep everybody to be aligned and in the loop.

Henry Mason, Managing Director
Bringing Visibility to Mavrck
Team Compass has become an invaluable tool for knowing what is going on in the company without the need to dive into the details too often

Lyle Steven, CEO
Boosting Productivity at Wholefoods
We have found that Team Compass has improved our meetings – we are able to move to more strategic discussions since we can go to Team Compass to read our goals and accomplishments from the past week.

Michael Luther, Team ManagerGet Started
We're here to help
Everyone, even our CEO, is happy to answer your questions & get you started. Contact us on live chat or write to info@weekdone.com — average 2 hour response time.