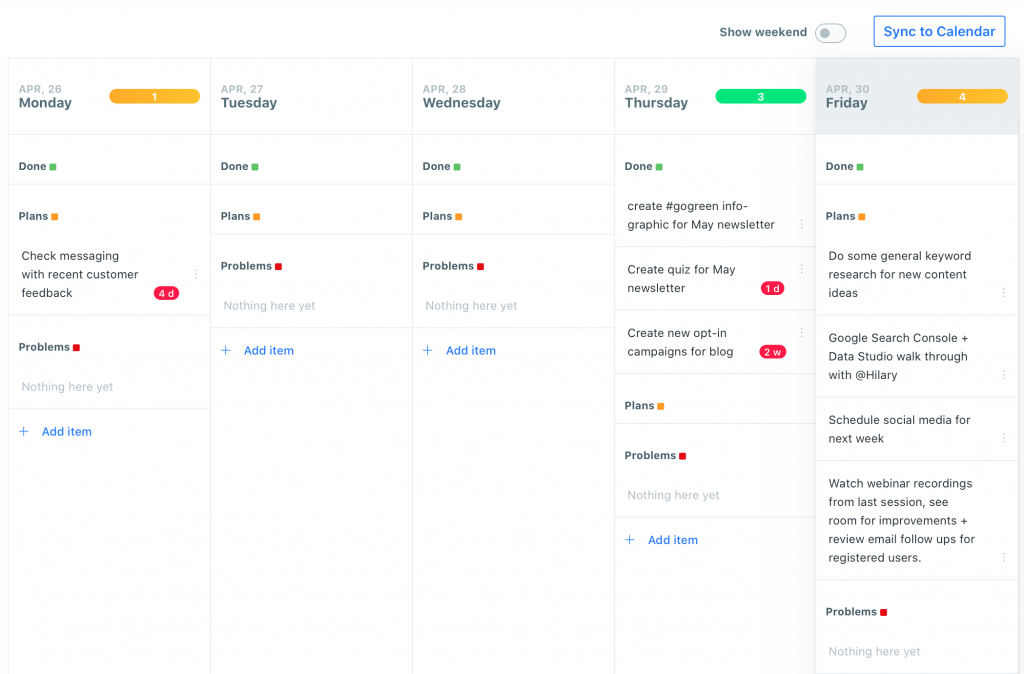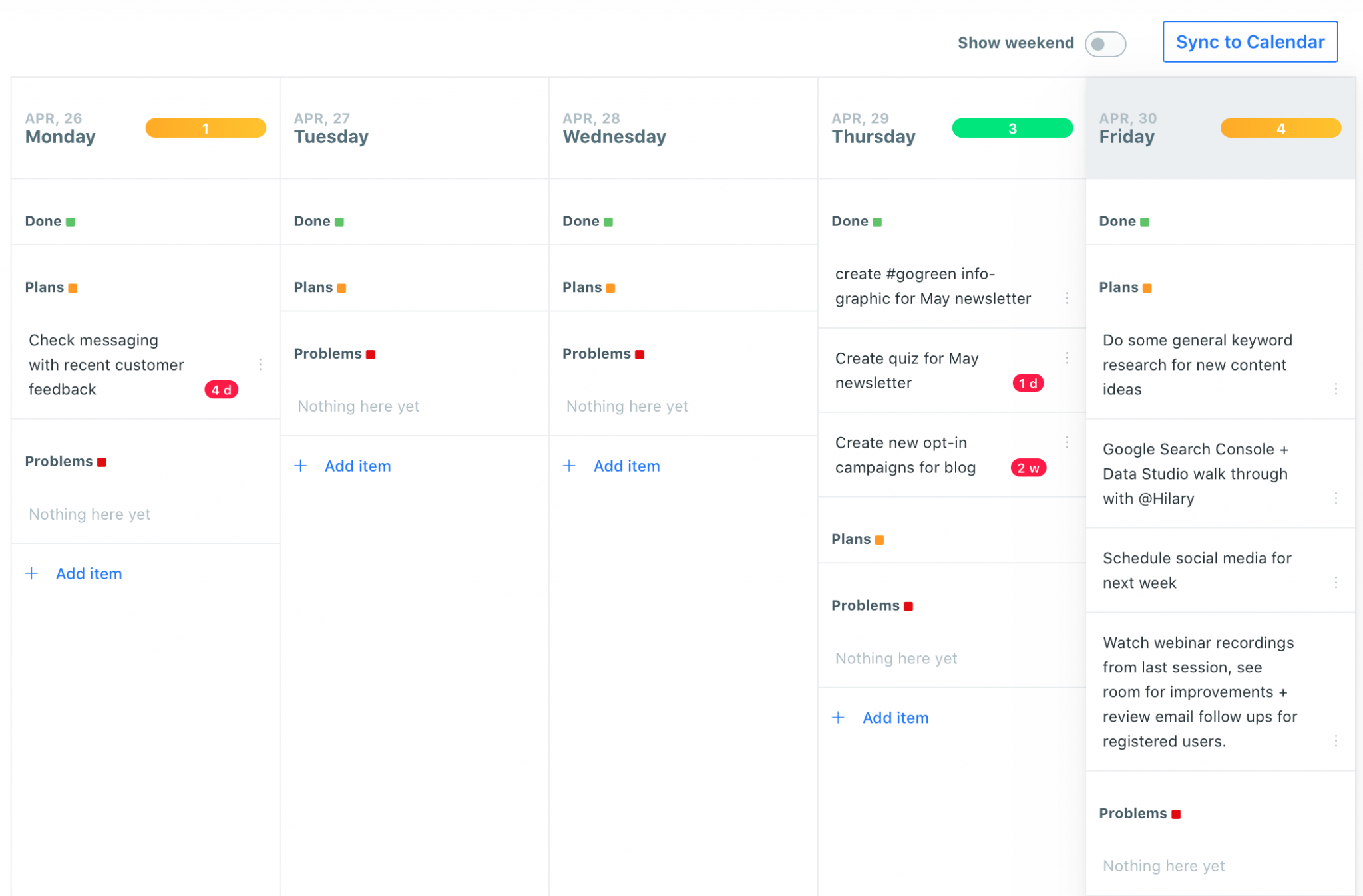 Weekdone Weekly Planner helps agile teams to create, execute, and align weekly plans. This not only provides valuable information for managers, but helps teams communicate and stay up to date.
Free for 3 users or 15 days. No credit card required.
Weekly Planner
Track weekly activities for a more visible & interconnected team.
1:1s

Support and guide your team with personalized, private discussions.
Feedback and Recognition
Praise progress towards goals and boost morale.
Reporting and Visualization
Visualize your team's alignment and progress.
Implement Weekly Planning with Your Team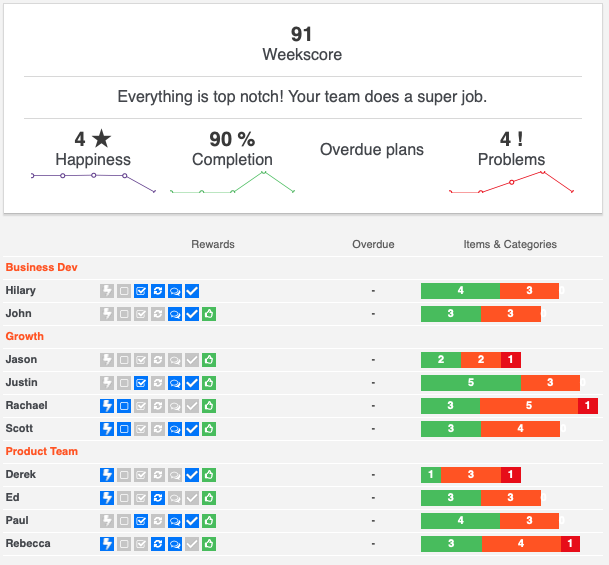 What leaders get:
Team weekly planning system
Insightful weekly team reports and dashboards
Custom reporting templates
Increased engagement and productivity
1:1s and team 5-star satisfaction ratings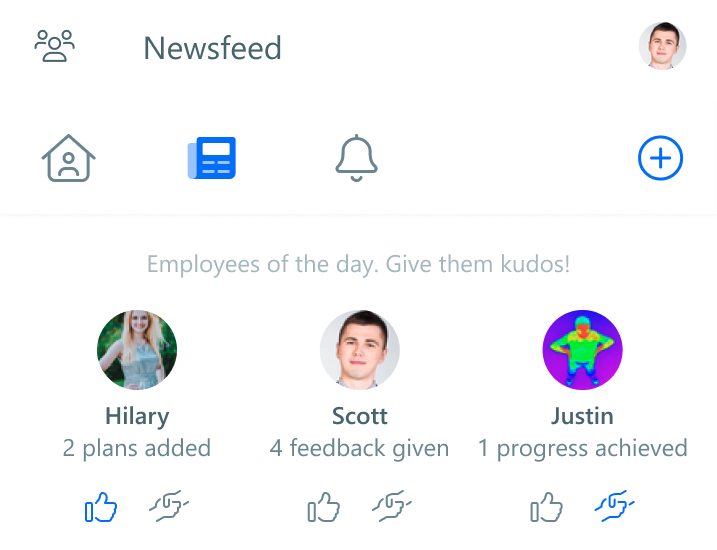 What employees get:
Personal weekly planner
Simplify reporting with quick status updates
Recognize teammates for a job well done
Integrations with the tools you already use (Slack, MS Teams, Jira, Asana, Basecamp)
Boosting Productivity at Trendwatching
Our primary challenge of being in different locations and the need to be productive, was knowing what all the people are currently working on. Weekdone helped keep everybody to be aligned and in the loop.

Henry Mason, Managing Director
Bringing Visibility to Mavrck
Weekdone has become an invaluable tool for knowing what is going on in the company without the need to dive into the details too often…

Lyle Steven, CEO
Improving Meetings at Wholefoods
We have found that Weekdone has improved our meetings – we are able to move to more strategic discussions since we can go to Weekdone to read our goals and accomplishments from the past week.

Michael Luther, Team Manager
Benefits of using a Weekly Planner
Having a great plan is key if you want to be successful with your team.
Using a weekly planner is an efficient way to communicate all projects, tasks and progresses during a week. It allows entry-level employees to demonstrate their performance and progress to middle management. Who then reviews and forwards those reports to their executives.
There are several prerequisites to making this run smoothly: reports must be clear, concise, and delivered in a timely manner. They should also be in a format that is informative, straightforward and honest.
We're Here to Help
Everyone, even our CEO, is happy to answer your questions & get you started. Contact us on live chat or write to info@weekdone.com — average 2 hour response time.