Benefits and Tools
Weekdone weekly planning allows teams to create, share, and align weekly plans across the team and the company. This not only provides valuable information for managers, but helps teams communicate and stay up to date.
The main benefits of weekly planning are:
Save time
Make better and faster decisions
Have transparency in weekly plans
Spend less time on reporting
Increase employee happiness
Profit
Seeing what people are doing and having an automated report is a value in itself.

Andrew Nelson – Director of Engineering, Exxact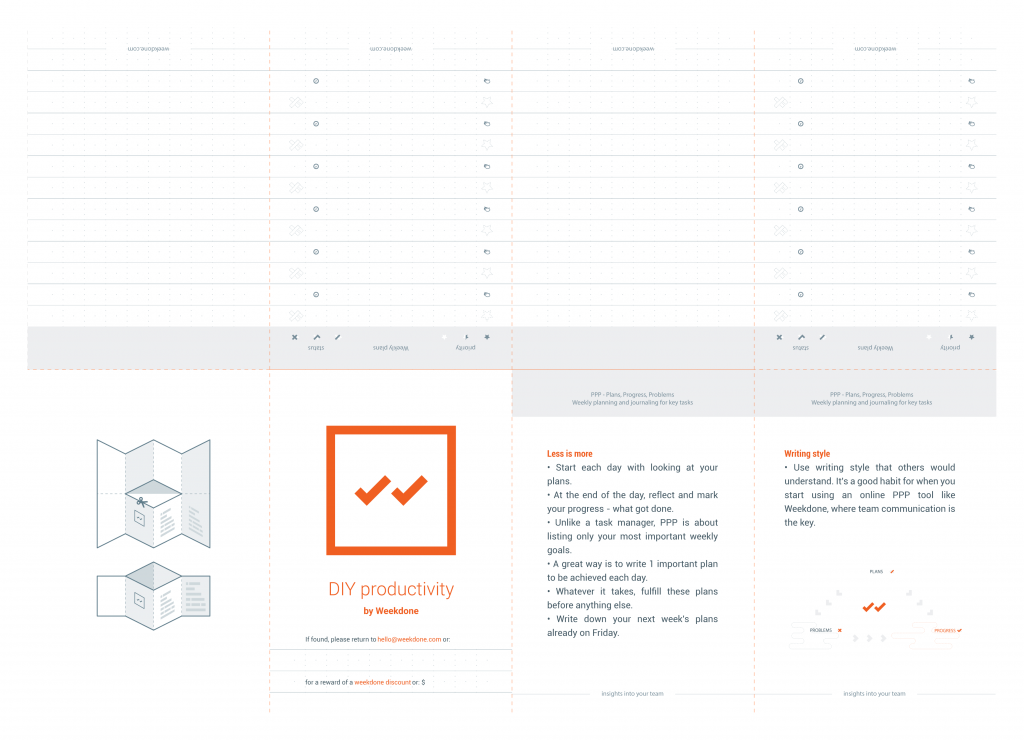 Printable Weekly Planner
Over the years Weekdone has analyzed how the best companies and people get their jobs done:
1. They all list clear plans and objectives, be it for a week or a quarter.
2. They regularly reflect on progress and what got done.
Use our downloadable weekly planner to plan your quarterly and weekly plans and get more done.
What is Weekly Planning?
Getting started with weekly planning and team's performance management is easy. You can use the simplest status reporting process called PPP – Plans, Progress, Problems.
PPP or "Plans, Progress, Problems" is one of the easiest weekly planning templates that you can imagine. Not only is Weekdone built on PPP principles, but we also use it ourselves as well. That way we know what people using the system need.
'Weekly status reporting consists of 3 different parts. Each week employees answer these questions (without writing long essays). Based on those answers, managers get a overview of all the progress, problems and plans their employees are facing:
Plans. What are you planning? (Future)
Progress. What have you done? (Past)
Problems. What problems are you facing? (Present)
Learn more about PPP reporting.
Free Resources + Support Materials
We are dedicated to make YOU an expert in productivity.
Read one of our e-books or subscribe to our Academy newsletter: