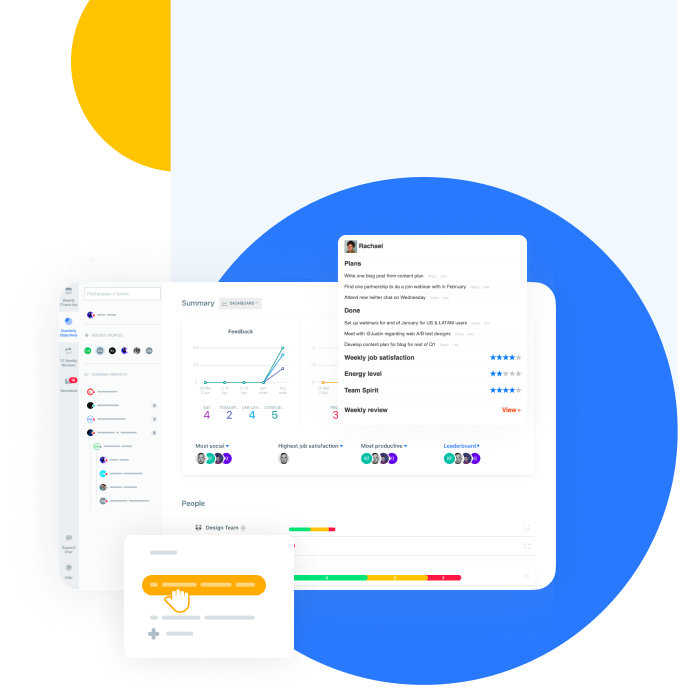 Weekdone gives the most precise information in one place
Get more out of weekly stand-ups
Hold engaging 1:1s
Collaborate efficiently with your team
Tracking tasks, progress, and reporting challenges helps managers get a clear understanding of individual, team, and company engagement.
Free for teams of 3. 14-day free trial for everyone else. No credit card required.
Create an effective plan, together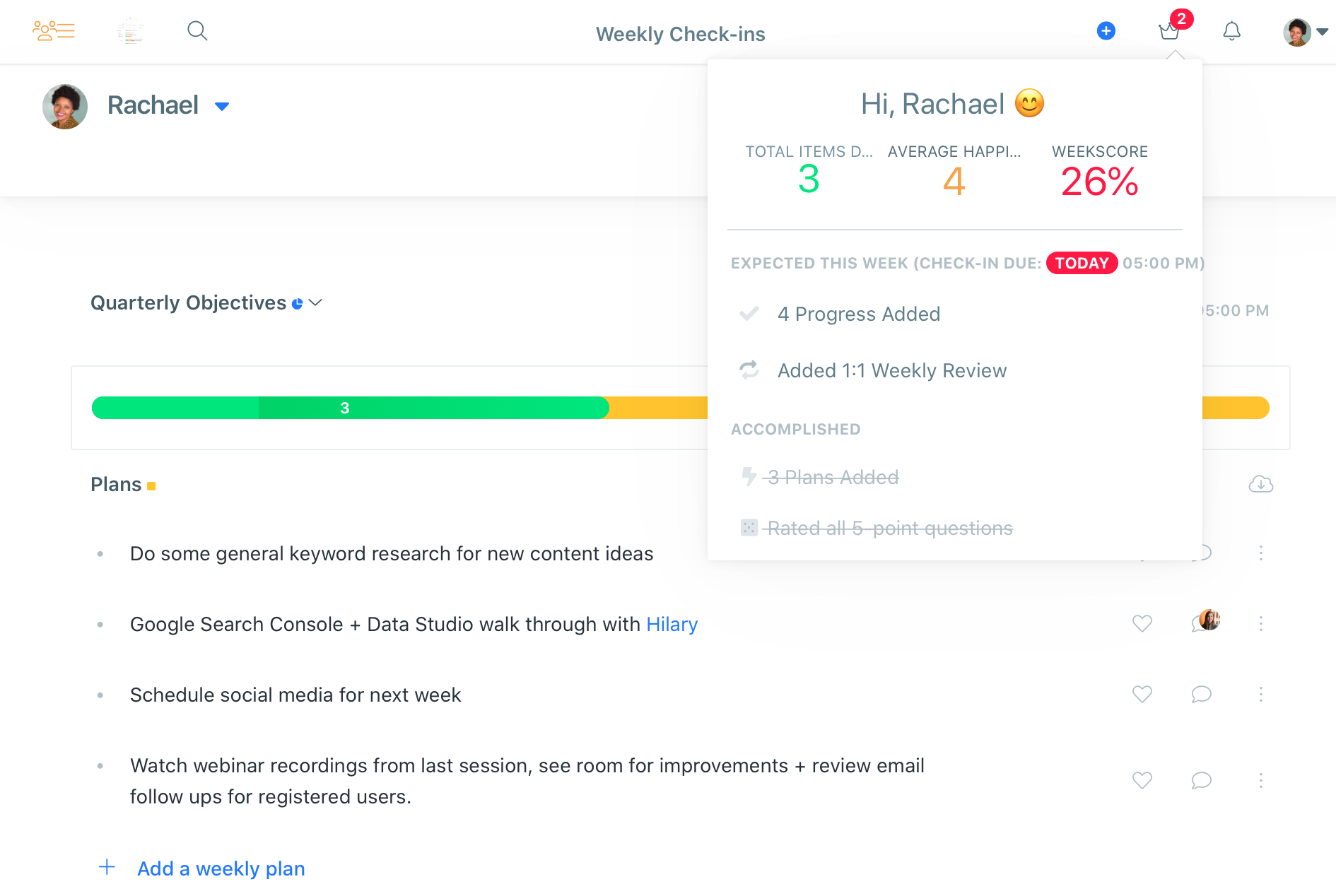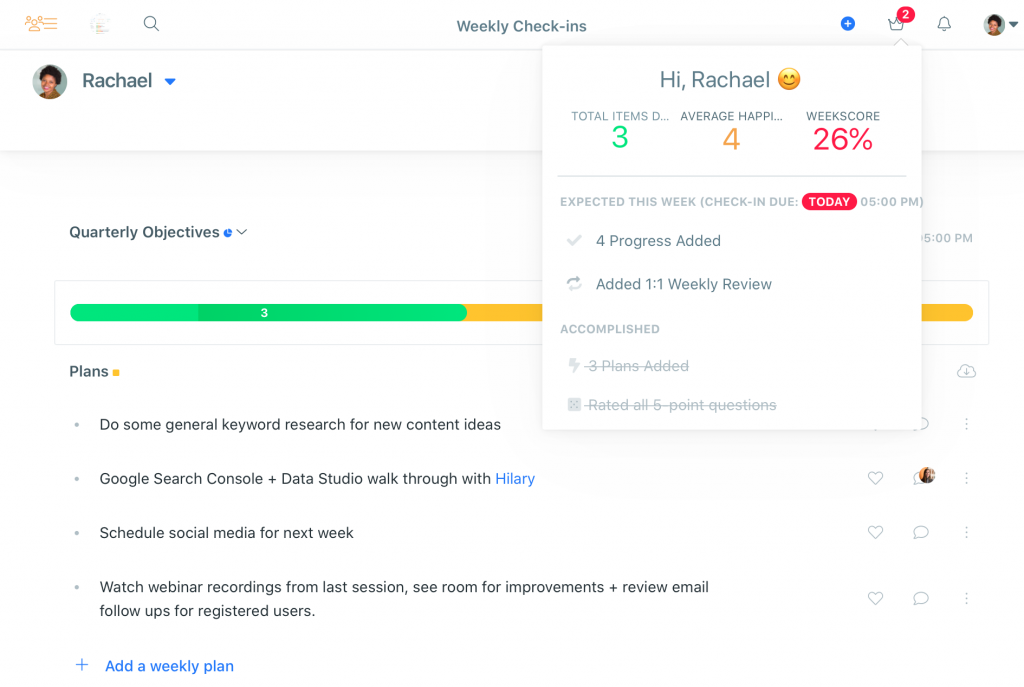 At the end of each meeting, everyone should know what their plans are for the week, or where they currently stand on a project.
Weekdone's Weekly Check-In section lets employees update their plans, and allows managers to assign tasks to specific members on their team.
Having a structured check-in system creates less confusion during meetings. Know what needs to get done, how to achieve it…and send the most important updates during the week.
Skip the meetings that could've been an email..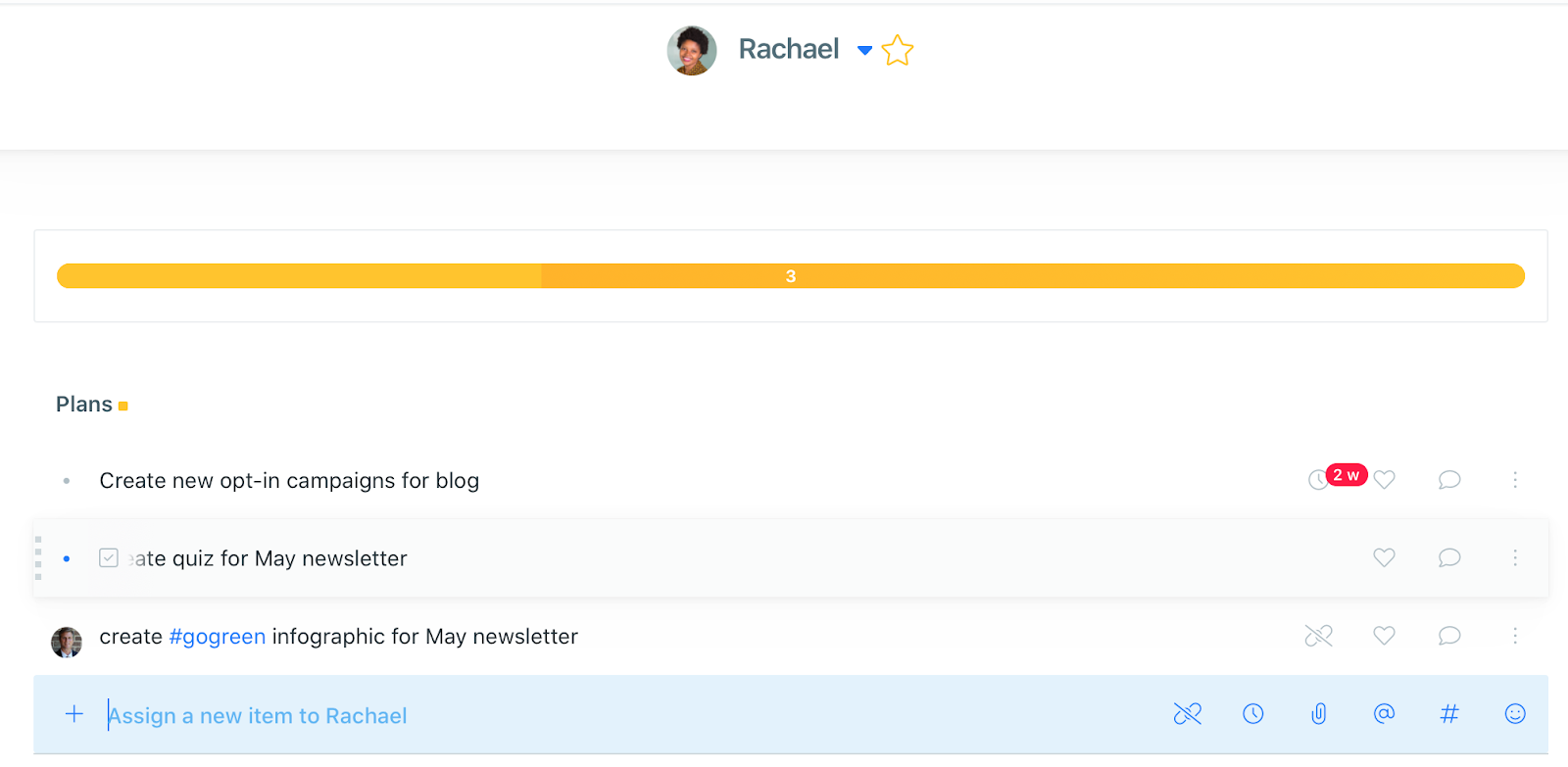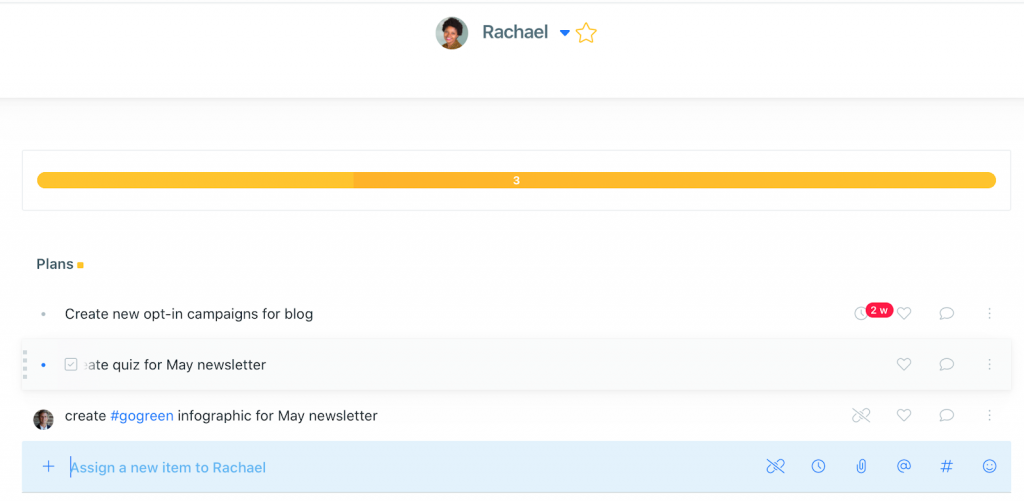 Assign individual team members a new task, and link necessary documents directly to the post.
Chat about the task directly on Weekdone. This ensures all relevant information is saved and easily accessible.
No more tabs, no more scrolling through chats. Everything is exactly where you need it.
If you have a tool you already use – we have integrations with some of the best!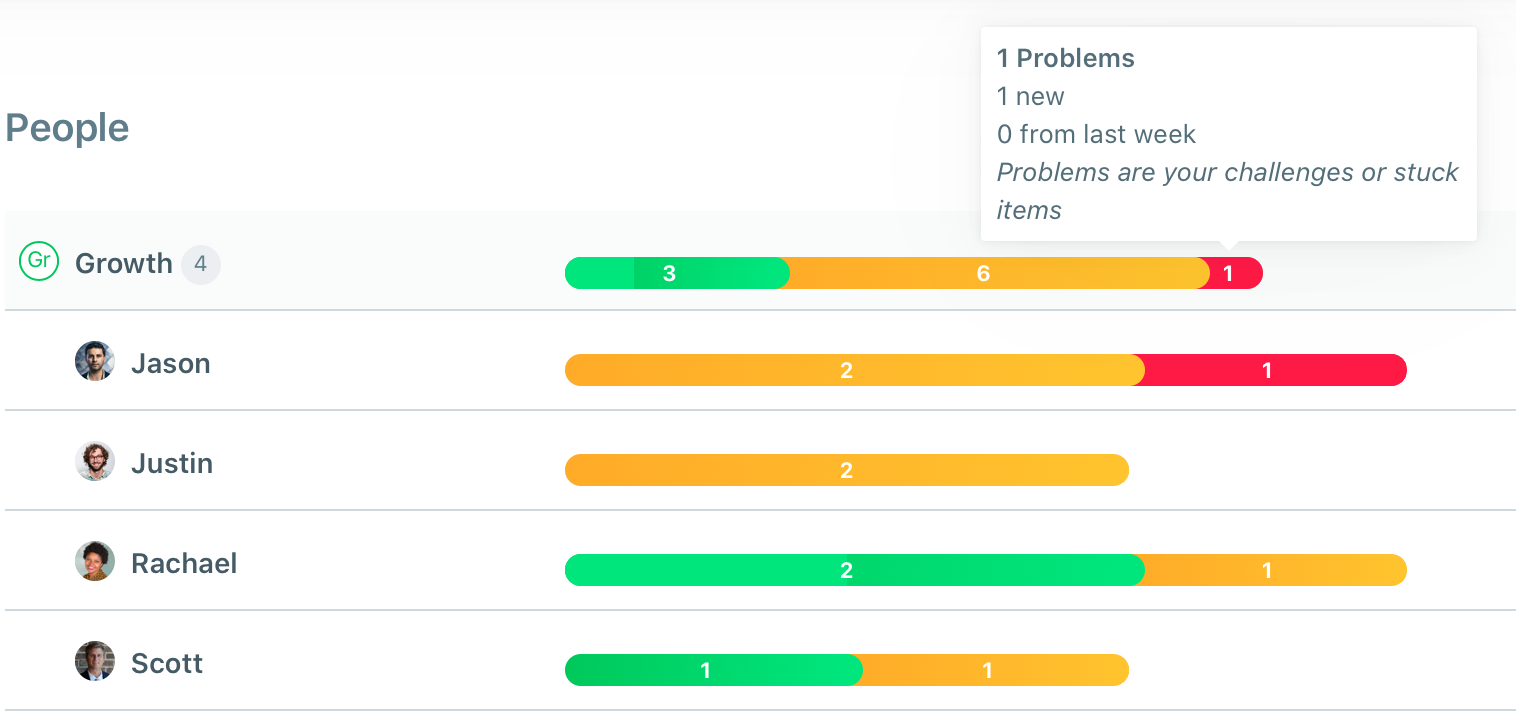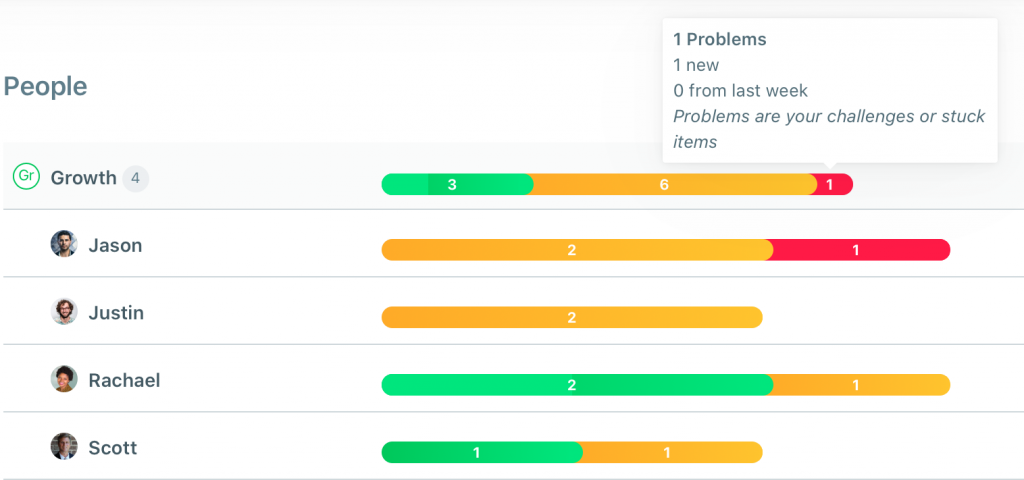 Take note of blockers, or problems as they arise. As employees come across challenges, they'll report them.
By reporting these blockers, managers can assess how to move forward; does resolving this problem call for a 1:1, team meeting, or can it be solved on Weekdone?
Weekly structure with PPPs
Weekdone uses the Plans, Progress and Problems (PPP) methodology for reporting to help facilitate your meetings. Don't worry – you don't have to learn anything new! This is exactly what managers and employees already cover in most meetings anyway.
Current tasks (Plans)
(Progress) on projects
(Problems) you need to overcome
See! You're already there – Weekdone just provides a system to keep it all in one place with a focus on the most important questions.
Plans
What you want to do
3-7 of your top priority tasks for the week. These individual plans should be clearly written, understandable by all teams, and achievable in a week's time.
Progress
What you've done
Watch your plans become accomplishments as you move them to the Progress section. This allows everyone to see how you're getting along with your tasks.
Problems
Something to overcome
Here you can record the challenges faced throughout the week that may have caused a delay in a project. This helps your team understand where they can step in.
Customized Engagement Templates
Improving conversation, feedback, and recognition should be something all teams strive to achieve. Weekdone makes this possible on a weekly basis by offering custom engagement templates.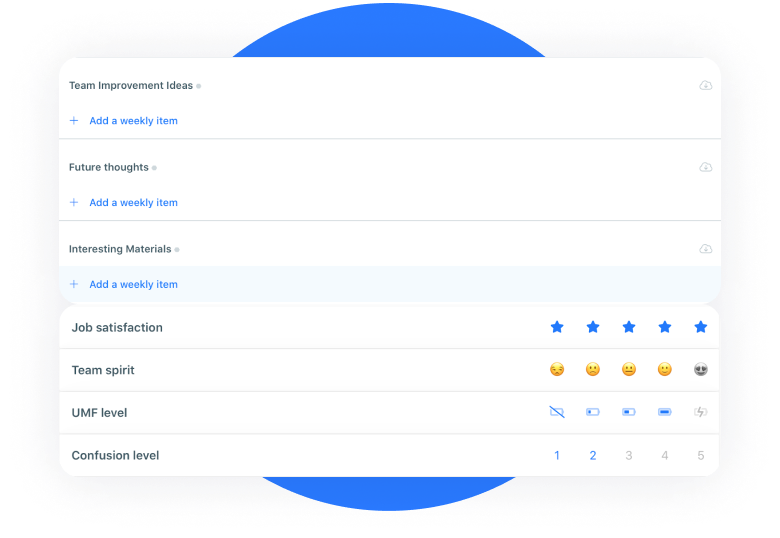 Giving employees a chance to share their voice increases engagement and overall job satisfaction.
With custom templates managers can choose topics specific to team needs that they'd like to receive on a weekly basis.
1:1 Scheduling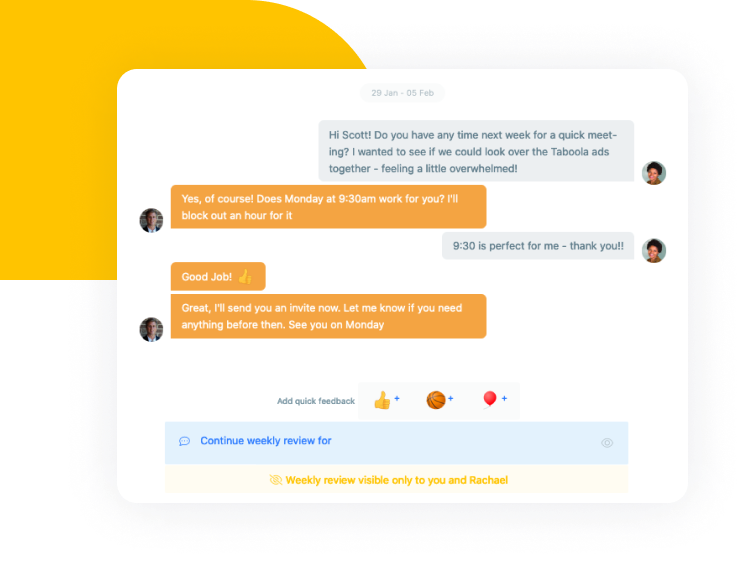 Weekdone offers a private discussion channel for individual employees and their team managers.
Managers can choose to start a private discussion with an individual employee. And employees can do the same.
1:1s are an effective way for managers and employees to get on the same page about a specific topic.
1:1 Preparation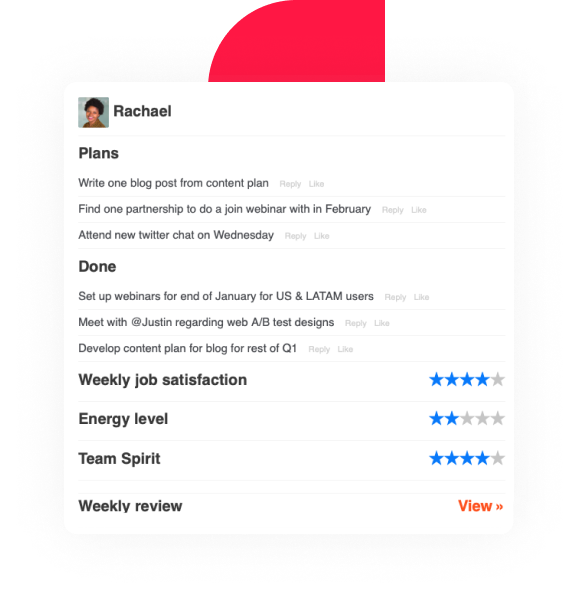 Whether a 1:1 is scheduled on a recurring basis, or to discuss a specific task or problem – managers will find the emailed weekly report useful for them.
Providing a clear picture of how an individual has progressed throughout the week. These reports also give you a chance to see how employees rate their week based on a 5 star rating scale.
All of this compiled information helps you prepare for meetings with structure.
See a sample email report for teams here .
Weekdone keeps it simple for teams everywhere
"The best thing about Weekdone is that it has allowed us to go remote. Before we were using Google Docs, that was just painful. With Weekdone I do my report, it takes 5 minutes and I am done." – Read the case study from agorapulse
"We have found that Weekdone has improved our meetings – we are able to move to more strategic discussions since we can go to Weekdone to read our goals and accomplishments from the past week." – Read the Whole Foods case study on our blog
Weekdone has been the perfect tool for our remote team to keep track of daily and weekly plans and stay focused on getting the right things done, rather than just creating the appearance of being busy.

Jon Lay — Founder of Hanno discusses Weekdone
Still Have Questions? We're Here to Help
Everyone, even our CEO, is happy to answer your questions & get you started. Contact us on live chat or write to hello@weekdone.com — average 2 hour response time.