Track progress, set weekly plans, give your team praise and feedback.
Do you need a tool for setting goals for your team? Are you tired of using spreadsheets that don't show the whole picture? Try Weekdone – your all-in-one tool for setting team goals.
Free for 3 users or 14 days. No credit card required.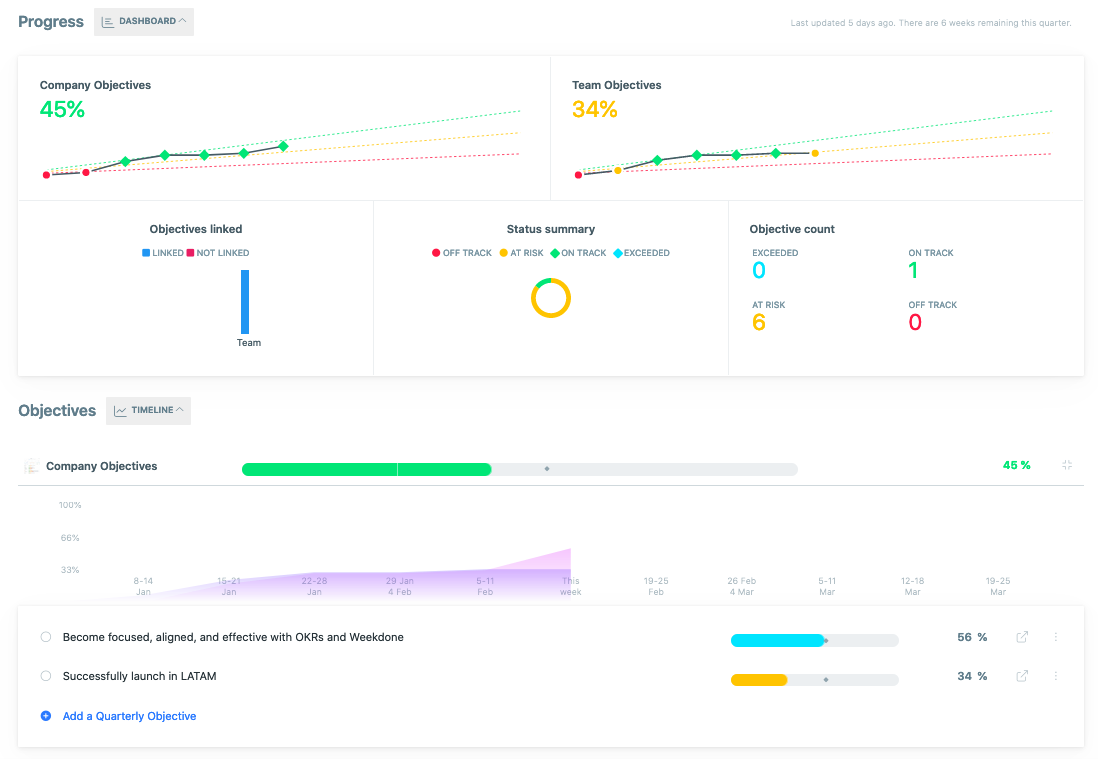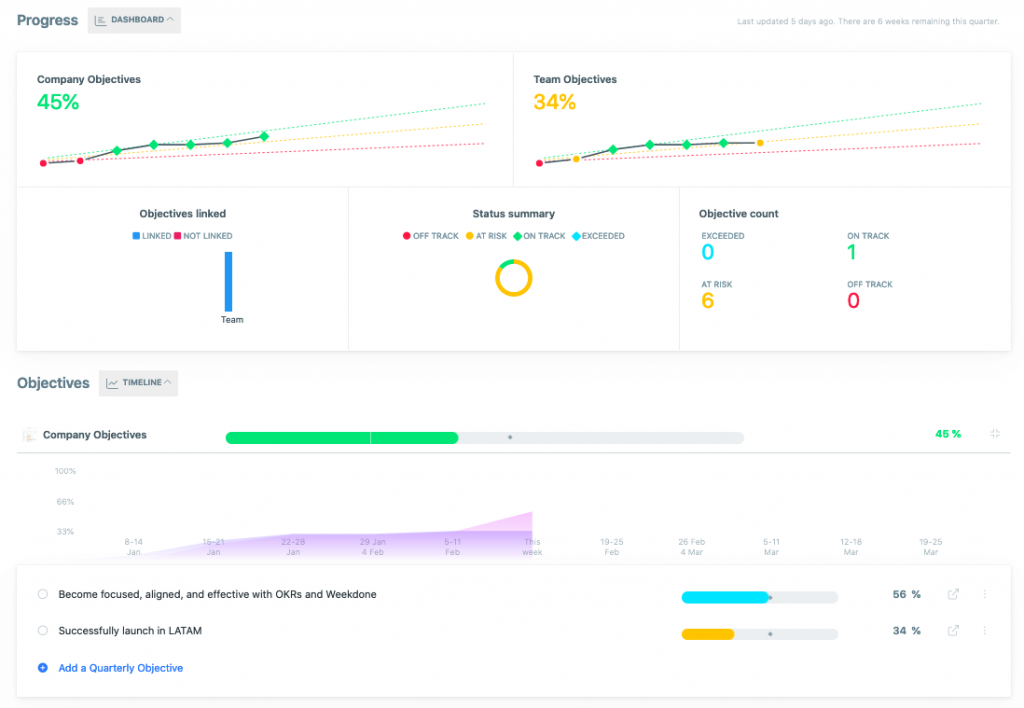 We're Here to Help
Everyone, even our CEO, is happy to answer your questions & get you started.
Contact us on live chat or write to hello@weekdone.com — average 2 hour response time.
What You Get
Keeping your team on track is easy when you use Weekdone
Quarterly Goal Setting
Set quarterly goals for your company and teams using the agile goal-setting framework of OKRs.
Weekly
Check-ins
Weekly Check-ins allow your teams to plan your week and connect those plans to achieving your goals.
Feedback & Recognition
Peer recognition is built in to boost morale and offer everyone encouragement when working on their goals.
Personalized
Training
New to the OKR goal-setting framework? Get training from our OKR coaches for your leaders and teams.
What are the benefits of using goal setting software?
Goal setting is only as good as its implementation.
Being able to set ambitious and long-term goals is essential for a company's steady growth.
However, without the proper execution of these goals, is just a wishlist.
That's where Weekdone steps in as your go-to app for setting long-term goals and making sure your team is on track.
Try Weekdone if you're tired of jumping between spreadsheets to assess your teams' progress.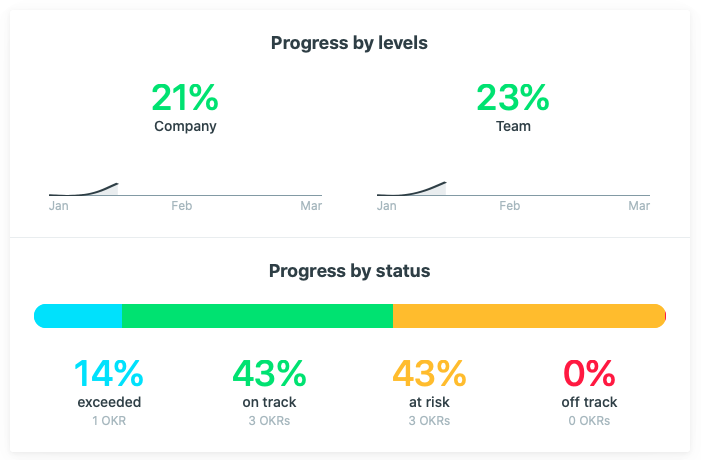 Why use OKRs for goal setting?
Objectives and Key Results is a well-renowned framework for setting up quarterly goals that help to align every team within a company. OKRs have been used by numerous startups and Fortune 500 companies such as Google, Intel, and Amazon.
OKRs improve employee focus and productivity by providing clear goals. The transparency OKRs provide help everyone see the bigger picture. Your company will move as one toward unified goals.

Set Clear Goals
Keep your team aligned and focused using the goal-setting methodology of OKRs. OKRs are used by companies like Google and Amazon to maximize productivity.
Plan Weekly
See how your weekly plans with accomplish your goals with regular weekly check-ins. Have your team use Plans, Progress and Problems each week for full transparency.
Receive Updates
Set up weekly progress updates of your goals and your team or company's Weekly Check-in breakdown – sorted by person or category.
Give Recognition
Peer recognition allows everyone in the company to give praise on a job well done or good teamwork. Works great for cross-team collaboration and boosting morale.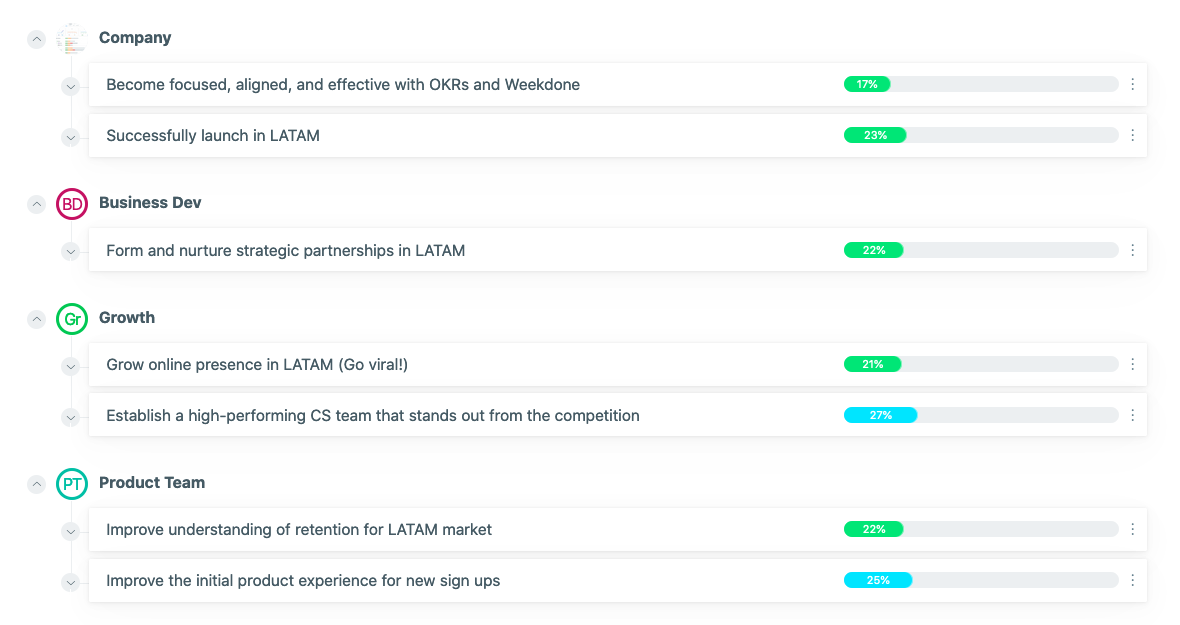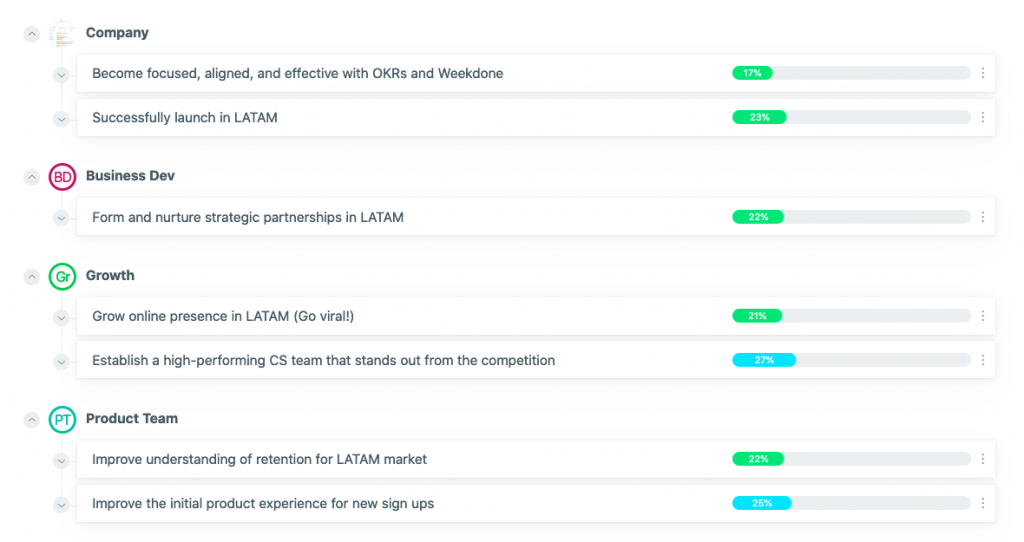 Weekdone is the tool for you if…
You're struggling with setting clear and measurable goals for your team
You can't stand using additional spreadsheets that cause more confusion than benefit.
You're looking for an all-in-one tool to keep track of your team's goals and communicate with your team directly.
Benefits of goal setting with Weekdone
All-in-one tool for setting goals, status reporting and weekly planning.
Boost morale through company-wide feedback and recognition.
Training in the goal-setting methodology of OKRs from our experts.
Individual and team onboarding on how to best use Weekdone.