Create result-oriented teams while fostering a transparent work environment.
Have everyone in your company on the same page with Weekdone OKR software and OKR coaching.
Free for 3 users or 15 days. No credit card required.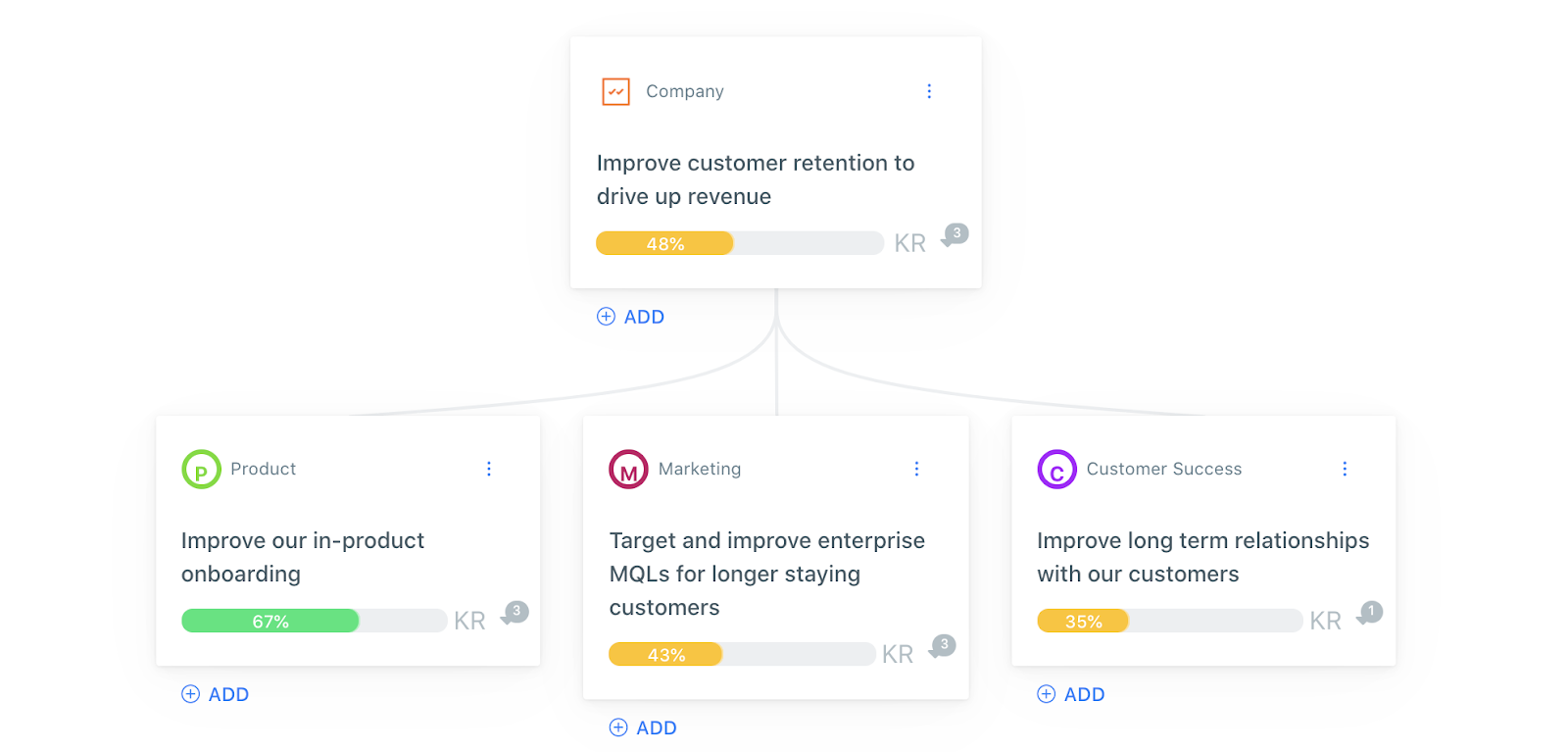 OKRs help focus and align teams in companies like:

What You Get
Weekdone helps to establish an efficient and transparent work culture
Clear & long-term goals
Leverage the OKR framework to set quarterly goals with your teams and align everyone within the company.
Weekly Check-ins & updates
Weekly Check-ins are a great way for your teams to set plans that lead to achieving quarterly goals.
Giving credit where it's due
Weekdone is designed for employees to easily give praise to coworkers for a job well done and offer feedback.
Learn and practice OKRs
Are you new to OKRs? Our OKR experts will get you and your team up to speed with personalized coaching.
Use Weekdone for creating a healthy company culture
Weekdone allows to set clear, long-term goals and keep track of your team's progress while encouraging a communication-centered environment.
Weekdone's tool is built around OKRs to ensure that teams are:
aligned with their long-term goals
understand how their daily tasks are connected to their goals
freely exchanging feedback with leaders and teammates
capable of measuring their own progress

This is what makes Weekdone the essential tool for establishing a healthy company culture for businesses of all sizes.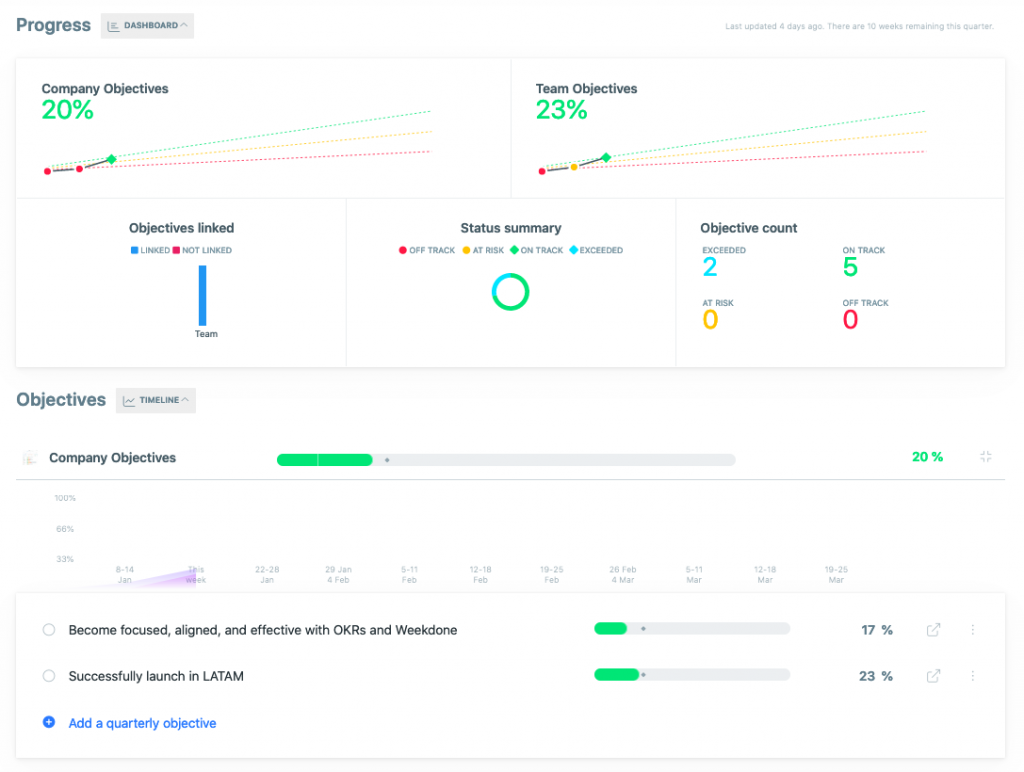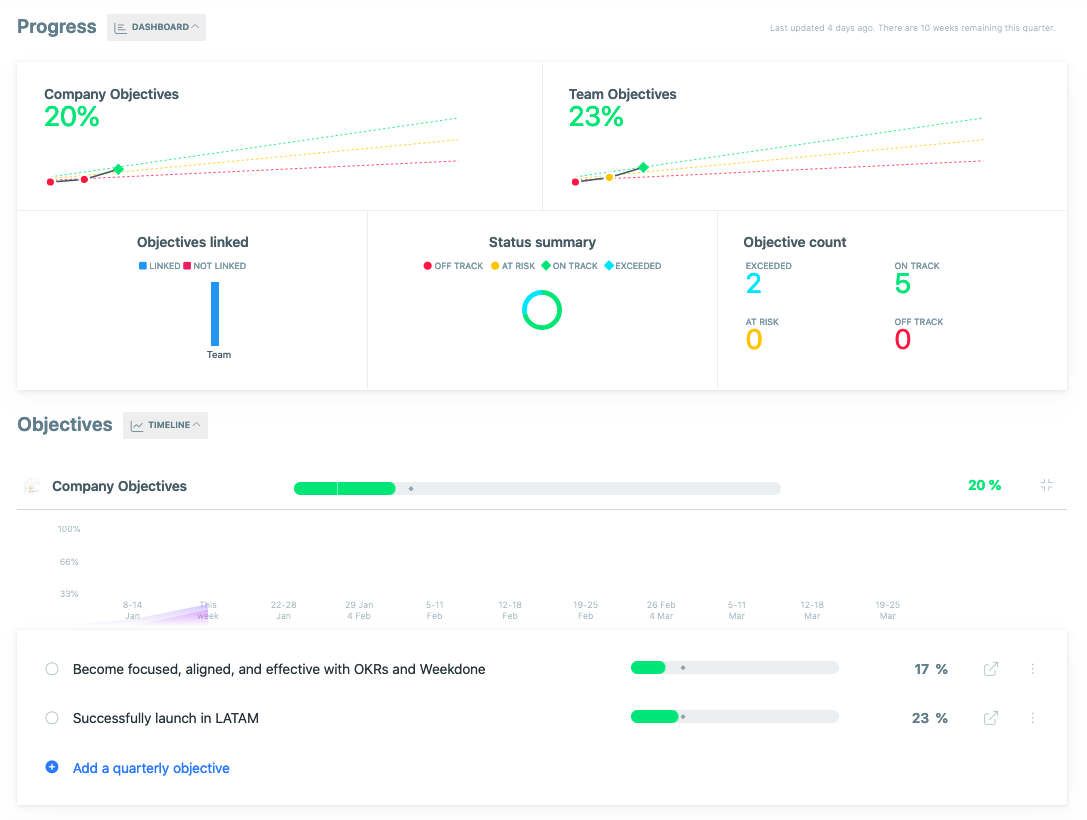 How OKRs create a culture of focus and alignment
Objectives and Key Results (OKRs) help focus and align teams in both startups and Fortune 500 companies such as Google, Intel, and Amazon.
Clear quarterly Objectives create focus for the company. Teams create OKRs to drive forward these OKRs, creating purpose and alignment. Weekly Check-ins help teams prioritize and plan their week.
Your company will move as one toward unified goals.
Key Features
Quarterly Goals
OKRs enable setting quarterly goals both on company and team levels. This allows teams to have direct alignment and input into the company's direction. What's more, these goals are easily measured which ensures clarity and improvements.
Weekly Check-ins
Managers can now hold Weekly Check-ins with their teams to create plans for the week that drive the team towards their long-term goals.
Employees can prioritize and adjust their plans on a weekly basis. All this with keeping everyone in the loop.
Email Updates
Receive weekly updates straight into your inbox. OKR progress of your entire company or just your team delivered weekly, monthly or quarterly. Weekly Check-in updates of the entire company or just your team organized by people or category delivered at the end each week.
Praise & Feedback
With Weekdone, you can give praise to everyone in the company for their achievements and offer feedback when needed. All this in a gamified Newsfeed that encourages employees to exchange thoughts and ideas.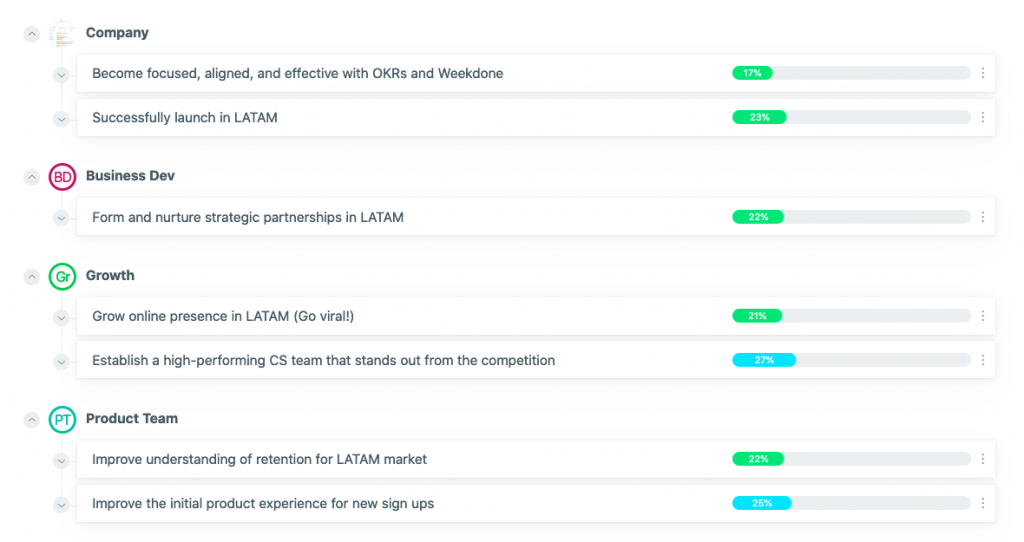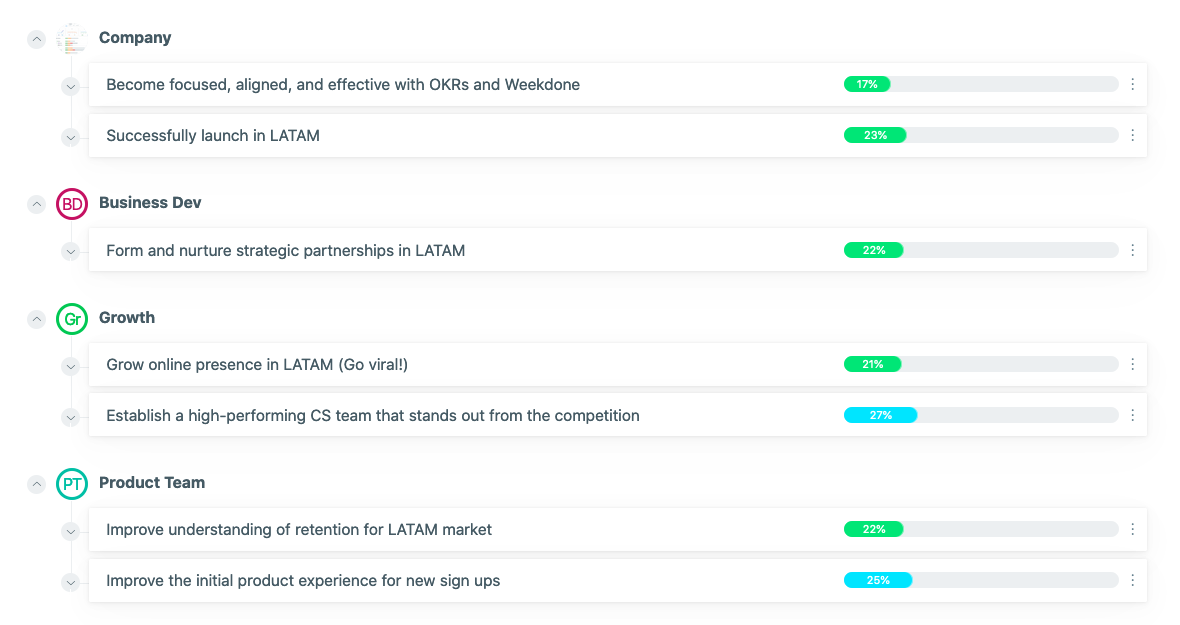 Give Weekdone a try if…
Your team needs a better way to communicate
You're not sure how to keep track of your team's goals
You need a robust tool to finally skip the extra spreadsheeds
Benefits of using Weekdone
One app to set goals, measure progress, tackle problems and keep everyone on the same page.
Establish a transparent work culture thanks to open communication through Weekdone.
Introduce your team and company to OKRs – the top goal-setting framework.
Individually tailored onboarding to Weekdone & OKR trainings from our coaches.
We're Here to Help
Everyone, even our CEO, is happy to answer your questions & get you started.
Contact us on live chat or write to hello@weekdone.com — average 2 hour response time.