Weekdone is a Top-Rated OKR software built on best practices with expert training included.
While the world faces tough economic times and overall uncertainty, you can have a thriving business with the right tool.
Use available resources effectively, achieve transparency, and focus on what matters.
Free for 14 days • Unlimited users • Full features • No credit card required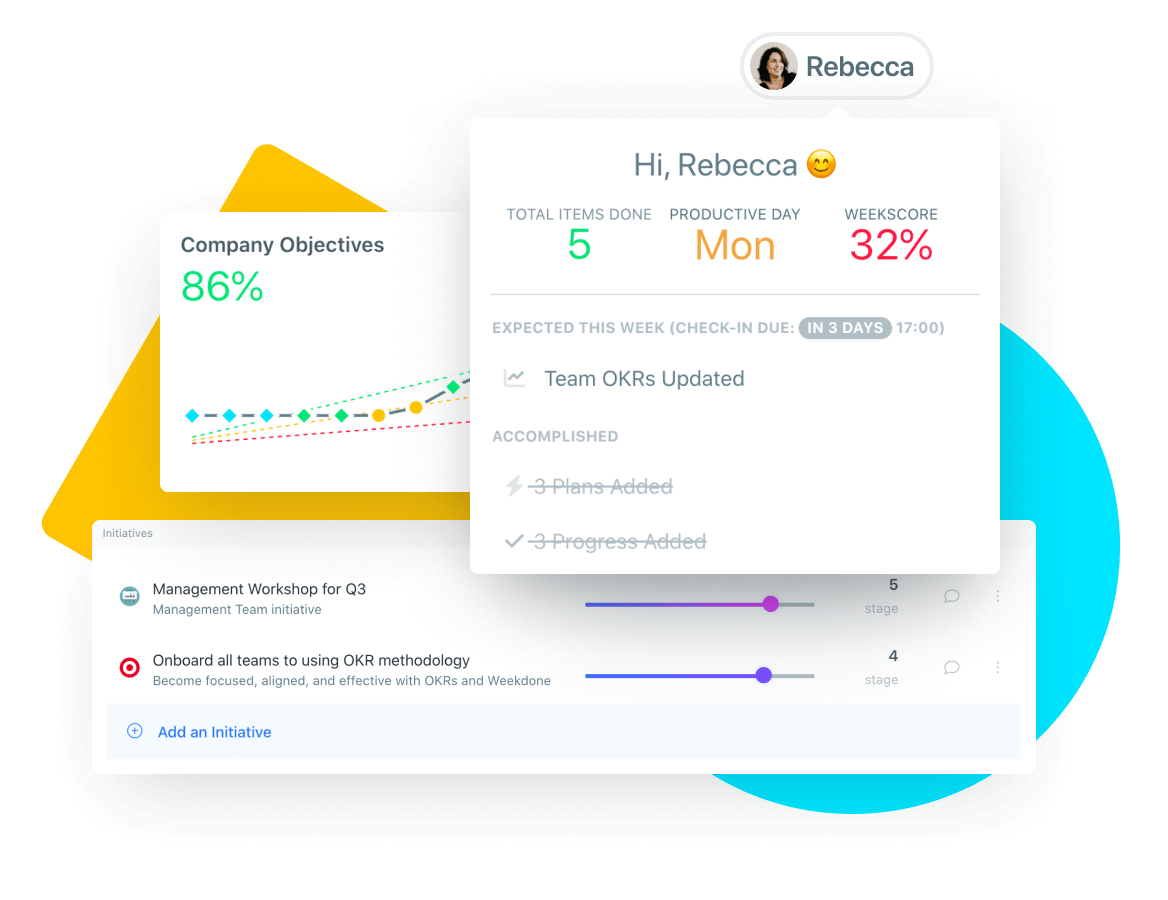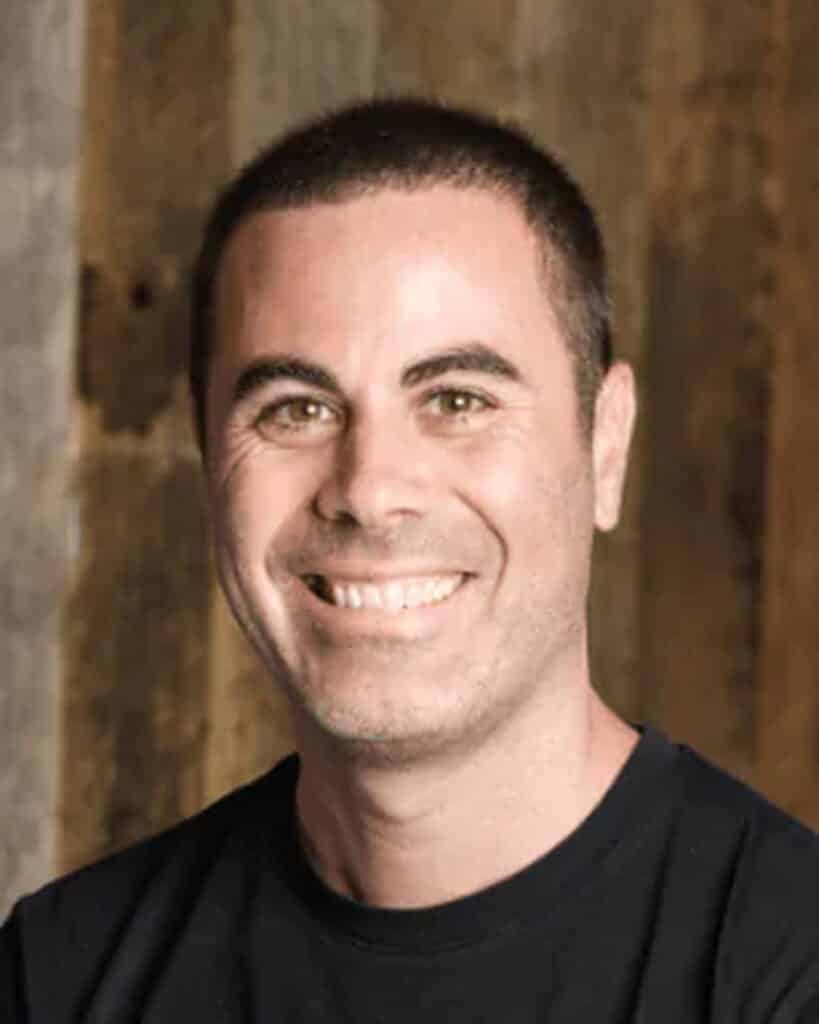 Foodbomb created structure and clarity with Weekdone and OKRs
Weekdone is an amazing product that is solely built for OKRs.
It's super intuitive, the linking, gamification, and the teams.

So use a good tool to house your OKRs so you can measure it properly and see the impact.
You drag and link up and see how it impacts your team and company.

People can use it as they wish, it's super flexible, even if they want to use it at a personal level.

Josh Goulburn – COO at Foodbomb
Alignment & Focus
Consistent Adoption
Confident Leaders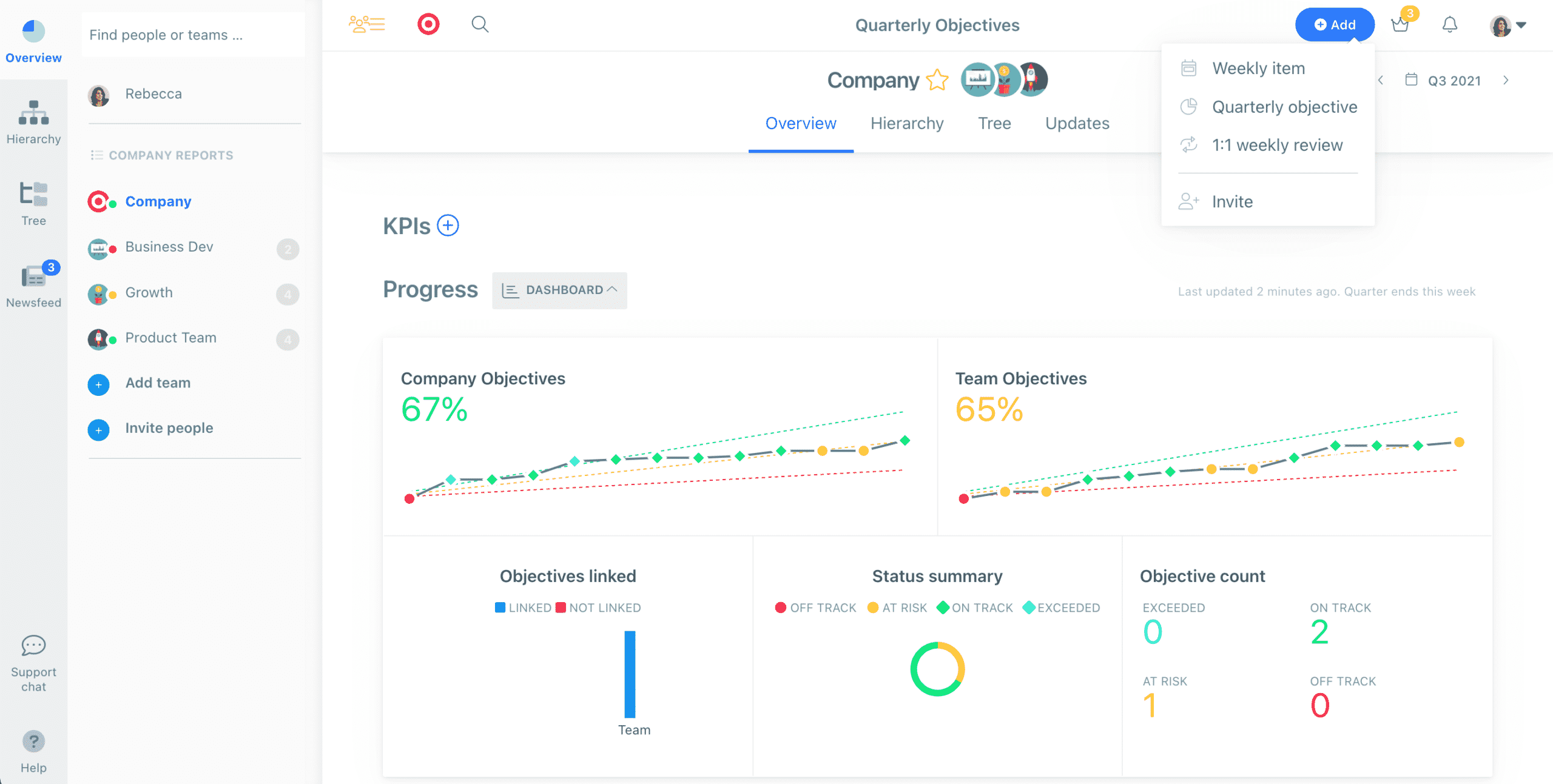 Secure Company Performance with OKRs
Prepare your company for the tough economic times ahead with the OKR methodology and winning process.
Identify challenges, plan initiatives, track progress, report, and repeat.
Objectives define areas of improvement, while Key Results measure the impact
Initiatives connect output to outcome – keeping the most important tasks in sight
Weekly Planning drives execution and performance on all company levels
Clear hierarchy and alignment are front and center on tree view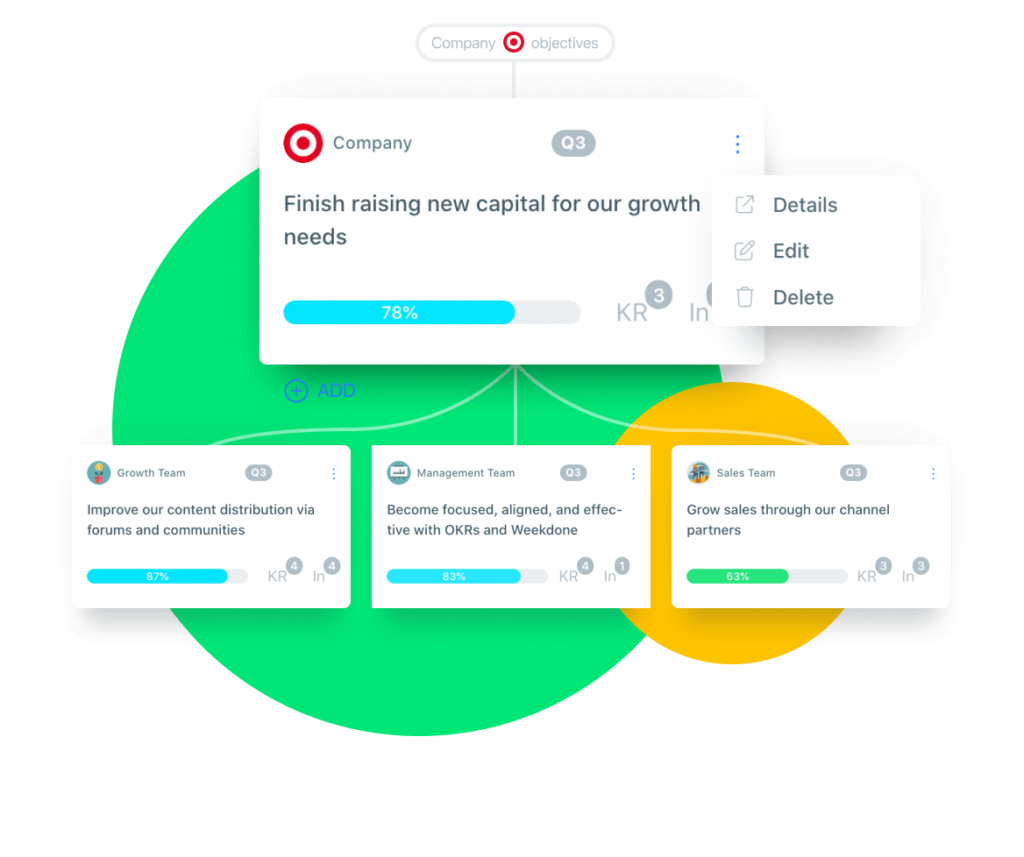 How does Weekdone work?
Company Leaders Lead the Way
Leadership create Company Objectives to set the direction teams need to go towards for the quarter.
Teams Focus on What Matters
Teams develop Objectives and define Key Results that will work towards the Company Objectives.
Workload is Transparent on Weekly plans
Teams set their plans for the week to drive the results needed to move their OKRs forward.
A Dedicated OKR Expert is Part of the Plan
Leaders and teams work closely with our in-house team of OKR coaches, ensuring good results become a habit.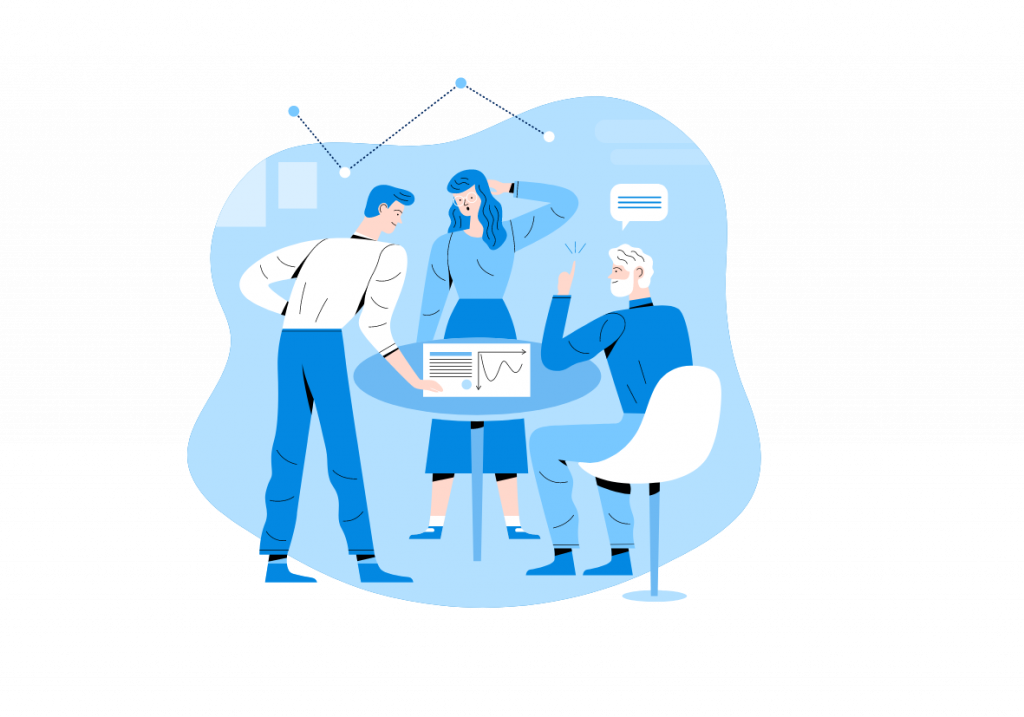 Crush the tough times, just like Intel did
In 1986, Intel recognized Motorola threatening their business performance. With big hopes, a gut feeling, and OKRs – the entire company fought back with "Operation Crush".
"Operation Crush" boils down to 4 clear steps
Be direct: define and communicate the top-level objective
Include everyone: discuss the "what" to do and "how" to do it
Use your OKR superpowers: prioritize, teamwork, accountability, and stretch. See next section for more details on superpowers.
Cultivate an agile, connected culture to drive impact and OKR success
Use OKR Superpowers to survive & thrive
Meet your next secret weapon to handle tough economic times, harsh competition, economic turmoil, and other villains that roam your industry. These Superpowers were listed by John Doerr himself, the creator and spreader of OKR.
Focus and Commit to Priorities: Stay focused, agile and committed to the most important pain points
Align and Connect for Teamwork: Align goals across the company and improve cross-team collaboration
Track for accountability: Add, track and report with ease – see where you're falling behind, target and execute
Stretch for amazing: Think outside the box, stay innovative and push further than before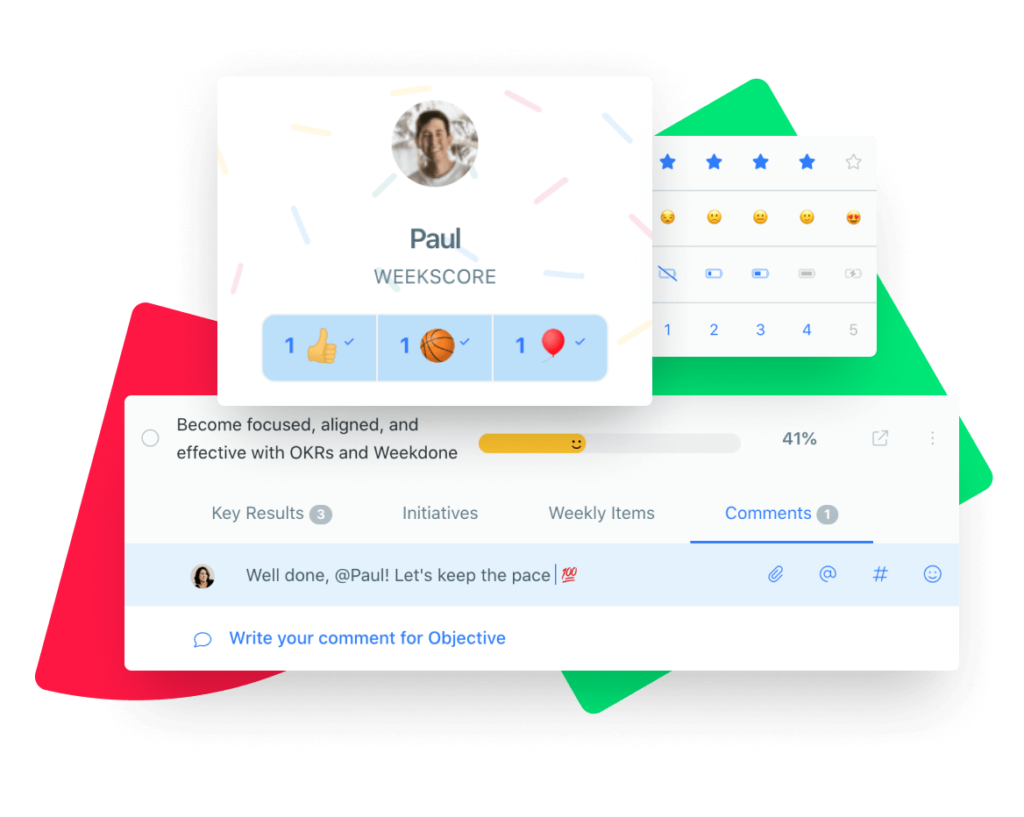 Join the hundreds of companies using Weekdone for their OKR processes

Why use Weekdone OKR tool?
OKR alignment
Set structured goals to align activities throughout your organisation. Link OKRs to see total company progress.
OKR visualization
Beautiful dashboards that show how everyone's OKRs are progressing.
Weekly Check-ins
Create weekly plans that drive OKRs forward with Weekly Check-ins. Critical during tough economic times.
Feedback & Recognition
Praise progress towards goals and boost morale. Engage with your coworkers via Newsfeed.
OKR reporting
Automated customizable reports help you manage improvement and growth.
Easy navigation
Access everything in a few clicks. Update items on-page. All views are based on your organization structure.
OKR coaching
Personalized OKR coaching tailored to your company, teams, and industry.
Trusted OKR software
Weekdone has continued to transform the OKR software space as an innovative leader since 2012.
Free for 14 days • Unlimited users • Full features • No credit card required
Start with sample data • Free Forever for 1-3 users
Seamless integrations to live your life on easy mode
You already use other tools so you might as well integrate them with Weekdone.
Automate your workflows, auto-import KPIs, Key Results, and Initiatives, and get notifications where your teams are already listening.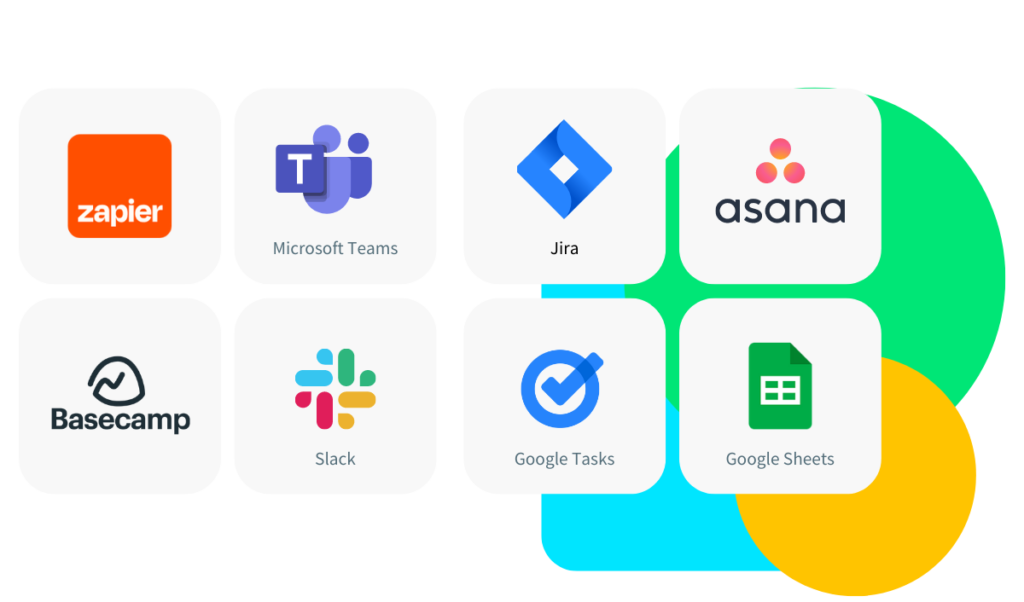 You get a fully dedicated team rooting for your success
Everyone at Weekdone is dedicated to successfully implement OKRs in your teams and making them a habit in your company.
OKR FAQ
What is OKR software?
OKR software is a goal-setting tool that helps your team create measurable goals to drive your company towards success. OKR stands for Objectives and Key Results. Your Objectives are what you want to achieve, and the Key Results are the quantitative measures that help you "define the achievement" of your Objectives.
What software does Google use for OKR?
John Doerr introduced the OKR methodology (which originated from Intel) to Google in 1999. Since then, Google utilizing Google Docs or Google Sheets as a simple and easily accessible way to track OKRs.
Does OKR really work?
Following best practices, OKRs help companies align their goals and focus on the big picture. It usually takes between 2 to 3 quarters to see OKRs flourish in teams, but it's worth the effort.
Who uses OKR?
The well-known companies that use OKRs are Adobe, Amazon, Asana, Baidu, BMAT, Deloitte, Dropbox, Eventbrite, Facebook, Google, GoPro, LinkedIn, Mozilla, Netflix, Oracle, Panasonic, Salesforce.com, Samsung, Siemens, Slack, Spotify, Trello, Twitter, and Uber.
Should startups use OKRs?
Whether a startup is made up of two people or 100, OKRs can help the company's top priorities become clear to everyone. Weekdone is the best OKR software for startups to start as it's free for 3 users or 14 days and includes unlimited OKR coaching.
What is an OKR vs KPI?
KPIs are business metrics that reflect performance, whereas OKR is a goal-setting method that helps you improve performance and align on goals. Both OKRs and KPIs are necessary for setting company goals and moving towards success.