The ultimate guide for implementing Objectives and Key Results in your company
Fill out the form below to grab your free copy of "Step by Step Guide to OKRs".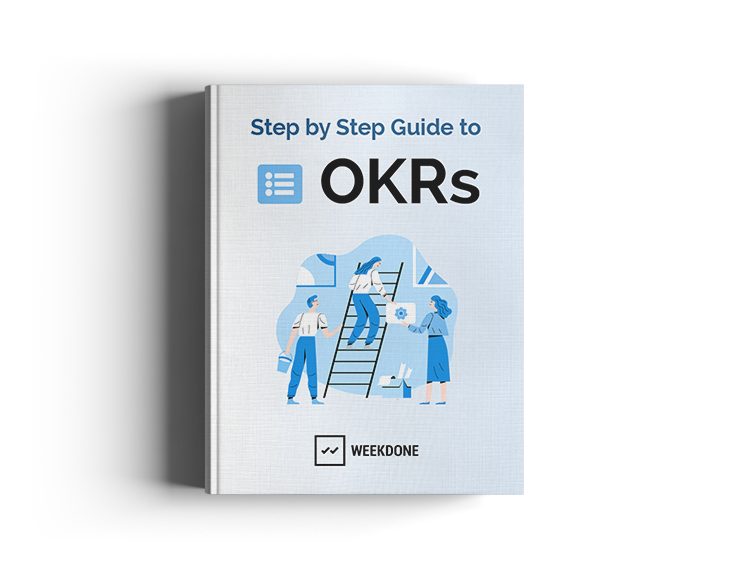 Most important aspect of running a successful business is setting the right goals and executing them well.
This "Step by Step Guide to OKRs" is a practical guide to goal setting that offers concrete examples to help you start setting impactful and meaningful goals. This book teaches you how to manage a team better and create a feeling of success.
It's about Objectives and Key Results, better known for their acronym: OKR. This is a "How-to" guide to get started with OKRs and to help your team or a company implement the best goal setting system currently out there.
What you'll find inside
Benefits of Setting OKRs
Learn about the most beneficial aspects of using Objectives and Key Results.
Getting started with OKRs
A basic overview of the OKR process and how it all works.
Writing Good Objectives
Figure out how to set great quarterly Objectives that energize your team and keep you on track.
Setting Key Results
Understand how to set measurable Key Results that will show whether or not you succeeded at your Objective.
How OKRs and KPIs can coexist
Learn the difference between OKRs and KPIs and why both are necessary to run your business successfully.
Committed and aspirational OKRs
Learn when OKRs should be stretch goals to inspire your team and when they should be committed goals.
Weekly planning and OKRs
Understand how weekly planning is necessary for having any type of success with OKRs.
Aligning and linking OKRs
Learn how Company Objectives set the direction and Team OKR drive the results.
The OKR process
What you need to do each week throughout the quarter to make sure OKRs continue to align your teams.
OKR Implementation Guide
Learn how to implement OKRs the right way so they become a habit in your company.
Getting an OKR coach
Learn the benefits of having an OKR coach by your side to ensure successful implementation of OKRs.
OKR best practices
Tips and best practices to ensure that your company is using OKRs the right way quarter after quarter.