One of the biggest benefits of the OKR (Objectives and Key Results) goal-setting methodology is that it provides strategic goal alignment across your company. Many companies choose to implement OKRs because they want different teams in the company to be more aligned with the overall company direction.
Still, OKR alignment can easily go wrong if people are not aware of how it should work. When creating a goal-setting strategy, lots of team managers are tempted to use cascading OKRs. This might not be your best option, though.
Cascading OKRs is a red flag for many reasons and eventually results in the company achieving less than it's actually capable of.
We'll uncover why this is the case and how to avoid those common mistakes when aligning goals across the organization.
📚 Read: Essential Guide to OKRs to learn more about the goal-setting methodology of OKRs (Objectives and Key Results), made famous by Intel and Google.
Try OKR Software 🎯
Track OKRs in OKR Software with company-wide OKR alignment, built-in examples, guided OKR Wizard, color coded tracking, and visual dashboards. Stay focused – achieve goals.
What Are Cascading OKRs?
The OKR cascading method involves high-level OKRs flowing downward (or cascading) to various department heads, team managers, and individual employees. Each individual who uses OKRs then takes ownership over specific Key Results from those above them in the chain of command and decides the best way to accomplish particular Objectives.
The idea behind cascading OKRs is that higher-ups can receive valuable input from those below them who are "in the trenches" and have a better idea of what it takes to turn high-level Objectives into realities.
📚 Read: The meaning of OKR for each company level.
3 Examples of Cascading OKRs
Let's say an owner of a business that sells and installs solar panels wants to create a company-wide OKR. Their cascading goals might look something like this:
Objective: Become the region's top solar panel company
KR 1: Account for 70% of all solar panel sales in this region
KR 2: Reach 95% customer satisfaction for solar panel installation
KR 3: Increase the company's brand visibility by 60%
From here, the company's sales, installation, and marketing managers would step in, take on each of these Key Results, and use them as an Objective for their team. The sales manager's cascading OKR format example might look like this:
Objective: Dominate a certain sales region as a solar panel leader
KR1: Hire 3 new sales associates
KR2: Increase the number of solar panel sales by 60% compared to last year
KR3: Increase sales revenue by 50% compared to last year
The cascade will continue as the sales associates turn the sales manager's Key Results into their individual OKRs:
Objective: Increase the number of solar panel sales by improving the sales process
KR1: Speak to at least 50 potential customers each month
KR2: Successfully close at least 10 sales each month
KR3: Follow up with at least 30% of current customers to find out what could be improved in future sales deals
When you're first learning how to use OKRs, the idea of cascading OKRs seems like a pretty solid goal-setting strategy. The more you know, though, the sooner you might end up changing your mind.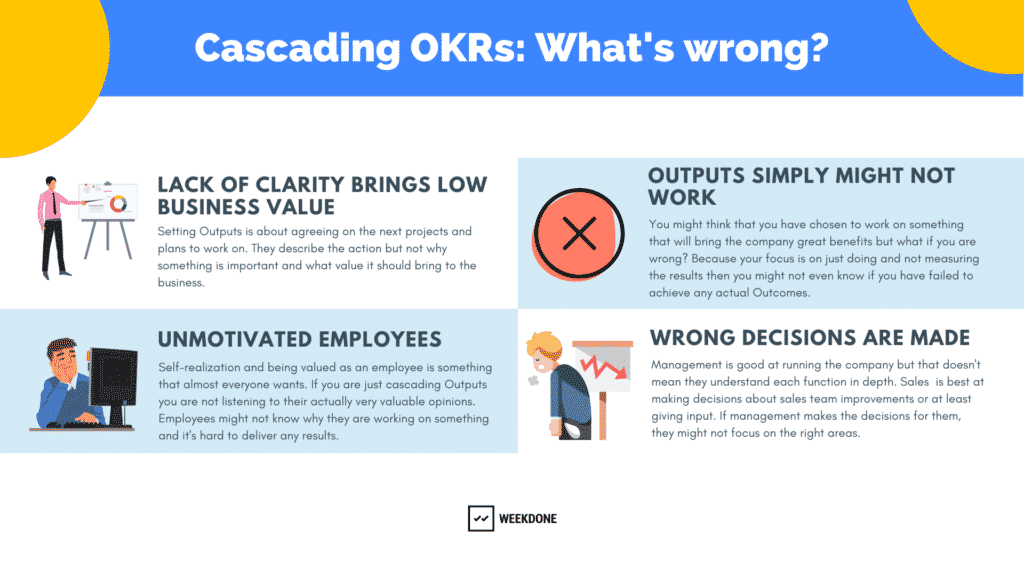 Should Companies Cascade OKRs?
We don't recommend cascading OKRs for the simple reason that OKRs don't cascade — they align.
Management should not be responsible for setting or cascading the focus areas for other teams. In fact, this is a red flag.
When something trickles down from management, there's a good chance that it's a KPI target or a project, not an OKR. Even though managers may have a good general overview of the team's work, they have less knowledge of the team dynamics, happenings, and the unique challenges it faces.
OKRs are better suited to team-specific issues and goals. General performance, on the other hand, is better measured by the KPIs set by management.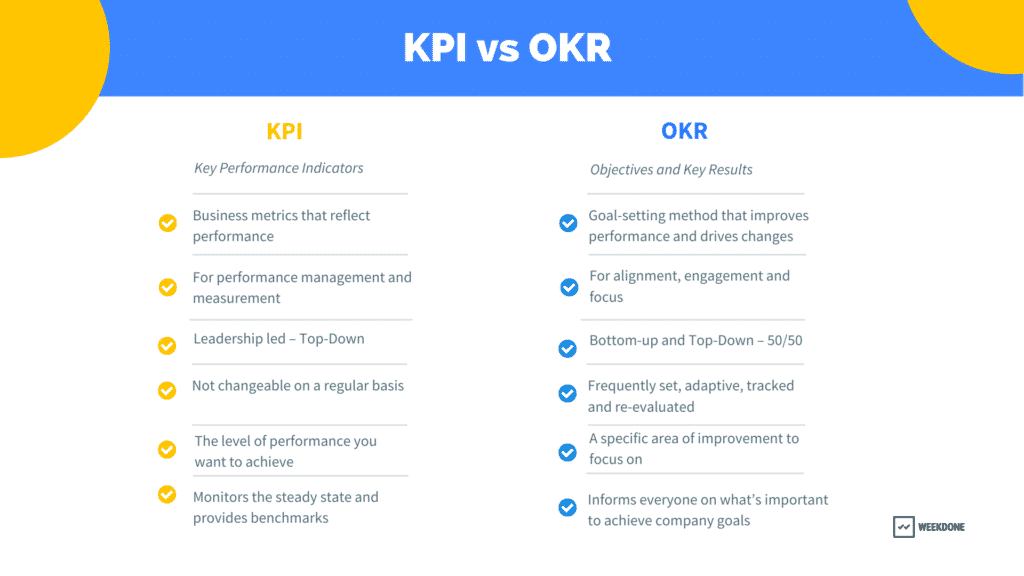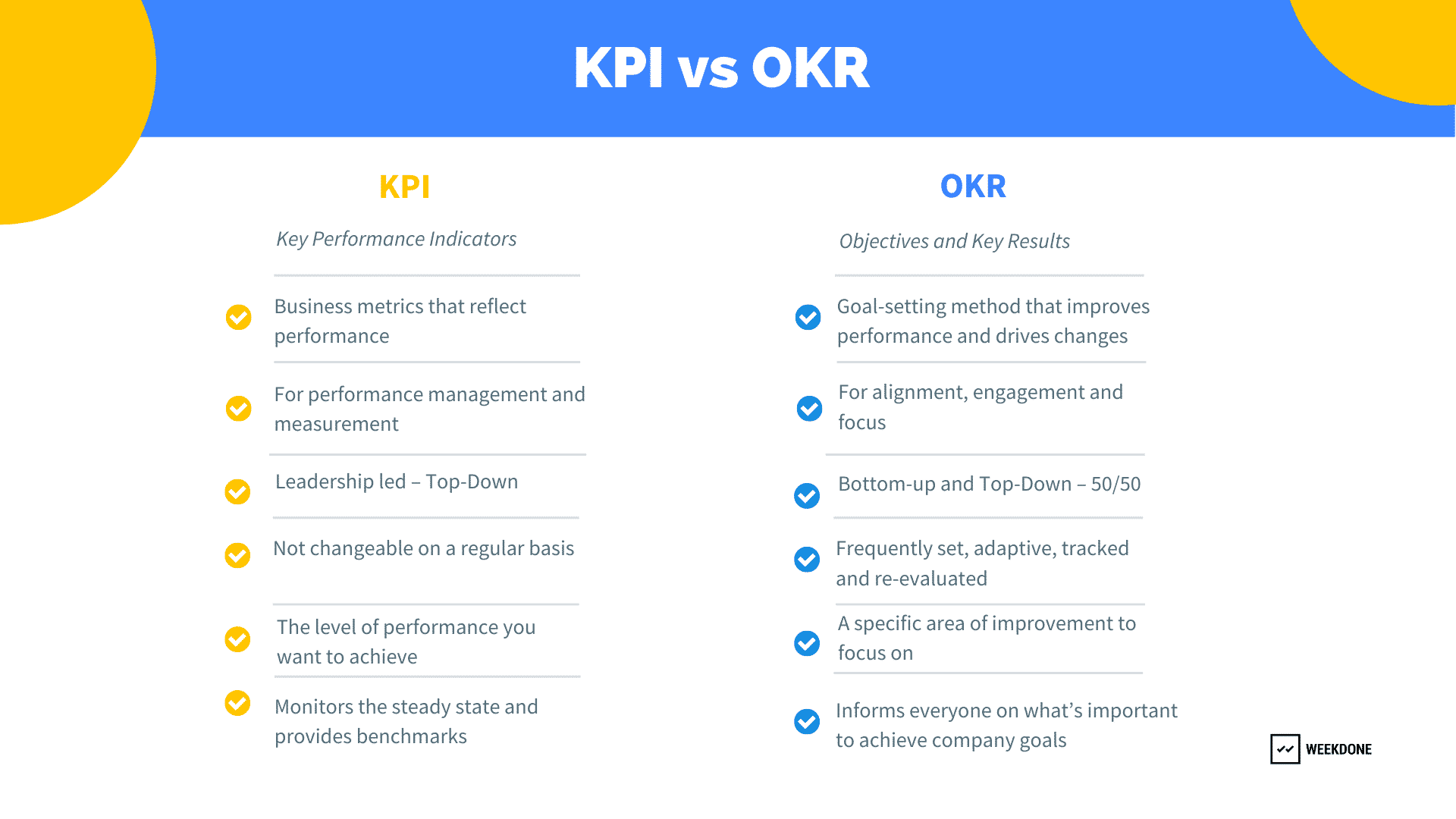 Cascading OKRs Creates Complexity
Keep in mind, too, that cascading OKRs often create more complexity than is needed.
No matter how many levels there are within an organization, the alignment logic remains the same. Actual work is done by teams. Higher-level Objectives are used to create unified focus areas. Too many levels of goals can overcomplicate the process and reduce your company's chances of success.
We recommend only setting Objectives at the Company level and skipping Key Results at this point. This is because your Key Results are more likely to end up being KPI or metrics targets instead. Once the Company Objective is clear, let your teams come up with their Objectives to support the Company's direction and define their Key Results to measure progress on the Teams' Objectives.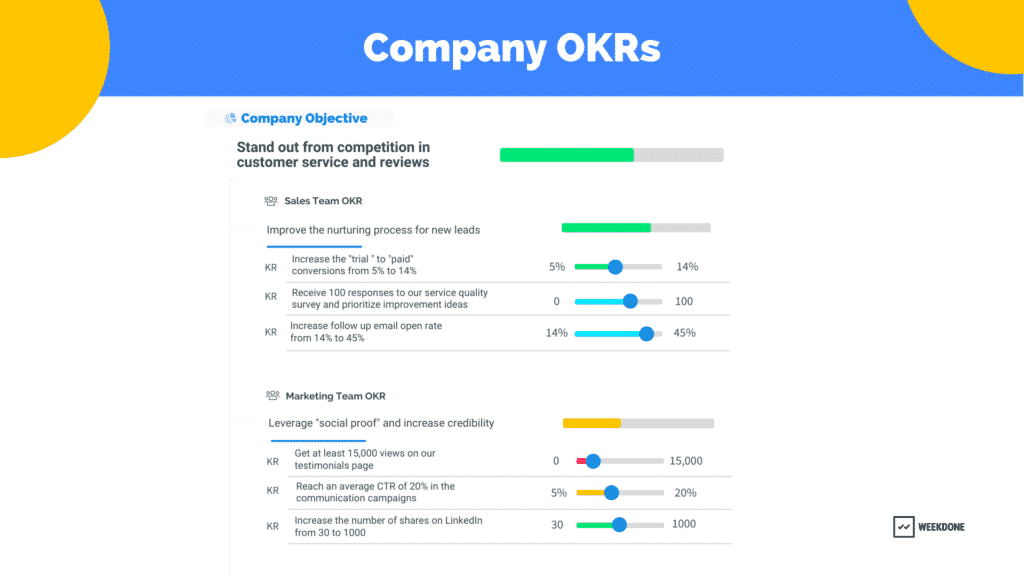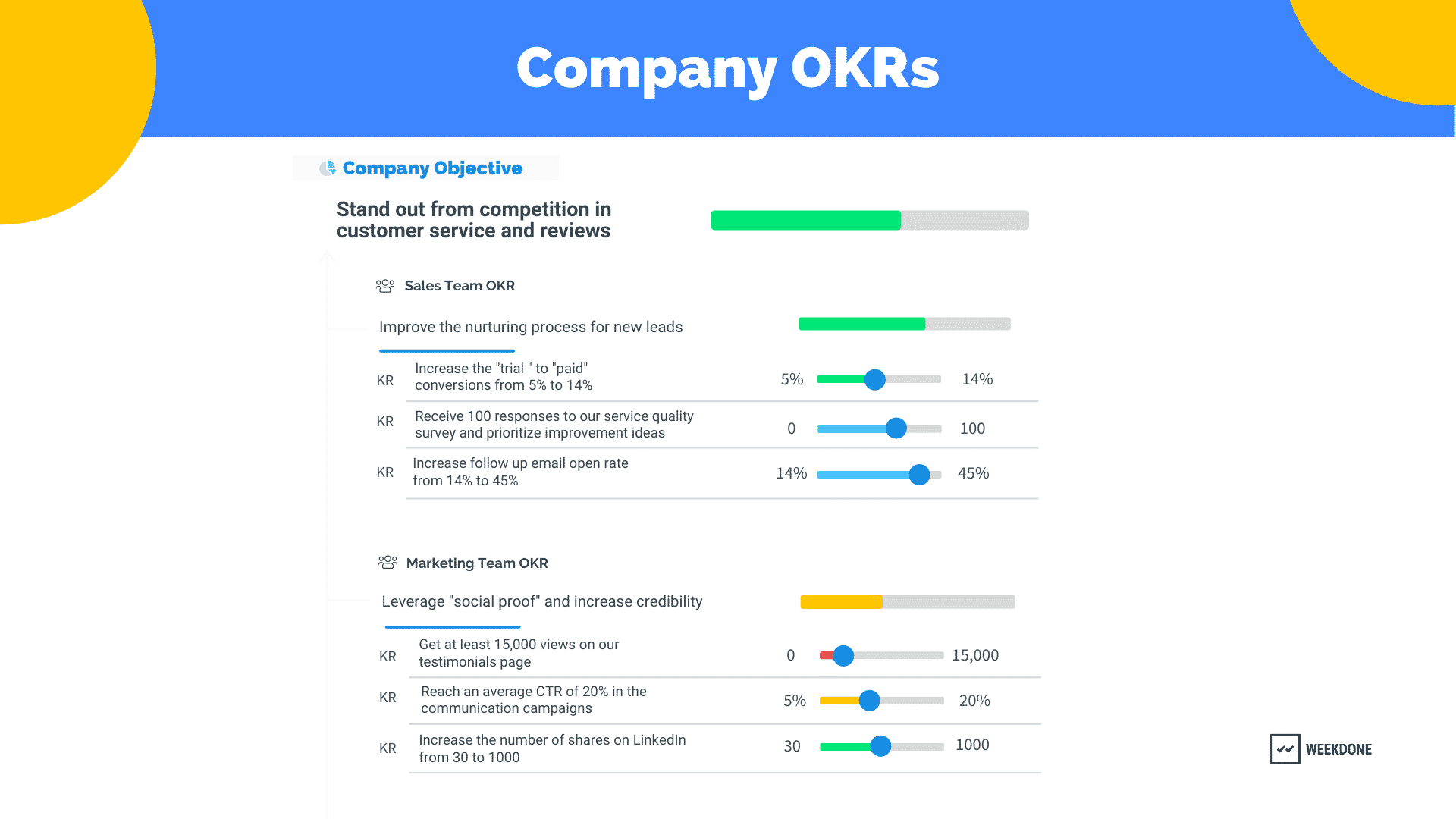 4 Steps to OKR Alignment
These 4 steps and OKR best practices will help you ensure you're aligning your OKRs and prioritizing team alignment, rather than relying on the less effective cascading OKR model:
Step 1: Set Overarching Company Objectives
It's nearly impossible to have any company OKR alignment if you do not have a central focus. This is why setting overarching company Objectives is the first step in properly aligning and creating OKRs.
Imagine your company offers a software as a service (or SaaS) product and has been struggling to achieve certain revenue targets. After management has examined the problem more closely, they may have decided that high customer churn (customers stop using the service too quickly) is the cause of low revenue.
If this is the case, management may decide that the company's Objective for the quarter is to improve customer retention to increase revenue.
👉 In case you're still not sure about how to set an Overarching Objective and link teams' OKRs to that, take a look at this presentation. Here, you'll find 4 OKR alignment best practices to see how OKRs fit your organizational structure.
Step 2: Communicate Quarterly Objectives with Teams
After setting this company Objective, it should be communicated to other teams to start the OKR alignment process.
You may want to set some high-level company Key Results, but it's not required — especially if you're still learning how to do OKRs. A Company Objective is enough because all the main work gets done at the team level.
In addition to sharing the Objective, management should also explain why it's important. If people don't understand or agree with the Objective, it's hard to get teams and individual employees aligned and working together.
Leave room for discussion and feedback as well. Because of their unique experience and expertise, team managers might see the situation differently. If they don't agree, find out why, and don't move forward until everyone is on the same page.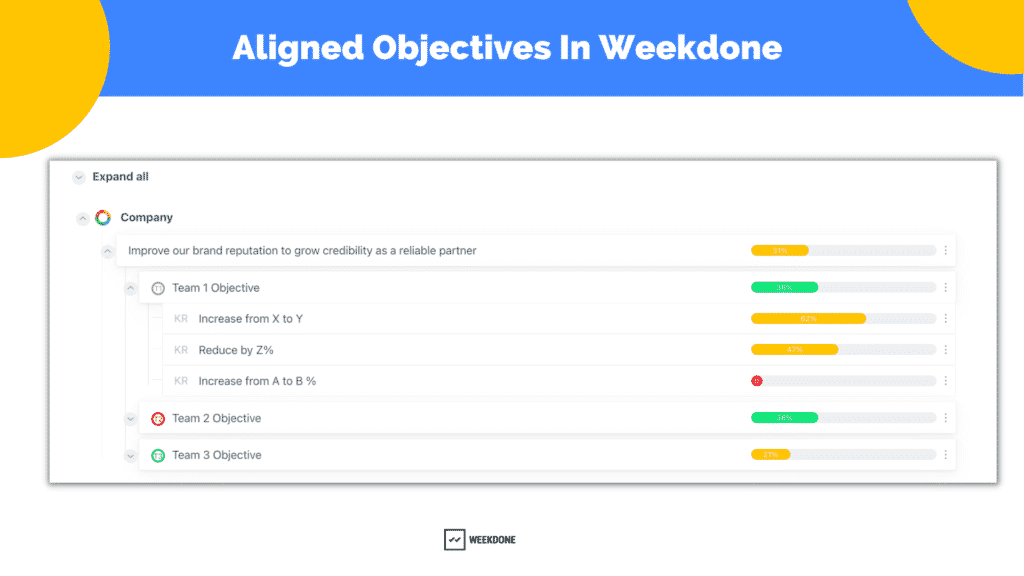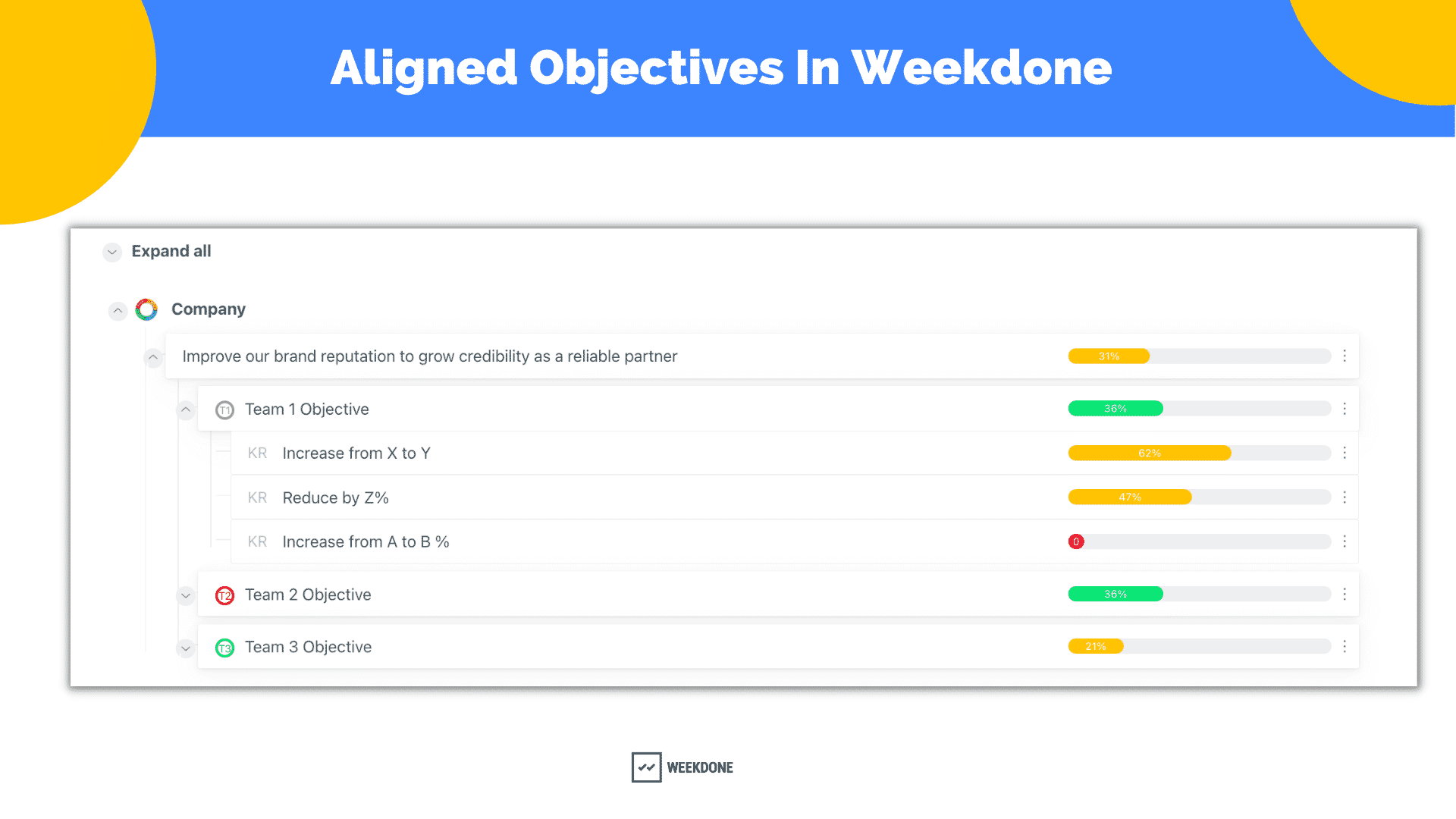 Step 3: Teams Should Set Contributing OKRs
Once all team leaders and managers agree on the Company Objective, it's time for each team to set contributing quarterly OKRs.
Team leaders should think about how they can contribute to the Company Objective and get feedback from individual team members.
Allow everyone to brainstorm and evaluate ideas in a discussion session. Put lots of ideas on the table to start, then narrow them down and select those that are most relevant to the Company Objective.
If the Company Objective is to improve customer retention, the Product team's OKR alignment example may look something like this:
Objective: Improve the in-product onboarding process
KR 1: Reduce the number of product-related support tickets from an average of 220 to 120
KR 2: Increase the onboarding completed rate from 13% to 45%
KR 3: Improve the first 30 days product usage activity average from 40% to 70%
Rather than cascading down from the Company Objective, these OKRs are unique and relevant to the Product team. However, they still contribute to the Company Objective and help to improve the business as a whole.
Step 4: Share, Agree, and Align
The last step is to share the Team OKRs with everyone else, then link them back to the Company Objectives.
There may be times when management needs some discussion and explanation. Communication is a two-way street after all, and management must ensure that all teams are working parallel to and not against one another.
In most cases, though, this is a pretty simple step. It becomes even easier with the help of the Weekdone OKR Software – thanks to the OKR hierarchy feature.
The OKR hierarchy feature allows you to link parent and child Objectives and calculate child Objectives as a Key Result of parent progress. The OKR tool helps with OKR visualization and OKR reporting by providing users with a convenient tree view.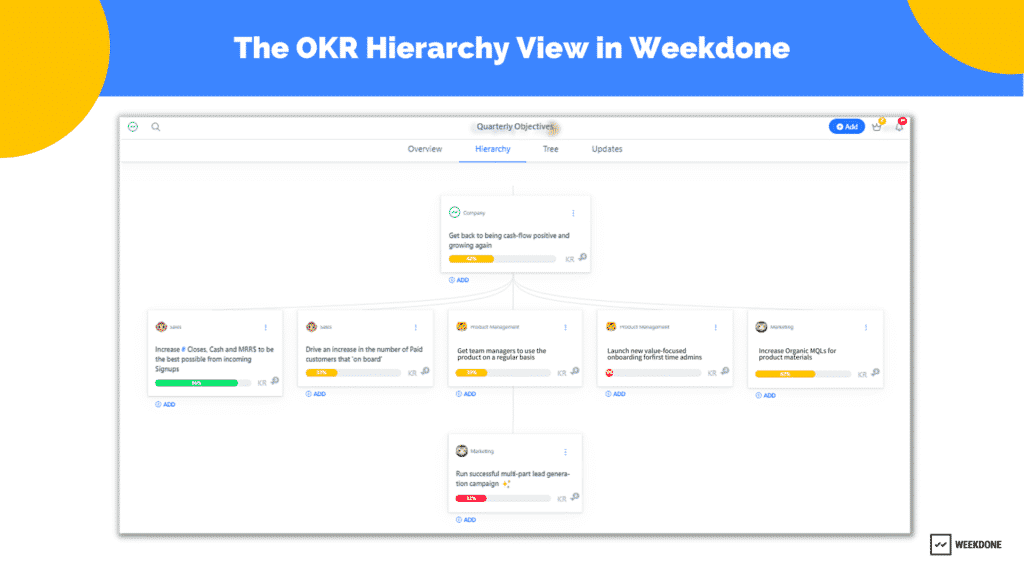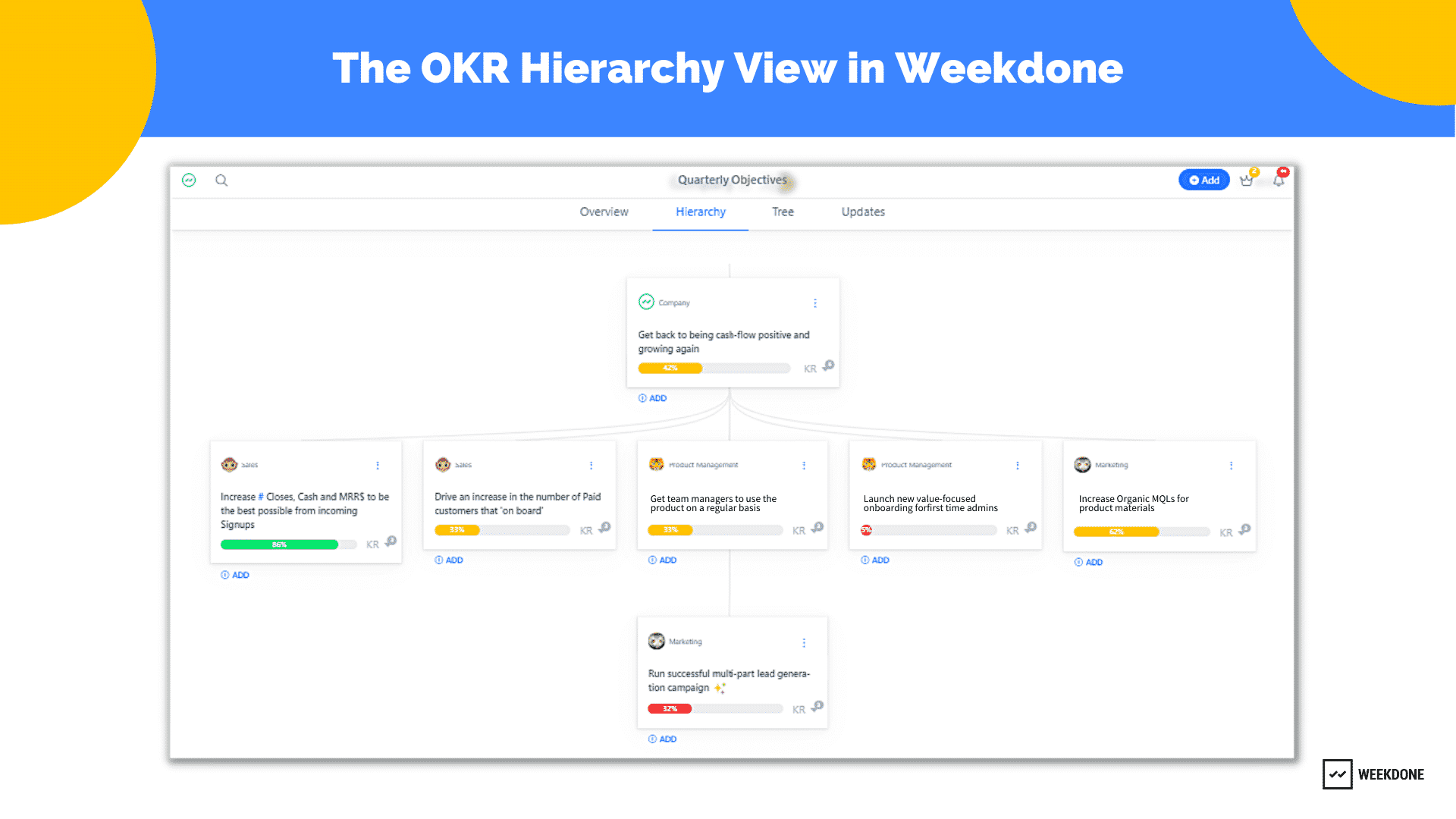 👉 Learn more about the OKR hierarchy
Goodbye OKR Cascade, Hello Aligned Objectives!
Cascading OKRs might seem great at first, but when you consider the purpose of OKRs, the alignment approach makes much more sense:
Goal cascading overcomplicates the process, focus more on KPIs, and reduce the company's chances of success;
To successfully align OKRs, start by setting an overarching Company Objective;
Share and explain the Objective to the rest of the company, including team managers;
Teams should brainstorm and create their own OKRs that contribute to the Company Objective;
For the best results, teams should share OKRs with management, gain agreement from higher-ups, and ensure their OKRs align with those of other teams;
The OKR hierarchy feature in the Weekdone OKR management tool simplifies this process, creates a convenient tree view for OKR visualization, and offers other helpful OKR examples.
To learn more about OKR alignment, OKR management, and how to measure OKRs, check out some of our other resources:
More OKR resources
💡 If you need an even faster way to align your teams, give Weekdone a try. It's an OKR app built to teach, implement & track OKRs among your teams as well as your whole company.
Free 14-day trial available. No credit card required.