Clarifying and communicating the company strategy and differentiating between goals, strategies, and objectives can facilitate greater focus on areas that drive business value. Many questions may arise – What comes first, strategy or goals? Are strategies the same as objectives? How is a goal different from a strategy? What does success mean for the company?
Companies that spend time and resources in strategic planning to define outcome-oriented goals have a higher chance of success. Planning that encourages setting ambitious goals and unique objectives can drive a company in the right direction.
Goals, objectives, and strategies are all important parts of driving a company forward. While the definitions of these terms may overlap and have different meanings, only by distinguishing and defining them can you derive the value:
🚀 Strategy = The long-term direction you want to take in the future
🎯 Goals = What you are trying to achieve
👉 Here are our basic definitions and business terminology of a company's vision, mission, strategy, objectives, goals, KPIs, and OKRs.
If you have defined your company strategy and business goals already, that's great! But are you measuring and tracking them accurately? See how a dedicated OKR platform can help your business grow and succeed.
Goals vs. Strategy – Definitions & Differences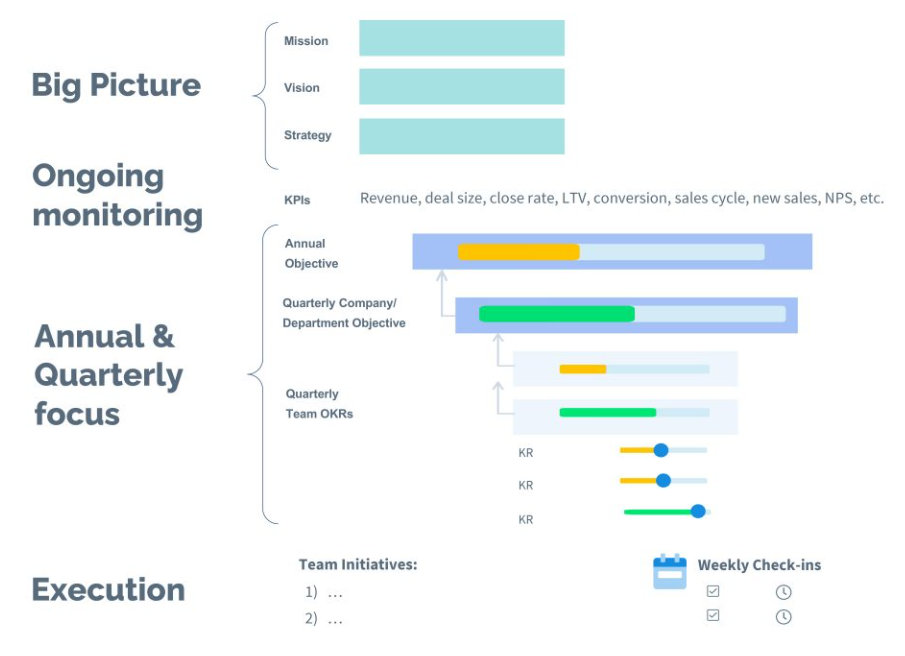 Strategy = The long-term direction to take in the future
The strategy of a business provides long-term direction for the future of your organization.
Business strategy is a directional goal that could be broken down into strategic objectives. Strategies answer questions such as "Where do we want to go", "Where do we want to be in the future", and "What is the direction we want to take". A strategy is not quantitative or a specific target, it is an annual (or more) directional statement that drives quarterly (short-term) goals.
Where do Key Performance Indicators (KPIs) fit in?
At a high level, it's important to have company KPIs and targets to measure past performance and set future expectations. Keep in mind that company and team KPIs are measurements unlike Key Results (KRs) which are outcomes.
KPIs measure performance and indicate when actions must be taken to improve performance, and the targets associated with every KPI set the expectations. OKRs help to keep KPIs on track by focusing on improvement areas to drive a desired outcome.
👉 Watch our Webinar to understand the difference between KPIs and OKRs:
Here are some common KPI misconceptions to avoid:
🚫 Vision, Mission, and Strategy are not Company Objectives
🚫 KPIs are not Company Key Results or Team OKRs
🚫 Using KPIs when you are struggling to set measurable Key Results does not help to focus on improvements
Goals = What you are trying to achieve
People use goals at every level – at the company, team, and individual levels. Business goals are the desired outcomes or results that you want to achieve and provide the overall direction of the business. There could be an overarching goal that stems from the strategy with subordinate or intermediate goals that provide the course of action.
Business goals can be long-term (1+ year) or short-term (3 months or less). They are time-specific and can be set annually, quarterly, weekly, or daily.
Further, when speaking about goals in this article, we refer to Objectives and Key Results (OKRs), a popular goal-setting framework for companies seeking an effective way to maintain accountability, focus, and transparency on goals across the organization. Read more on the methodology here: What are OKRs?
An iterative method to create goals is creating a hierarchy that helps you visualize your company objectives and see how they are aligned across the entire organization. Here's a visual example of an OKR hierarchy in Weekdone.
Short-term vs long-term goals
Examples of short-term business goals:
Increase website traffic to the company's core landing pages
Create a marketing and sales campaign to get customer feedback
Increase the number of product feature releases per month from 3 to 5
Hire a new growth manager within the next month
Examples of long-term business goals:
Increase the market share
Improve and widen community outreach
Reduce operational expenses by 15% in the next three months
Increase brand awareness and value
In the process of strategy development, recording your vision and goals in one place is a great way to get started. To clearly articulate your definitions and plans, use this simple and easy-to-use business goals template (pictured above)
Goal vs Strategy – Examples
The definition of goals, objectives, and strategies could have different meanings for different companies. Reflect on the examples below and get a better understanding of the difference:
Company Strategy

To become an industry leader in the OKR software market
To provide the best customer-centric user experience
To achieve a thought leadership position in business management best practices
Company Objective & aligned Team Objectives

Company Objective:

Improve customer retention to drive up revenue

Product: Improve in-product experience and onboarding
Marketing: Target enterprise accounts and obtain high-intent MQLs
Customer Success: Improve long-term relationships with high-growth customers

When teams align their OKRs with the company objective, the optimal structure is achieved – team Objectives become the Company Key Results (helping measure the overall success)
Team Goals as OKRs
Marketing Objective:

Launch a new messaging campaign in the top 2 channels to generate more Marketing Qualified Leads (MQLs)

KR1: Increase email marketing CTRs above 5%
KR2: Generate more than 150 MQLs through the campaign
KR3: Achieve a return on ad spend (ROAS) target of 4

With OKRs, Key Results (KRs) are the measurable outcomes that help determine the success of a set Objective
Sales Objective

Increase the Sales Qualified Lead (SQL) pipeline

KR1: Build a database of 500 high-intent, potential customers
KR2: Convert at least 300 MQLs to SQLs through calls, meetings, and emails in the quarter
KR3: Increase conversion rate from lead to opportunity (MQL to SQL) above 13%
Product Objective:

Improve product features by researching the expectations and needs of early-stage customers

KR1: Observe and record 100 early-stage product usage recordings
KR2: Conduct 40 interviews with early-stage users
KR3: Analyze the findings and identify 3 product improvement areas
Customer Success Objective

Increase and improve engagement with new customers

KR1: Increase engagement rate of in-product communication from 5% to 10%
KR2: Increase the number of weekly meetings booked from 10 to 20
KR3: Reduce the average response time to customer requests from 4 hours to 1 hour
The Journey from Strategy to Goals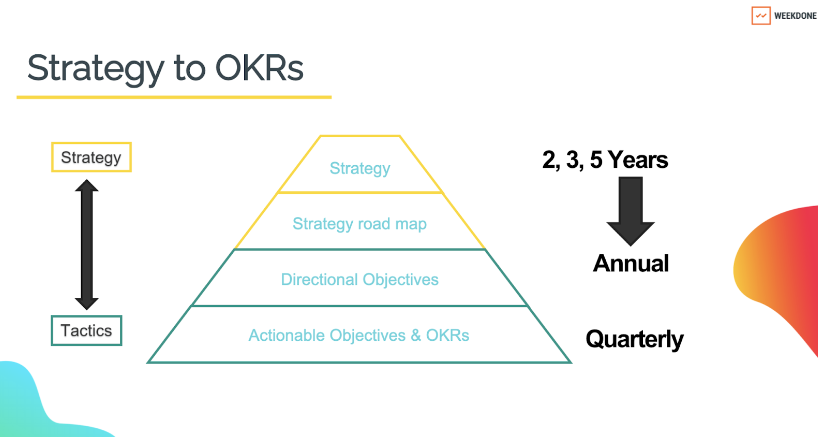 The goal-setting journey begins with the leadership team setting the direction by defining the mission, vision, and strategy. Taking inspiration from the directional statement or the KPIs, company goals or objectives can be set.
Once the company objectives are clearly defined, different teams can set their objectives and key results and keep them aligned with the company goal. Understand the difference and define different elements of your strategic statement, company objectives, team goals and KRs, and performance metrics (KPIs).
When setting the company strategy and goals ask the following questions:
What is the long-term direction to take in the future?
What are you trying to achieve?
What are the focus areas for improvement in this quarter?
Key Takeaways
Make your own definitions instead of borrowing inspiration from others
Define and commit to what works best for your business
Focus on what matters instead of dissipating energy chasing multiple opportunities
Be proactive instead of reactive to make the future
In a business environment that's rapidly changing, ensuring that your business goals and strategies are adaptable is a key success factor. Whether you are a small high-growth enterprise or a mature company with large-sized teams, aligning goals with your company strategy instills a greater sense of understanding and participation to drive efforts toward the future direction your business wants to take.
Using dedicated OKR software can focus your efforts, align your goals, and drive improvements that can deliver optimal business outcomes. Here's how using OKR software applications can help you set, measure, and track measurable goals:
Create company goals and team objectives as OKRs
Set quarterly goals using the OKR framework to make teams accountable, results-driven, and aligned with the company strategy.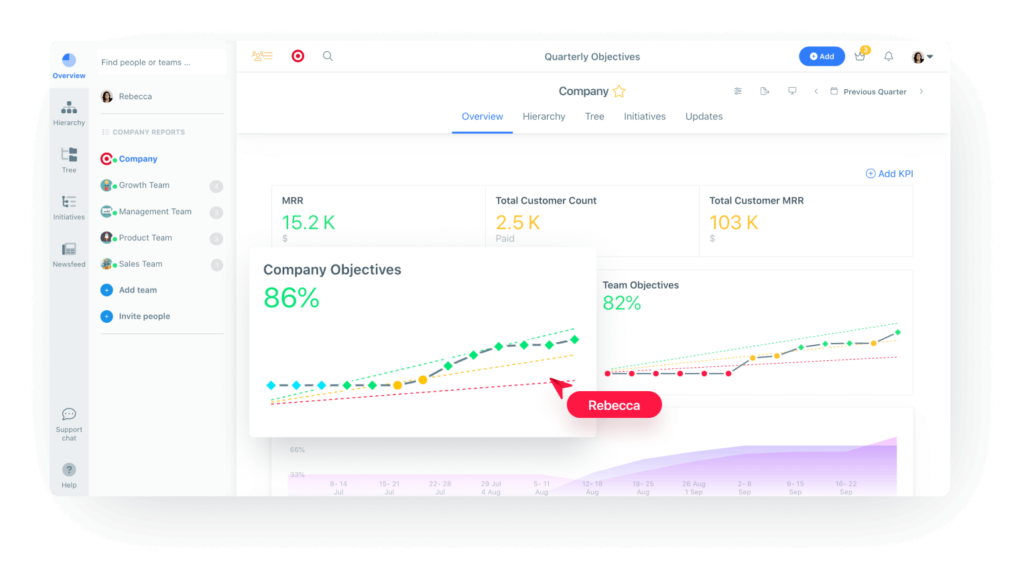 Develop plans, track progress, and address problems
Through weekly planning and using the Plans, Progress, Problems (PPP) technique, keep the focus on initiatives that drive the OKRs forward.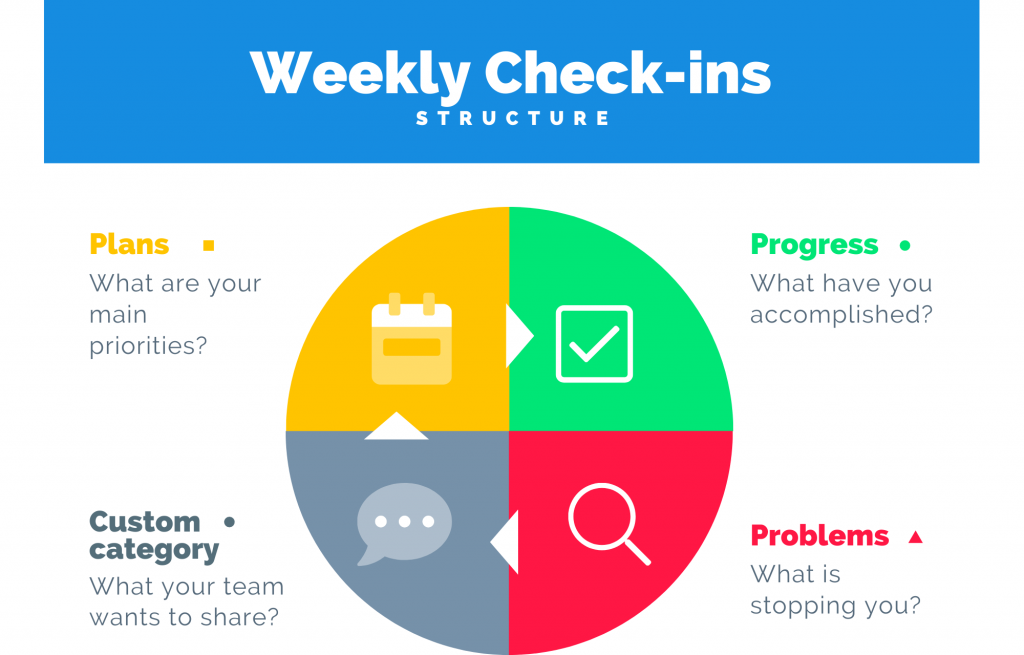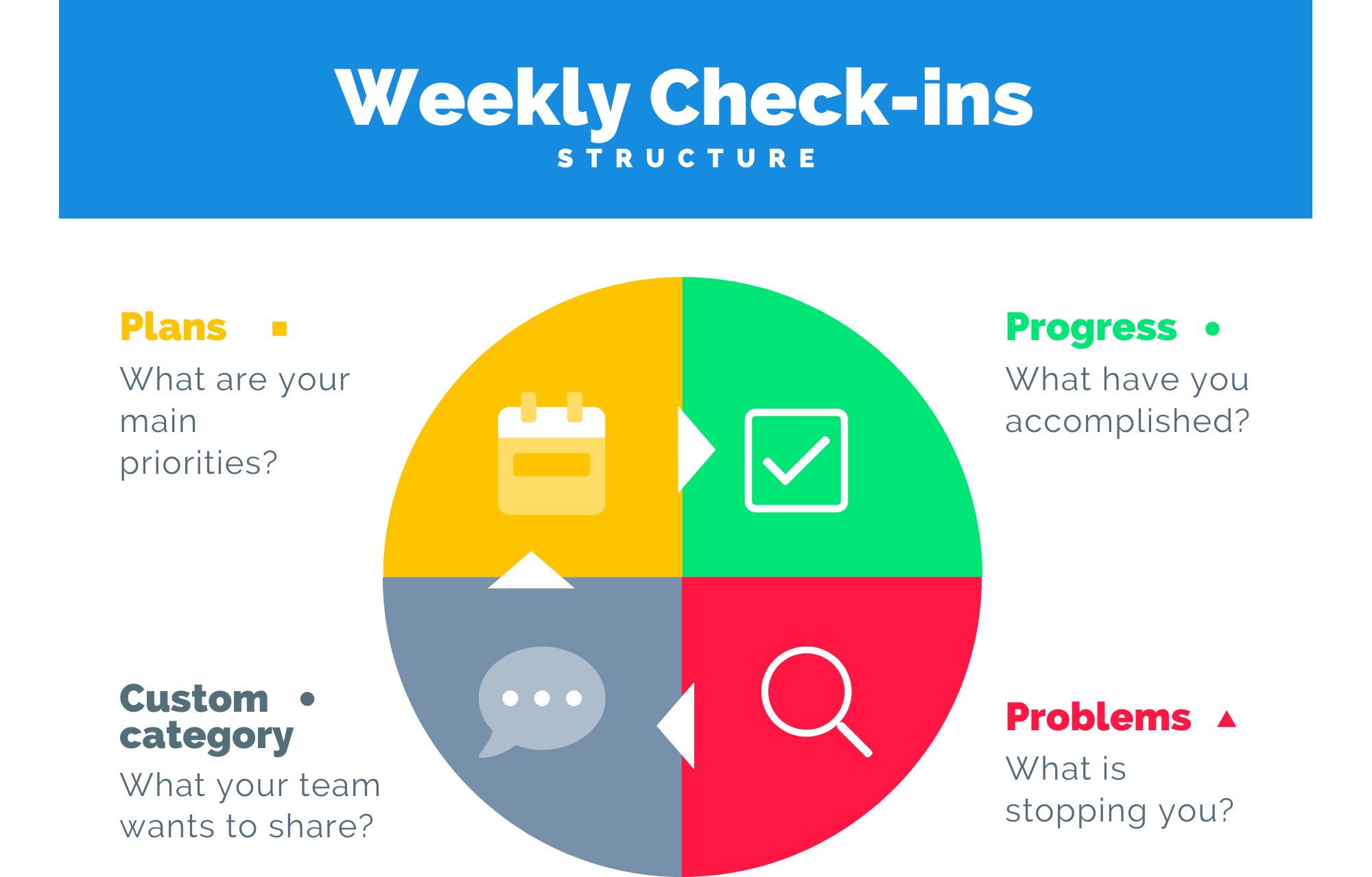 Review reports and get insights for improvement
Use custom dashboards and reports to analyze weekly and quarterly progress of OKRs, KPIs, and initiatives, at all levels in the company.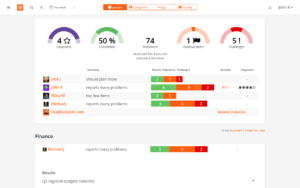 Find out how you can connect, communicate, measure, and track your business goals and strategies collaboratively and drive a growth mindset.