How to build a high-performance team? One that strives for excellence and works together efficiently and effectively to drive company growth. How to drive focus (collectively) toward high-value outcomes and not output? Many leaders need to address shifting expectations under changing business conditions and redefine the essence of top-performing teams.
What is the essence of a high-performance team?
High-performing teams think and act inclusively, they communicate openly and regularly, adapt and stay agile, engage in constructive dialogue, make decisions in real-time, inculcate a growth mindset, have a culture of excellence, and are proud of their company and workplace.
But the bigger question most leaders have is how to sustain high performance and maintain a team that achieves excellence consistently. An effective way to drive performance is to combine OKRs and CFRs.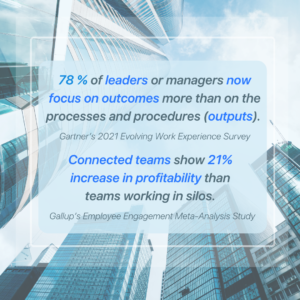 Read on to understand the basics of OKR (Objectives and Key Results) and CFR (Conversations, Feedback, and Recognition) and how leaders, managers, and teams can integrate these methodologies to drive greater performance.
What is OKR and CFR?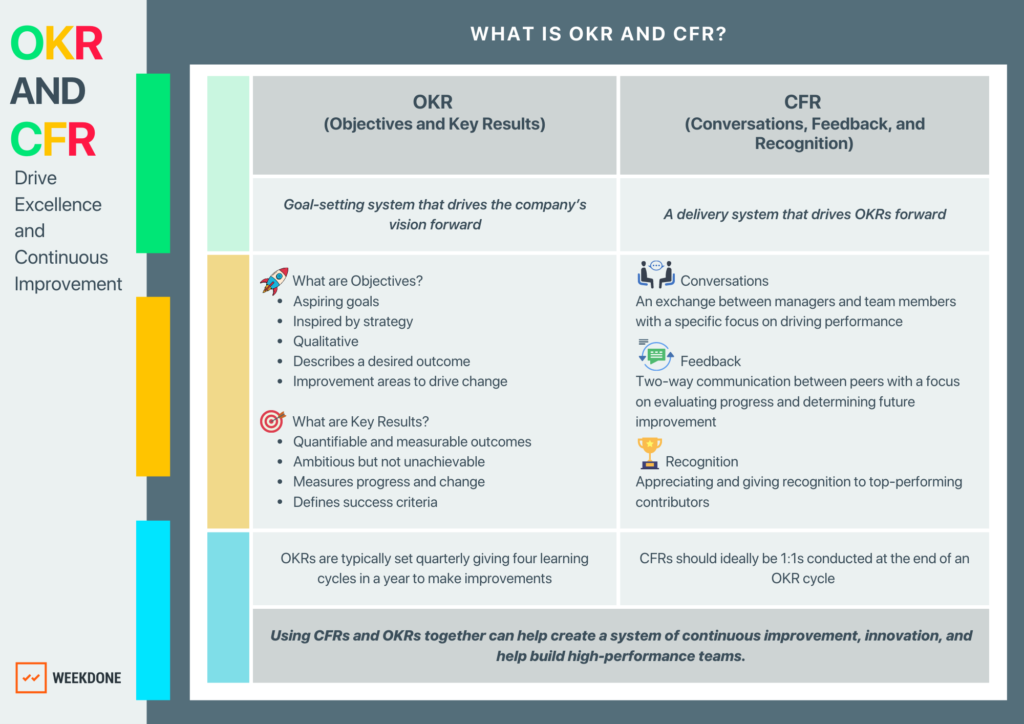 OKRs + CFRs = Continuous Performance Management
In contrast to the conventional annual performance review system, the goal-setting system of OKRs is a modern alternative that enables continuous improvement and performance management.
The OKR framework is a goal-setting system that focuses on creating ambitious goals, setting measurable key results, and building an actionable roadmap to drive high-value outcomes for growth and success. It helps teams address issues earlier in a review cycle and establishes a feedback loop that can help improve continuous performance management.
Whereas the CFR methodology is about having ongoing conversations, exchanging critical and positive feedback, and regularly recognizing accomplishments to improve and drive performance.
As John Doerr reflects in Measure What Matters, CFR is the means through which OKRs can be delivered. Closely connected to OKRs, it is important to have CFRs to add context and exchange critical insights with the team.
When the OKR and CFR methodologies are combined it can establish a robust goal-setting and performance management system that motivates continuous improvement.
💡 Keep in mind that continuous performance management is less about judging performance and more about managing and guiding teams.
Questions to Ask When Drafting Objectives and Key Results
🚀 Objectives
▶ What are the challenges or problems we need to address?
▶ What are the solutions available?
▶ What are the obstacles that can prevent us?
▶ What can be changed to get better outcomes?

🎯 Key Results
▶ What is our definition of success?
▶ Is the problem or challenge solved?
▶ How are we going to measure change?
▶ What are the success criteria?
▶ What can be measured to record the impact of our actions on the progress of KRs?
OKR Examples to Get Started
▶️ Align goals, improve team cohesiveness, drive excellence, and quantify progress and performance to identify improvement areas. Explore these leadership OKR examples for specific management roles
▶️ Watch this playlist of OKR Examples and create objectives for different teams
▶️ Get inspired with 100+ OKR Examples for different business functions
Questions to Ask When Implementing CFRs
Questions for ongoing Conversation and Feedback:
▶ How are your OKRs progressing?
▶ What are the obstacles that can prevent you from attaining your objectives?
▶ What support do you need to be successful?
▶ With changing priorities, what are the OKRs that need to be added, omitted, or adjusted?

Questions to ask when implementing CFRs at the end of an OKR cycle:
▶ Have we accomplished our objectives?
▶ If yes, what were the success factors?
▶ If not, what were the roadblocks or obstacles that prevented us?
▶ Was it easy or difficult to achieve your objective?
▶ Was it easy because the objective was not aspiring?
▶ Was it difficult because the objective was unachievable?
▶ What would change if you were to rewrite your OKR?
▶ What have we learned and should we modify our approach in the next OKR cycle?
Take the next step
Set your OKRs, begin tracking their progress, and align teams across the company.
How OKRs and CFRs Drive High-Performance Teams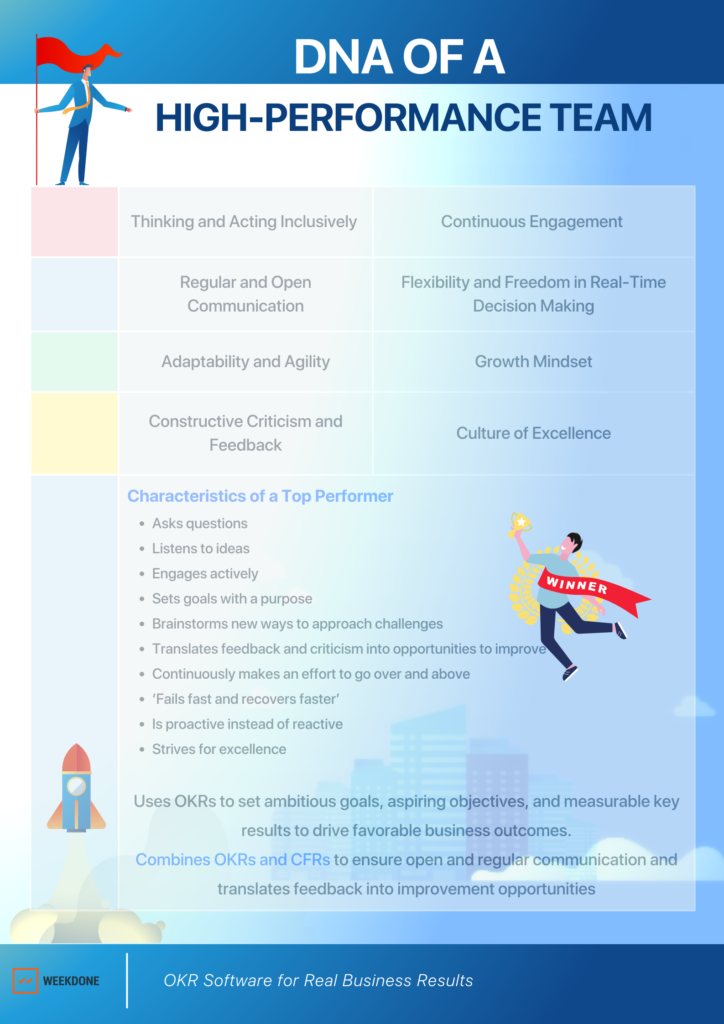 8 Characteristics of a High-Performance Team
1. Thinking and Acting Inclusively
Inclusive thinking drives innovation in high-performance teams. By taking into account everyone's unique perspective teams can explore different possibilities to approach challenges.
Bear in mind that inclusive thinking works only after identifying the most important objectives otherwise, it could lead to setting goals without a purpose. Once the direction is clear, teams work together to find ways and act collectively to achieve organizational objectives and deliver desired outcomes.
🎯 How OKRs and CFRs support inclusive thinking
When implemented correctly, OKRs can drive inclusive thinking by encouraging outcome-driven conversations through regular weekly meetings and check-ins. Moreover, when the Objectives are set they provide direction that can steer teams to work toward achieving the organizational goals.
Using the CFRs methodology you can go a step further with 1:1s and focus on individual progress and future improvement areas. This provides a good opportunity to include everyone's point of view and to discuss and understand an individual's purpose and contribution to the organization's objectives and growth.
2. Regular and Open Communication
An effective team talks and listens to each other and actively asks questions. The main characteristic of a high-performance team is communication. Whether it is through online video calls or messaging applications, continuous interaction can encourage everyone in the team to ask questions, listen to ideas, and brainstorm new ways to approach an obstacle.
🎯 How OKRs and CFRs can promote two-way communication and feedback loops
OKRs when combined with CFRs can provide an ongoing feedback loop about the progress made toward achieving objectives and focus areas that need improvement. Communicating regularly with the team and considering their feedback can be motivating and encourages teams to deliver impactful work.
👉 Watch this video to learn how using OKRs can improve team communication and alignment
3. Adaptability and Agility
For teams to be effective and top performers they need to be agile and quickly adapt to changes in the business environment to be successful in the long term. Adopting an agile mindset requires continuous collaboration and implementing proactive initiatives. Creating an adaptable and agile environment can help teams realign their goals at the speed and pace of business.
🎯 How OKRs and CFRs make teams more agile and adaptable
The OKR framework and CFR methodology can provide an effective way to align goals at every level – from the company's overarching goals, and leadership's strategic priorities, to the team's objectives, and individual initiatives.
💡 Keep in mind that an agile OKR framework is ideally a sprint of 1 to 2 weeks. In this way, a cadence is built to launch, review, reflect, and improve objectives and adapt to changes. Find out how you can shift your mindset with agile OKRs.
4. Constructive Criticism and Feedback
Everyone in a high-performing team needs to engage in constructive dialogues and be objective when receiving feedback. Absorbing feedback and criticism and transforming it into opportunities to improve is a great way to elevate the level of skills and performance. Giving and receiving feedback in the workplace builds transparency, clarifies expectations, and improves the performance management processes.
🎯 How OKRs and CFRs drive constructive dialogues
Applying the CFR framework simplifies the process of giving and receiving feedback and recognition. However, this process can be time-consuming. For the feedback process to be effective, you need to have a good understanding of what is happening in your team.
This is where the OKR framework works well in providing a reporting solution that gives easy access to an overview and helps save time to check in with all team members. With an overview of progress made by everyone across the company, it is easier to exchange constructive feedback, address obstacles, and recognize accomplishments.
👉 Find out how to give better employee feedback or consider this success story by Henry Mason, Managing Director of TrendWatching and see how automated status reports saved their managers up to 4 hours a week.
5. Continuous Engagement
Top-performing teams are highly engaged and continuously make an extra effort to go over and above what is expected. Improving team engagement is best achieved through two-way communication and a connected culture that links individual contribution and overall company goals to drive success.
🎯 How OKRs and CFRs improve employee engagement
Changing a company's culture to be connected and value-driven can be challenging. That's why most leaders use OKR and CFR methodologies that foster engagement and provide bottom-up autonomy and top-down alignment.
The best part of using OKRs is that culture change is driven by team members themselves, instead of having leaders enforce it. The OKR framework can improve engagement, help develop a growth mindset and encourage everyone in the company to work toward success.
👉 Use this guide to understand the characteristics of different types of employees and ways to improve employee engagement.
6. Flexibility and Freedom in Real-Time Decision Making
High-performing teams are empowered to make decisions in real time without waiting for approval from management. Providing teams the flexibility to make improvements and the freedom to decide on changes that need to be made can lead to better efficiency. While some of these changes may be reviewed and rolled back, widening the scope for innovation and experimentation can increase performance and enable teams to pivot faster.
🎯 How the flexibility to change and make decisions is easier using OKRs and CFRs
The advantage of using OKRs is that strategies, objectives, plans, and initiatives can be revamped with speed and agility. The quarterly learning cycle and weekly check-ins to make improvements can make accommodating changes faster.
Moreover, OKRs allow addressing issues and identifying sooner making teams 'fail fast and recover faster'. Adding the human element to the goal-setting process CFRs complement the OKR methodology in that it establishes a conversation loop of feedback, review, and recognition.
👉 Team members who understand the company goals, strategy and OKRs can make decisions and improvements without direction and approval from top management and leadership teams.

Find out how to connect OKRs and strategy to keep everyone invested in the company's strategic focus and make decision-making more efficient.
7. Growth Mindset
The ability to create and implement futuristic ideas is the essence of top-performing teams. A growth mindset includes focusing on the most important areas and executing improvements to drive success. By continuously engaging and focusing on areas that drive the company's growth, teams can address challenges better and implement solutions that can lead to success.
🎯 How OKRs and CFRs inculcate a growth and innovation mindset
Surviving and succeeding in a business environment that's constantly evolving is a huge challenge that most companies face. OKRs help adapt to change and grow fast because quarterly objectives, key results, weekly plans, and initiatives are reviewed regularly. In challenging times, this process of continuous improvement and a goal-setting mindset drives growth.
👉 Adopting a growth mindset requires being proactive, not reactive. It requires simplifying business processes and models, and alignment of strategies and OKRs.

Consider these pointers to understand how successful people effectively scale to grow consistently.
8. Culture of Excellence
Best-in-class companies with high-performance teams have a culture of excellence and innovation where the individual goals are aligned with the company's vision. Striving for excellence is not only about measuring performance, it is a culture shift that must drive the entire organization toward achieving high-value outcomes. It is about going beyond the metrics of measuring performance and success and establishing a standard that is absorbed at every level in the organization.
🎯 How OKRs and CFRs instill a culture of excellence
Identifying key performance gaps using the OKR framework can guide top-level strategy and help create plans for greater performance. By creating outcome-driven strategies instead of output-based initiatives, critical improvement areas can be identified without affecting the overall performance of the company. Moreover, with consistent conversation and feedback, employees are more engaged, motivated, and clear about their purpose of driving the company's vision forward.
Leading the Way Forward to Excellence
From a leadership perspective, the most important aspect of succeeding with OKRs is clarity and articulating the company's direction concisely and clearly. Modern leaders are using OKRs to lead and focus on important areas while using other tools to manage processes.
💡 Keep in mind that OKRs is not a list of all tasks, they are critical focus areas that drive excellence and reflect your company's aspirations.
The essence of OKRs are identifying priorities and focusing on the few. It is about consistently communicating and articulating the vision you want to achieve and sharing a confident view of what the future looks like.
When OKRs and CFRs are properly implemented together it can be a powerful method to enable continuous improvement, engage employees and recognize accomplishments, and boost company growth. Many OKR tools and platforms are available to make it easier for companies to build high-performance teams.
What's the best way forward?
Use all the tools available to help your teams adapt to changing business conditions with speed and agility, and imbibe a growth mindset that's driven by a culture of excellence