Management practices and strategic planning have evolved over the years – from Peter Drucker's Management by Objectives (MBO) ➡️ to Kaplan and Norton's Balanced Scorecard (BSC) ➡️ to John Doerr's Objective and Key Results (OKR) framework.
While the underlying concept has remained the same – to measure performance, management practices have advanced to suit changing business needs, and new definitions and relationships have formed between goals, OKRs, and strategy.
The ever-increasing pace of business requires modern leaders to translate strategy into action plans with agility and speed. What used to be five-year plans in the '90s became one-year plans, and now have turned into quarterly plans. Moreover, with the availability of data more frequently, it is a logical step forward to translate data insights into strategic priorities and move at the speed of business.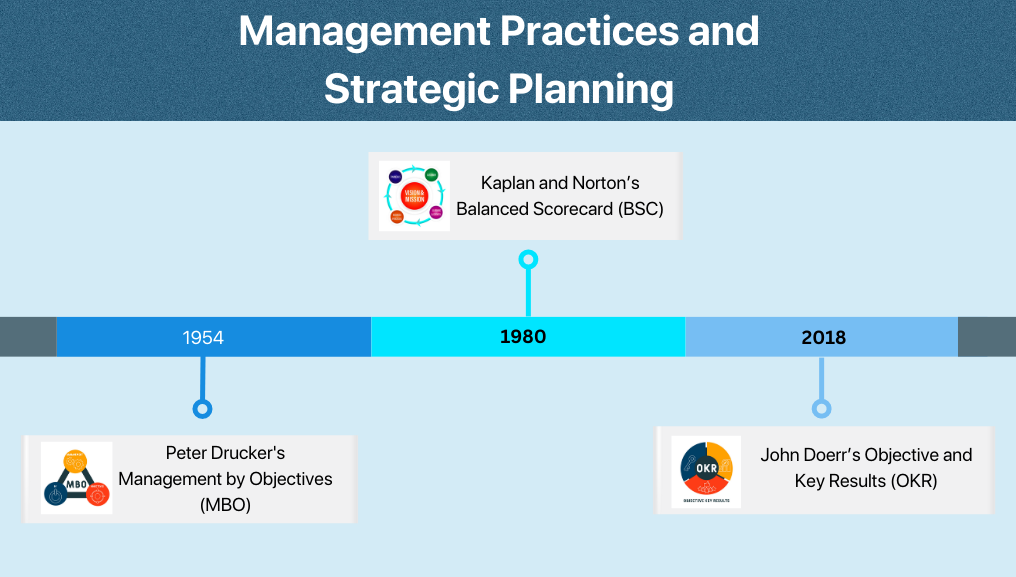 The Importance of Strategic Alignment
To translate the corporate strategy into action, alignment is a requisite, and the entire organization needs to be aware of and understand the strategic priorities. Interestingly, MIT Sloan's research reveals that there is a "decay rate" of understanding strategic priorities in organizations.
Strategic alignment from top executives declines and gradually fades as it trickles down to senior executives, middle management, and frontline managers. It is worrying to know that even people who help build the strategy cannot articulate it well enough to be understood by everyone. This lack of alignment and communication leads to a loss of focus and motivation and ultimately impacts success.
Employees who understand the company OKRs and strategy can make decisions without direction. They do not need to wait for quarterly reviews and approval from top management to make improvements. Moreover, strategic alignment keeps everyone engaged and invested in their purpose and provides a sense of connection to their company's strategic focus.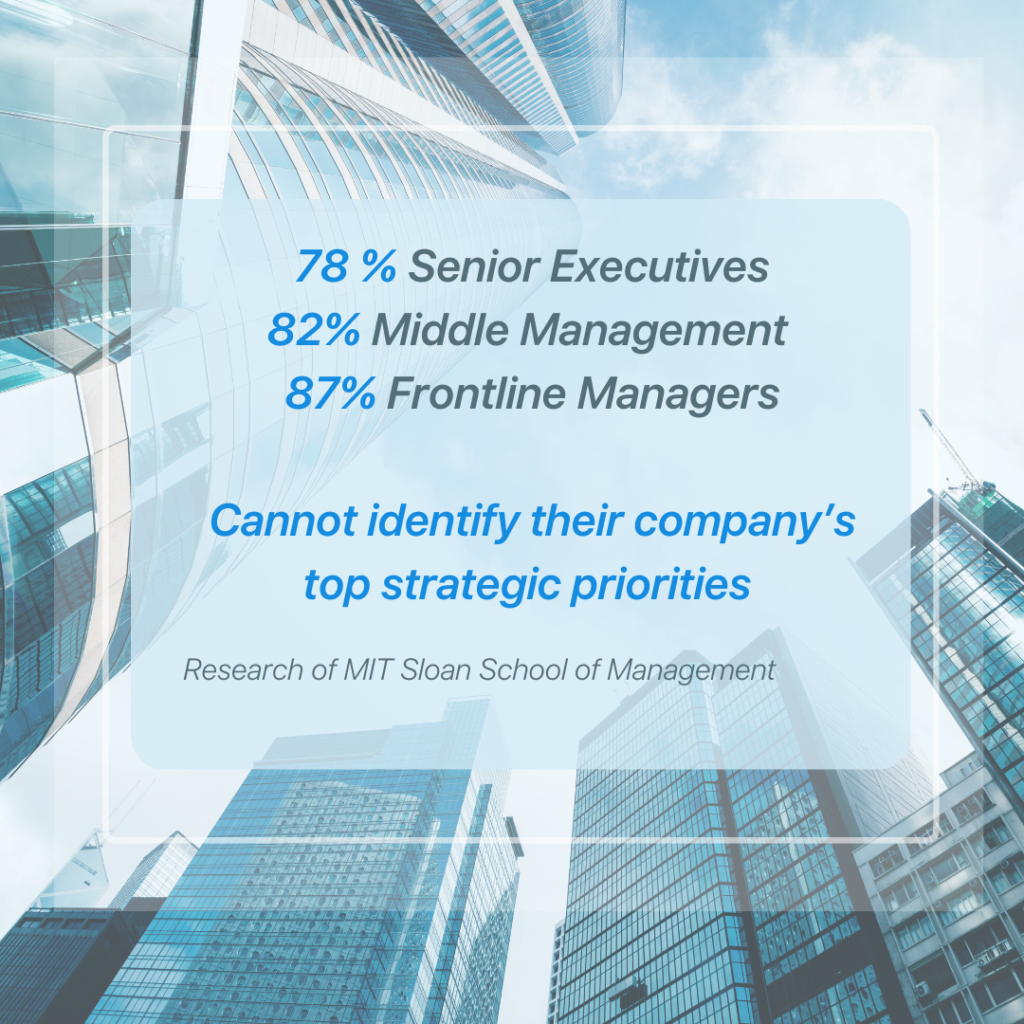 The shift in the pace of business growth requires a strategy to be executed in an agile manner and those companies that fail to do so risk falling behind the competition. Here's where OKRs play an important role in facilitating faster change in strategies and better communication and execution across the company.
👉 Have you created your company's strategy and team objectives? Great! Are you tracking & reviewing them accurately? Are they aligned? Find out how to set up OKRs in a dedicated software to stay on the course to success.
How To Translate OKRs and Strategy into Actionable Plans
The solution to fading strategic alignment can be addressed by breaking down the vision, mission, and strategy into quarterly objectives, weekly plans, and daily tasks (along with measurable key results).
Quick Overview: OKRs and strategy to action plans
Create strategy from the company's vision and mission (typically 5 to 10 years) – "What is the company's aspiration to success?"
Define your strategic goals – "What do I want to or need to achieve this year?"
Identify your quarterly objectives – "What do I need to achieve this quarter?"
Determine measurable key results – "What results would I need to move toward the objective?"
Create initiatives – What projects or output (work that could take a few weeks or a quarter) needs to be done to drive your Objective forward and achieve the desired outcome for your Key Results?"
💡 Be mindful that OKRs do not define the company strategy, they are inspired by it.
This process of defining clear OKRs and strategy can lead to better execution and derive optimal results. But who is responsible for defining strategic priorities and objectives? Is it developed by the top management and cascaded down to frontline managers, or should it be a collaborative process?
Who owns what in the goal setting process?
Every step of the OKR and strategy development process requires participation from different stakeholders in a company. While this may vary from business to business, typical ownership and accountability would be:
The leadership team (C-suite executives) owns the long-term mission and vision
Senior executives (VPs) own the development of strategic goals or priorities
Middle management (titles such as Department Heads or Directors) are responsible for creating quarterly objectives and key results taking into consideration the KPIs and identifying top improvement opportunities
Frontline managers (Team Leaders, Project Managers) and team members are accountable for actively looking at ways to improve areas through daily and weekly tasks
👉 Keep in mind that this does represent a hierarchical structure but defines ownership of different parts of the goal-setting process. The OKR methodology is a collaborative process and it works better if you avoid cascading OKRs and align your goals instead.
A top-down cascading approach of trickling down focus areas from top-level management to teams is not recommended. Instead, a better approach would be to align OKRs and empower teams to suggest improvements. There must be an ongoing discussion where team leaders can find ways to contribute to the Company Objective and get feedback from team members.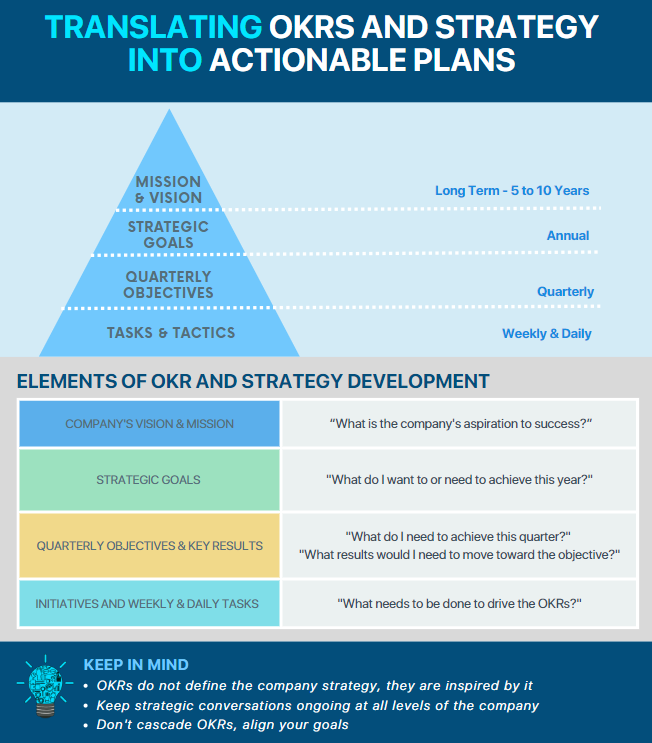 Strategy and OKRs: Planning for Success
Strategic planning is about looking forward. Not just the next year but the company aspirations five to ten years from now. The conventional approach has been to forecast and roll forward objectives.
The OKR framework helps to relook and plan differently – by rolling back the future. What do you aspire your company to be in the future? – the Big Hairy Audacious Goals (BHAG). And what needs to be done today to be ready for that future?
While senior management defines success, everyone in the company must be encouraged to stretch for the amazing. Jim Collin in his book, Good to Great, perfectly illustrates how having a BHAG motivates everyone, creates team spirit, and encourages long-term performance. It also highlights that achieving sustainable long-term performance is not about getting spectacular results from dramatic processes, but adopting a realistic, excellence-driven approach. And one way to consistently keep an eye on the goal is to have ongoing strategic conversations.
Keep strategic conversations ongoing
To keep the focus and instill purpose in the DNA of the company from the beginning, strategic conversations need to happen on an ongoing basis. The best way to do that is to meet, check-in, and collaborate regularly with every management cycle.
Management process of different teams
Different teams have their rhythm about when they should check-in. While development and sales may have daily stand-ups, marketing teams could have weekly check-ins, and other team meetings could plan monthly meetings. But every quarter everyone must meet to assess and synchronize their goals.
There are different types of management cycles and meetings that take place in any company – tactical, operational, and strategic:
Tactical meetings mainly include discussions about performance and action that needs to be taken.
Operational management processes typically take place monthly and involve discussions about the implications of current activities and adjustments required in systemic aspects within processes that are already in place.
Strategic meetings are relatively new. In these quarterly meetings, the existing performance and strategy are reviewed and focus is then placed on the business. Discussions about strategic issues or priorities rather than activities and implications.
While tactical and operational management processes are not new, strategic meetings are a new development. These regular, strategic conversations help to rapidly shift strategy (even in the middle of the year or quarter) and adapt to changing business conditions.
👉 Meeting management is important for all modern leaders. Find out how famous CEOs run their meetings.
How OKRs help keep strategic conversations alive
The OKR methodology allows for the translation of a company's strategy into action at the speed and pace of business. OKRs work well to create a structured process to implement weekly check-ins to discuss Progress, Plans, and Problems (PPP), and conduct quarterly retrospectives to report and review Objectives and Key Results.
Adopting the OKR framework provides four learning cycles instead one in a year. This agility to change focus and have everyone moving toward a new goal is the potential that makes OKR adoption popular.
A shift in strategy can be communicated and executed within a week, instead of waiting for annual or quarterly review meetings. Weekly Check-ins help track OKR progress and informs about change in strategic direction
OKRs also provide an ongoing feedback loop from the company about the progress made toward achieving the goals.
👉 What do OKRs really do for your business? Find out all you need to know about launching OKRs in this webinar or see for yourself how a goal-setting software works.
5 Steps to Implement OKRs and Strategy
Step 1: Define your company strategy or strategic priorities
Taking inspiration from the mission and vision, you need to develop a company strategy that's aligned with your business priorities. Building a strategic roadmap is a powerful way to communicate your company's vision and visualize key action plans to achieve your objectives.
Begin with identifying your company objectives, prioritize them based on importance, and map out the impact they have on success. In this way, the entire organization understands the current priorities to focus on and how the work they do leads to success.
Strategic priorities are not set in stone and can change within a quarter. The important aspect is communicating the shift in strategy and objectives across the organization.
From your mission, vision, and strategic priorities, you can then create your company objectives which will eventually translate to team OKRs. Here's an example of how a company's objective can be translated to team OKRs.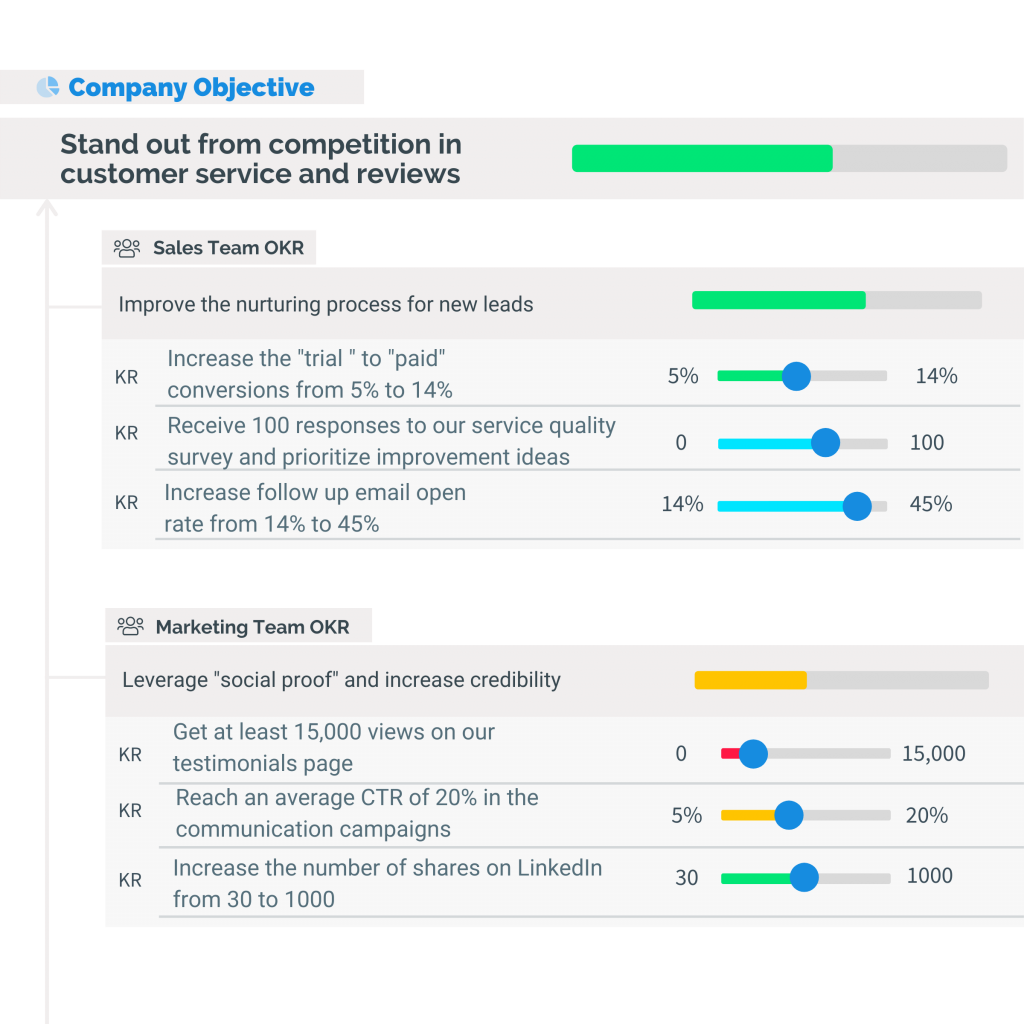 👉Searching for more examples? Take inspiration from these OKR examples
Step 2: Translate company objectives into department or team objectives
Once the corporate objectives are set, map them with the core processes of different cross-functional teams. For every team objective adding at least 2 to 5 Key Results allows you to measure the progress made toward achieving the objective.
Assign a score for the impact that each process has on every objective. Based on these scores (weightage) you can identify critical performance nodes where OKRs can be built.
In the example (pictured below) the black cells indicate critical performance nodes or focus areas where OKRs can be created to make improvements. Accurately translating your company strategy into what each department does helps to identify what cross-functional teams need to achieve company objectives.

Step 3: Link objectives and define OKR hierarchy
Once you have identified areas where you can build OKRs, the next step is to break down company objectives and create an OKR hierarchy of team objectives and key results. This will help you identify what needs to be done to achieve the company's objectives.
With an OKR Hierarchy view (example pictured below) everyone in the company knows what each team is working on and the progress they are making. This also helps identify the support required from different departments and ensures that every team contributes toward achieving the overall company goals. Adding key results to every team objective helps to measure the progress being made and if any changes need to be made to create a better impact.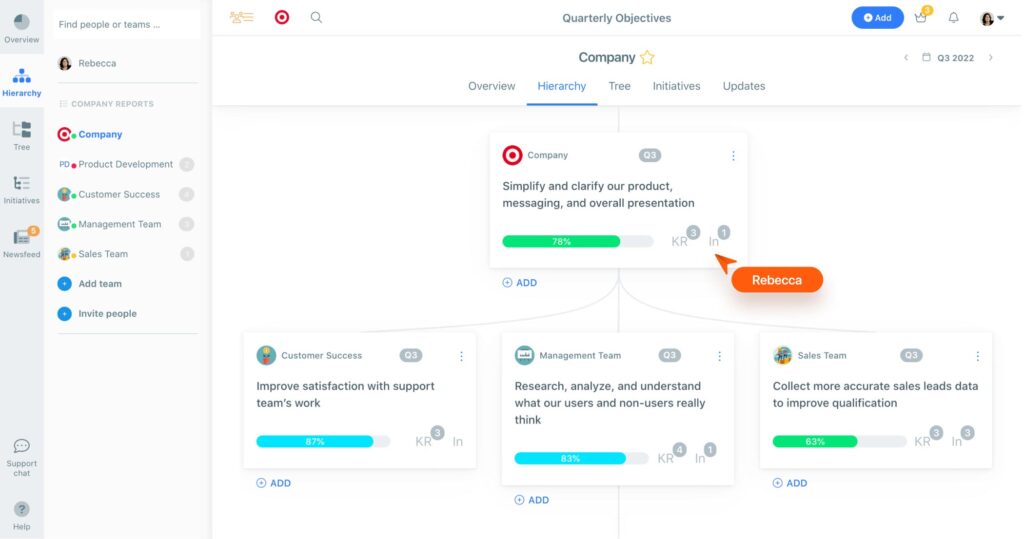 Step 4: Set and manage OKRs in a dedicated software
The next step after defining the hierarchy is setting your OKRs and strategy in a software program to ensure it's on track. OKR software platforms help to set structured goals, align activities across the organization and can connect OKRs to give a complete picture of your company's progress.
Setting OKRs in a dedicated software can show how they are linked to the company strategy, the departments and processes linked to it, and which team members own each objective.
OKR software is preferred over spreadsheets because they help track the progress of OKRs consistently, drive long-term performance, and provide a roadmap to success. A single view of truth ensures that growth is result-driven and outcome-centric.
Take a look at this success story and understand how replacing time-consuming spreadsheets can streamline the process of setting and managing OKRs.
👉Watch this video to see how to set and align your OKRs or see for yourself how it works in in a dedicated OKR software.
Step 5: Setup dashboards and customize reports
The final step in the goal-setting process is to set up interactive dashboards and customize OKR visualization views and reports to get (and present) a complete overview of your OKRs and strategy.
This overview of overall performance is a great way to present and assess progress made toward achieving the top-level objectives. You no longer have to wait for quarterly or yearly reports to review the progress, customizing reports and filtering performance data based on your needs can give you an overview instantly and in real time.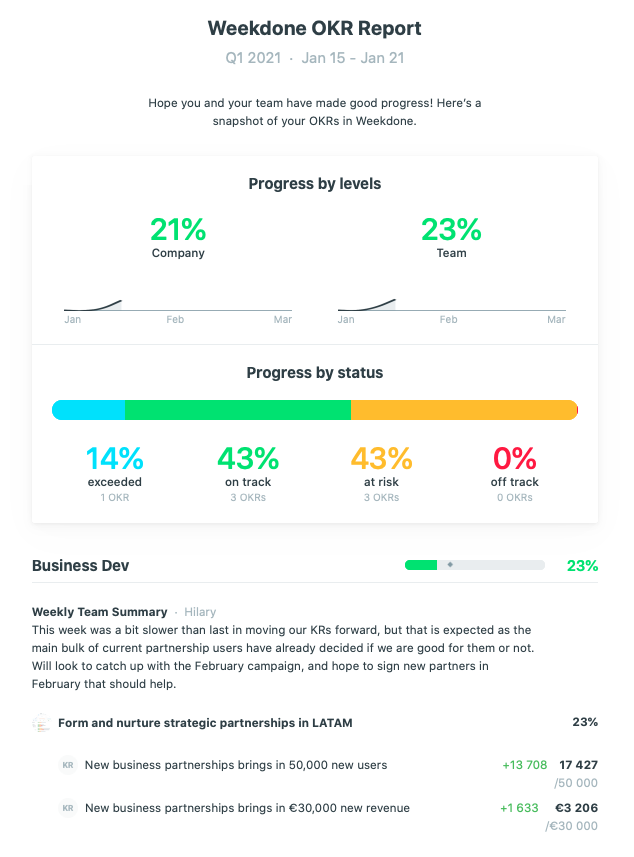 Keep Pace with the Speed of Business
To keep pace with rapidly evolving business environments, agility is a requisite. Not just agile operations, but flexible strategies as well. While fast results require fast decisions, drastic outcomes require strategies based on excellence.
Modern leaders need to adapt and go beyond conventional practices – from building five-year plans and annual strategies to quarterly objectives. By moving out of the boardroom and opening strategic conversations, leaders can drive the company's vision, motivate productivity, and drive performance.
Every quarterly cycle is an opportunity to make improvements and your next weekly check-in could produce an initiative that could have a huge impact on the success of your business.
Adopting OKRs in your company is straightforward. All the hard work is already done by you. This framework is only a tool that structures your goals, plans, OKRs, and strategy in one place, giving you a complete picture of the progress made toward success in a single view.
With this whole perspective, making decisions becomes faster, creating your company strategy is easier, and achieving greater results is quicker – which is the perfect solution to thrive in a fast-paced business environment.
Make agile strategies and manage OKRs more effectively in a software platform. Use all the tools available to keep with up the changes in an evolving business environment.