After analyzing your major priorities and deciding on what Objective(s) your team will focus on, it's time to set the Key Results. While Objective sets the quarterly focus, the Key Results measure how close you're getting to achieving your Objective. With Key Results, we define what the success of the Objective looks like. Each Objective that your team has set should have around 2-5 Key Results. The optimal amount is 3.
It's commonly said that Key Results should be specific, measurable (quantifiable), achievable, actionable, objectively graded, and be difficult but not impossible.
It's easy to misunderstand what is meant by some of those terms so let's cover what those keywords actually mean.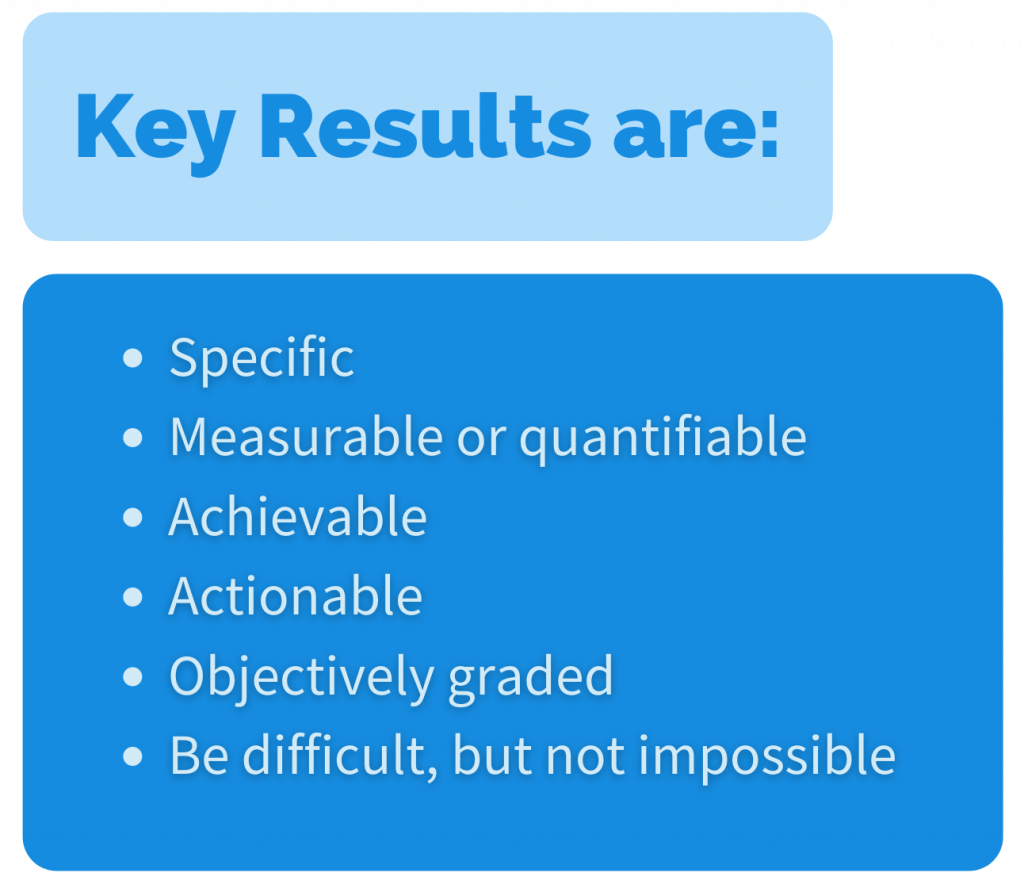 3 Reminders for Setting Good Key Results
1. Key Results should be measurable
And they should be outcomes. Key Results are measurable but they also have to be outcomes. They are not something you do, they are something that you want to see changed after completing your plans. Confusing Key Results with plans, projects, etc. (outputs) is actually one of the main challenges that organizations face, mainly, because there are so many misleading examples on the internet. Delivered output (I did this) is not a measurable outcome (this increased by x%). Make sure you know the difference between Outputs and Outcomes. And different key performance indicators (KPIs) are not the same as Key Results either.
2. Key Results need to be actionable
A common misconception is that "actionable" means that Key Results have to be actions. What actionable actually means is that teams independently should be capable of achieving those Key Results. They should have ideas and plans to execute to drive the Key Results forward. They should not set Key Results which require a lot of contribution from other teams. Or they should not set Key Results which seem impossible to work on at all. Remember, Key Results are actionable but not actions themselves.
3. Key Results need to be time-bound
Another big misconception is that people think that "time-bound" means setting separate due dates for each Key Results. That's not correct. It's done in project management but not when it comes to OKRs. Key Results are not milestones, they are the positive measurable change that should come out of executing different milestones, plans, etc. When it comes to KR, time-bound means that Key Results (and Objectives) are bound to the quarterly cycle and should be achievable by the end of it. If the Key Results you are trying to achieve take more than one quarter, think how much should be achieved in this quarter. You can set a new target for these Key Results next quarter.
Set and track OKRs in Weekdone OKR software with built-in examples, guided OKR Wizard, color-coded tracking, and visual dashboards. Stay focused – achieve goals.
What to Avoid When Setting Key Results
1. They are not binary
Key Results should be measurable or quantifiable and be updated weekly. If your Key Result is binary it may be a task or a plan and not a Key Result. This moves us to the next point.
2. They are not plans to be completed
While plans and projects are important in supporting your Objectives, Key Results are measurable business outcomes and should be treated as such.
Some good examples of Key Results for the Objective:
Generate more Marketing Qualified Leads (MQLs)
KR1: Increase email marketing MQLs from 100 to 150
KR2: Increase AdWords MQLs from 70 to 100
KR3: Increase organic search MQLs from 45 to 50
These examples are measurable, objectively graded, and while they can be challenging, they should be achievable.
A bad example of a Key Result would be:
Prepare a new AdWords campaign
This Key Result is not outcome-focused and is more of an initiative. A new AdWords campaign can be the action taken towards the Key Result but certainly, it's not the result itself. Just having a new campaign doesn't mean it's going to bring value.
Set and track OKRs in Weekdone OKR software with built-in examples, guided OKR Wizard, color-coded tracking, and visual dashboards. Stay focused – achieve goals.
TL;DR
You need to know exactly where you're getting the outcome measurement. How will you know if there was a 15% increase in something if you don't have an analytics process in place? If you don't have enough data, start collecting it!
You should be able to update Key Results every week, or at least every 2 weeks. Write them in a way that would allow you to track progress regularly, not just at the end of the quarter.
When drafting Key Results, ask yourself: are we measuring effort or value? (publish 3 blog posts vs get 15% traffic increase to your website; send a survey to 100 people vs receive & analyze 20 survey responses). By writing value-oriented Key Results you will be able to analyze if the tactics you chose delivered desired outcomes, or if you should change the tactics.
Keep asking Why are we doing this? and What is considered an improvement? until your Key Results are measuring changes in business, and not just effort or a number of activities completed.
Remember that Objectives are ambitious goals and KRs measure the progress of the Objective. You can see more examples of Key Results for your given field at okrexamples.co.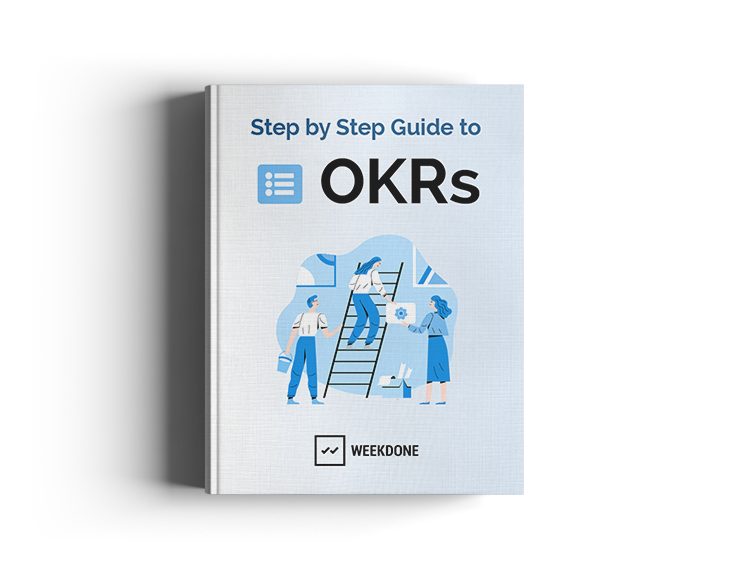 This book provides a quick, efficient read on how to get started with OKRs. It is completely free and available for download in PDF and ePub format.