Measuring business performance is the key to your growth.
For any business, it's important to understand the current state of progress to learn what is working and what's not. However, with so many performance metrics to track it's sometimes challenging to understand which ones suit your business better and actually drive changes.
What's even more challenging is to understand how exactly to drive these metrics and who should be responsible for them. That's why setting your KPIs (Key Performance Indicators) is as important as setting your OKRs (Objectives and Key Results) to measure the right things and move the needle.
In this article, we're comparing OKR vs KPI, two commonly used business performance frameworks, to show:
What do OKR and KPI stand for?
What's the difference between OKR and KPI?
What are OKR and KPI examples?
Can OKRs and KPIs work together?
What is a KPI?
KPI is an acronym for Key Performance Indicator. The KPI in business is often set in order to provide numerical targets for achieving specific goals.
These measurable numbers demonstrate how effectively your business is moving towards goals – such as, targeted quarterly revenue or targeted new customers per month. KPIs help companies, departments, teams, and individuals set clear targets and monitor their progress on those values.
In most companies, KPIs reflect revenue targets and month by month growth of various business metrics. You can track all of your regular business activities with KPIs, i.e.:
revenue is $100,000 MRR
customer acquisition cost is $100
monthly website traffic is 10,000 new visitors
average transaction value is $1,000
deals closed by a sales person per month is 10
sales by the region is 100, etc.
These targets can be annual, quarterly, monthly, daily, or even hourly, depending on what you wish to keep an eye on.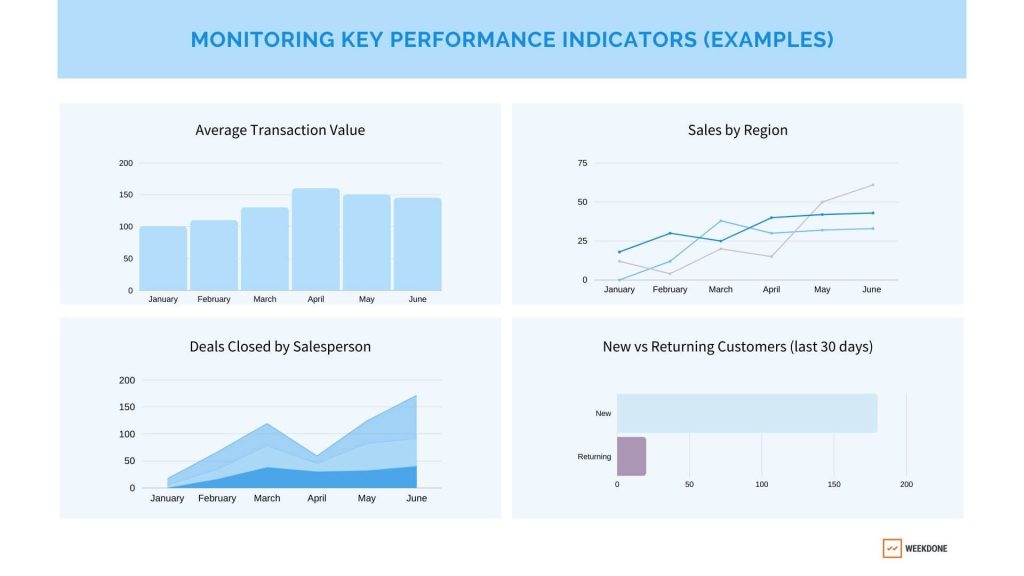 The purpose of KPI is to analyze past performance and make predictions for the future. For example, which months or regions are going to bring in sales, how many deals will be closed by a salesperson, or what average transaction value to expect.
KPI Examples
Here are some common KPI examples for various teams. KPIs are usually achieved with business-as-usual and as a part of the daily routine. In other words, when people are doing what their job description says they should be doing, they should be achieving these targets.
Notice how quantitative, measurable and target-oriented they are:
Sales KPIs:
the number of new inbound leads per month is 1,000
lead response time is 2 days
lead conversion rate is 3%
average order value is $1,000
average sales cycle time is 2 months
upsell is 50%
Marketing KPIs:
the number of Marketing Qualified Leads (MQLs) is 1,000
the number of Sales Qualified Leads (SQLs) is 100
Cost per Lead is $100
Conversion rates from a website visitor to a lead is 10%
Monthly organic traffic to a website is 100,000 new visitors
Customer Lifetime Value (CLV) is $1,000
Customer Success KPIs:
Customer Churn Rate is 5%
Average Revenue Per User (ARPU) is $1,500
Customer Retention Cost (CRC) is $100
First Response Time (FRT) over chat is 3 minutes
Customer Satisfaction Score (CSAT) is 80%
Net Promoter Score (NPS) is 70
Product Management KPIs:
On-Time Delivery (each release) is 20 days
The number of Daily Active Users (DAU) is 1,000
Retention rate is 20%
Session duration is 10 minutes
Number of user actions per session is 10
Bounce rate is 30%
What is an OKR?
OKR acronym: Objectives and Key Results. OKRs in business are used to communicate desirable outcomes throughout the organization, bring focus to the most important areas of improvement, and deliver valuable results for the business.
In most cases, OKRs reflect areas of improvement (aka 'objectives') that are meant to help you achieve KPI targets. OKRs are measured by 'key results' that you use to track the impact of the changes and improvements your team decided to make. You can improve any area of your business with OKRs i.e.:
increase engagement in the product,
personalize sales approach and nurture new potential customers better,
leverage "social proof" to increase credibility and improve reputation,
increase the number of high quality leads,
scale QA Engineering team,
build a financial planning engine that improves accounting processes and accelerates business growth.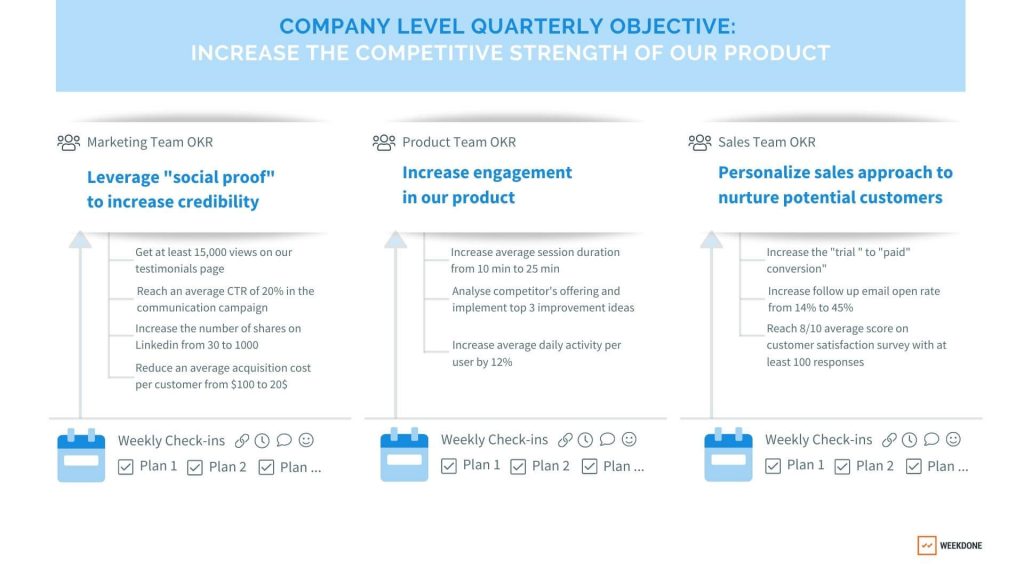 OKR Examples with Initiatives
Here are general OKR examples that include initiatives to support each objective along with its key results. OKRs are the bridges between where you are and where you want to be.
The purpose of the OKR methodology is to single out improvement areas for the quarter and focus your teams' attention on delivering valuable business results.
Notice how these OKRs are not only measurable but also inspirational and action-driven.
Product Team OKRs
Objective
Increase engagement in our product
Key results
KR1: Increase average session duration from 10 min to 25 min
KR2: Analyze competitor's offering and implement top 3 improvement ideas
KR3: Increase average daily activity per user by 12%
Initiatives
Make a list to compare our product with the competitor and brainstorm ideas for improvement
Reach out to loyal customers and ask for feedback
Design and launch a "wow" feature to ignite discussions and trigger customer engagement
Marketing Team OKRs
Objective
Leverage "social proof" to increase credibility and improve reputation
Key Results
KR1: Get at least 15,000 views on our testimonials page
KR2: Reach an average click-through rate of 20% in the communication campaign
KR3: Increase the number of shares on Linkedin from 30 to 1,000
KR4: Reduce an average acquisition cost per customer from $100 to 20$
Initiatives
Partner up with thought leaders to promote our testimonials page
Reach out to power users and ask to share their success stories in video format
Brainstorm ideas for LinkedIn marketing
Sales Team OKRs
Objective
Personalize sales approach and nurture new potential customers better
Key Results:
KR1: Increase the number of touchpoints with a new lead from 3 to 6
KR2: Increase follow up email open rate from 14% to 45%
KR3: Reach 8/10 average score on customer satisfaction survey with at least 100 responses
Initiatives
Update the customer journey map to improve the nurturing process
Take a course on best practice email approaches and consult with the Marketing team
Create different offers for different use cases, review the sales pitch
Customer Success Team OKRs
Objective:
Increase engagement with new paying customers
Key Results:
KR1: Increase open rate of our in-product communication from 4% to 15%
KR2: Increase the number of follow-up meetings booked from 7 to 21 per week
KR3: Achieve service quality rating 9 out of 10 based on the after meeting anonymous poll
KR4: Reduce average response time from 5h to 1h
Initiatives
Analyze open rate from previous quarter and draft new copies for in-app messages
Personalize outgoing communication
Create a high quality FAQ section and stock answers to speed up responses
Survey our high engagement customers to ask what they like in our services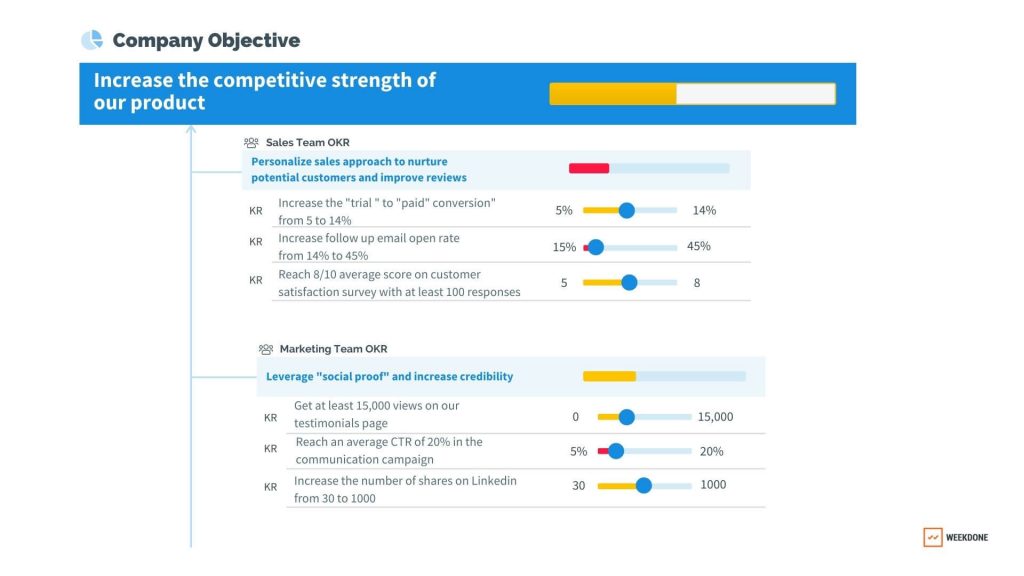 👉 If you need more team-level OKR examples, you can browse our OKR examples database.
OKRs vs KPIs: What's the Difference?
The purpose of OKRs is to decide what exactly you need to improve in your business and, based on that, how you will spend your time and resources in the next 3 months. It's as much about saying "no" to opportunities, as it is about pursuing them.
While KPIs are business metrics that reflect performance, OKR is a goal-setting method that helps you improve performance and drive change. So KPIs let you know what you need to analyze to determine the basis for your OKRs.
Both OKRs and KPIs are measurable and both reflect the team's performance. Comparing OKRs vs KPIs, what's different is what exactly you measure and how you come up with those measurements.
KPIs are used to measure performance but they don't tell you what needs to change or improve to drive the growth of those numbers. They are high-level business performance metrics that you analyze with precise frequency (yearly, quarterly, monthly, weekly, etc.).
OKRs are used to decide what needs to be changed, fixed, or improved. And once you've decided on which area needs improvement, you write an Objective focused on that area and Key Results to measure how close you're getting to this Objective. So Key Results are specific to a particular focus area represented by an Objective.
Free 14-day trial & no credit card required. Coaching & onboarding included.
Talking about OKRs vs KPIs, here are the main differences: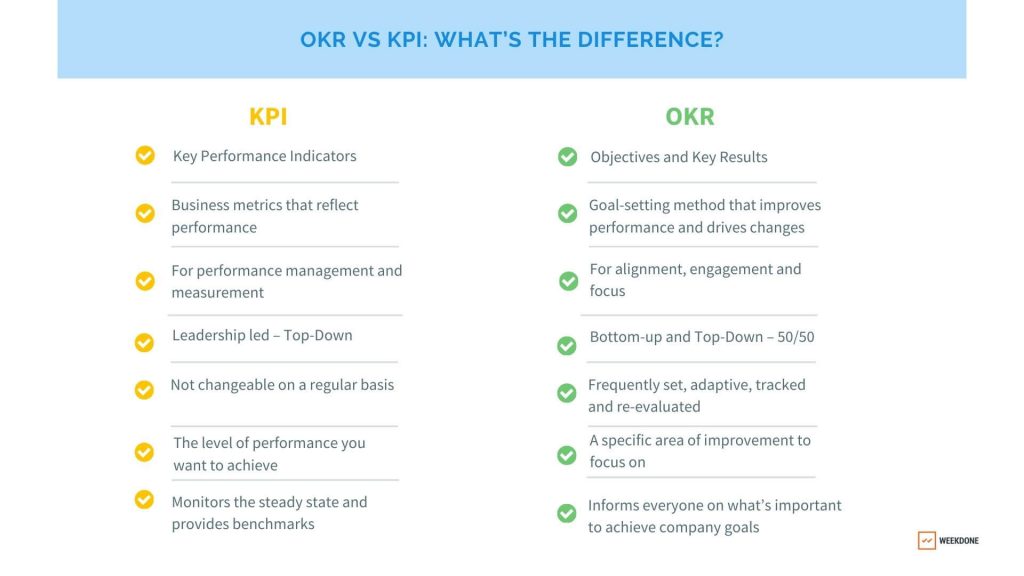 Can OKRs and KPIs work together?
KPIs and OKRs actually work together quite nicely: KPI being a starting point of a conversation about improvements to implement or problems to solve, and OKR specifying a focus area and measurable outcomes to be achieved to deliver on those improvements.
👉 Deciding on what matters most is the foundation for writing Objectives and Key Results.
Analyzing your performance against KPI targets allows you to understand how to keep your business going. Simply put, you cannot have a functional well-organized company if you are not measuring your KPIs.
However, having these numbers doesn't really tell you directly how to improve them. You cannot grow a business by simply saying "we need to hit a higher revenue target". And if you're falling behind on your KPI targets, what exactly do you need to improve to put everything back on track?
This is where we begin to discuss how OKRs and KPIs can work together.
KPI & OKR Best Practices
There are two specific cases when a KPI number suggests that an OKR is needed to address a particular issue:
If you're falling behind on your KPI target, you need an OKR to put everything back on track.
If you want to achieve a more ambitious KPI target (like a big revenue number), you need OKRs that will guide you there.
Let's take an example.
Company A's Customer Success team has a KPI target of 100 meetings per quarter. They realize that to onboard more customers and increase customer lifetime value, they need to have more meetings. So they decide to pursue a much higher KPI target of 300 meetings per quarter.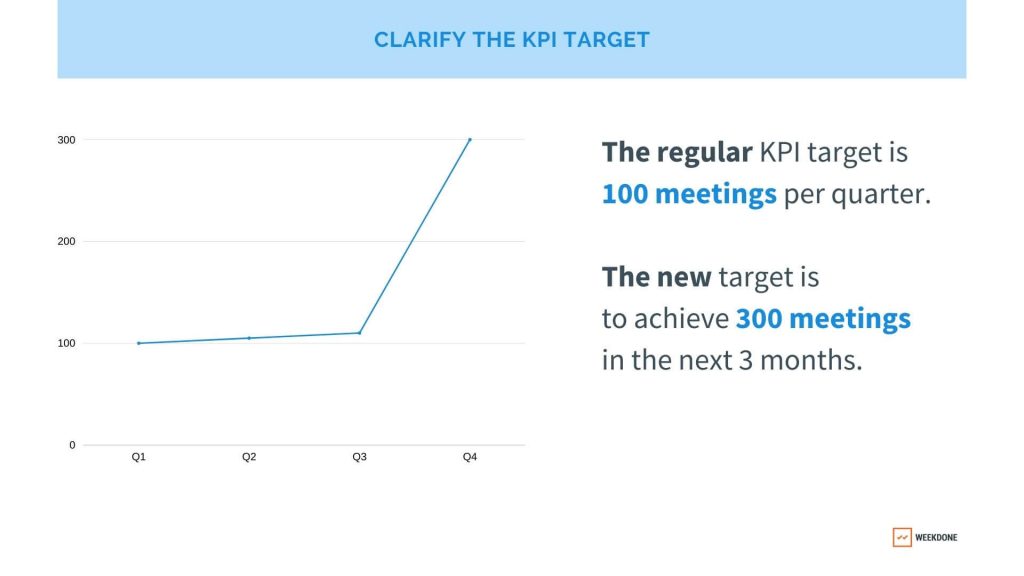 Once the KPI target is clarified, it's a good starting point to move on to discussing what could be improved and use OKRs for that. So, what exactly does the Customer Success team need to focus on to deliver on the target of 300 meetings in 3 months?
The questions to help identify the most impactful improvement areas for the Customer Success team might be:
Will they focus on new customers or the ones who subscribed in the past 6 months?
How will the team approach this: through email communication, in-product notifications or a landing page?
Would it be more impactful to focus on long-term customers and engage them more often?
How many meetings per customer is enough to make sure continuous usage and engagement?
If customers are not booking follow ups, is it because of the bad first impression? Should the team consider improving the sales pitch and demo approach?
To find and prioritize the most impactful improvement area, company A's Customer Success team would set up a discussion. Team discussions are the key to team alignment through which it would become clear that some areas are more impactful than others, and you have more faith and confidence in some ideas for delivering actual change. The outcomes of the discussion would serve as a basis for the right objective setting.
👉 Use this Customer Success OKR template as a basis for your own Objectives and Key Results.
To continue with our example, let's imagine that the Customer Success team decided to focus on the customers who subscribed in the past 3 months and increase engagement with them. The team will apply different tactics to deliver on the desirable outcomes. But which outcomes are desirable here?
Usually, companies think that the KPI should be one of the Key Results under the Objective, but this isn't the best practice.
Instead of writing "increase the number of meetings from 100 to 300", which is just reiterating the KPI target, try to identify an outcome that the team can influence on an ongoing basis. Something that they can track every week and take action when the progress is at risk, for example: "Improve customer loyalty and satisfaction." While the KPI target would be a starting point, the Objective would be an area of improvement that the Customer Success team can directly impact on.
👉 See how easy it is to set up KPIs and OKRs in OKR software like Weekdone: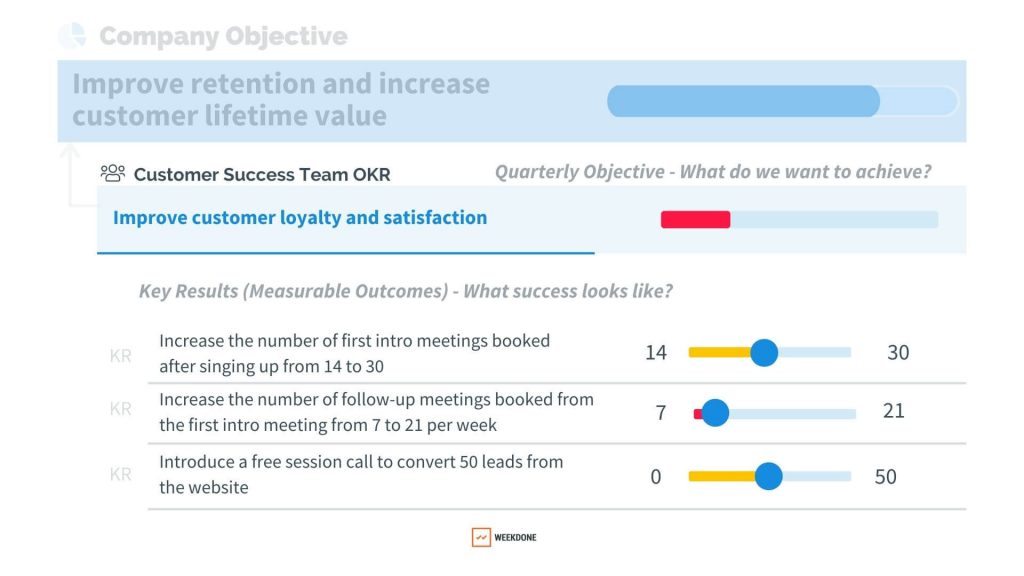 👉 Try Weekdone OKR software for free and set up your first OKRs today.
Free 14-day trial & no credit card required.
Remember, you should have at least 2-3 and no more than 5 Key Results per Objective. For OKRs to work, you need to define the Objective so clearly that it would shape the thought process and prioritization framework for the entire quarter. Knowing the actual outcomes helps the team to choose the right tasks to work on, and not to waste their time on pursuing everything that comes to mind. Everyone should stay focused.
This KPI number growth might not be immediate but success is not a single leap from zero to hero. It's a process of fixing weaknesses and strengthening your best features. So if this OKR didn't impact your business the way you wanted it to, you can analyze what worked and what didn't, and come up with a better approach, and a better team OKR for the next quarter.
By analyzing your OKR progress in retrospect (in Team Weekly OKR Check-ins), you are figuring out and documenting exactly HOW you are most likely to improve your business and achieve your ambitious KPI targets.
The bottom line
As you see, the "OKRs vs KPIs" concept includes two frameworks that have totally different intents and logic behind them. Key Performance Indicators and Objectives and Key Results coexist very well and you should use both frameworks in your business but for completely different purposes. Use OKRs for goal-setting and improving your business and KPIs for monitoring general business performance.
For improvement-oriented and focused goal-setting, you should definitely use OKRs. The OKR methodology offers great benefits for organizations, like company-wide transparency, effective communication of priorities, and, most importantly, alignment of Objectives.
Free 14-day trial & no credit card required.
Read More OKR Resources